Location #49:

"Seb's" Jazz Club
( Interior )

A title card appears on screen,
telling us that five years have passed...




...and a lot of things have changed.



Q. Where is it supposed to be?


1:44:47: We see Sebastian playing a piano in a blue lounge room with black leather banquettes. When he's finished, an employee asks him to sign something, and remarks "Not doing too bad, Seb"… to which he replies "'Not too bad' is great!"



In that very short scene, as he exits the otherwise empty club, we have learned that ( in the intervening five years ) Seb has managed to open his own club, that he appears to be the boss, and that the club is apparently doing well financially.




( We get a shot of the club's exterior, before returning to the interior...):




1:48:30: Inside "Seb's".Mia and her new husband take a seat at a table, to watch the jazz show that's about to begin, only for Mia to discover it's Seb's club.



And the final fantasy musical montage begins.





Q. Where was it really shot?


The interior scenes of Seb's were shot inside a Long Beach bar,

The Blind Donkey
at 149 Linden Ave, in downtown Long Beach, CA.


Here's a photo of the bar's interor:
( I'm sure you'll recognize those black leather banquettes )




And here's another part of the bar that wasn't as visible in the movie:




Here is a StreetView of the entrance to the bar:





The old Broadlind Hotel building that the bar is located in is at the southwest corner of Linden Ave & E. Broadway, in Long Beach.


This is a bar, not a nightclub, and you can expect hard liquor ( mostly whiskey, their apparent specialty ).

And don't expect a jazz band.


( If you want jazz, go to the Lighthouse Cafe. )

The bar entrance is somewhat hidden, so you may have to seach for it.

The small entrance faces Linden, at the south end of the building, next to a fenced parking lot, under a black awning with a blindfolded-donkey logo.




Follow the stairway under the awning downstairs to The Blind Donkey.

You may not have noticed, but Seb's is below street level, as is the Blind Donkey.


Take a close look at the scene, and you'll note that Mia and her husband walk down a flight of stairs after they step through the outside door, before reaching Seb's interior doorway.



Their website: www.theblinddonkey.com

It is less than a mile west of Mia's apartment house.





Here is a link to a Google Earth 3-D view of the bar.





Move on to the next movie location seen in "La La Land".





"La La Land" and its images are copyright Summit Entertainment
The rest of this page is copyright © 2017-Gary Wayne - All Rights Reserved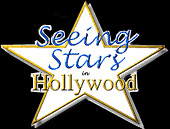 Or return to the Seeing-Stars home page.