Location #48:

Griffith Park Farewell


Q. Where is it supposed to be?


1:41:11: Mia's big audition scene lap-dissolves into a shot of Mia & Sebastian sitting together outdoors, by themselves. We can hear birds chirping, can see pine trees around them, and a view of the city laid out in the background below them.



Although we don't know it yet, this is the last time Mia & Sebastian will ever meet each other ( if you don't count that accidental, bittersweet moment at the very end of the movie ). This is, essentially, their last farewell.



Sebastian asks Mia when she will find out about the audition. She says they told her in the next few days, but seems to think that she's going to be rejected again. He assures her that she is going to get it.





She asks him where they are in their relationship,
and he replies that he doesn't know.


She asks him what they should do. He tells her he doesn't think there's anything they can do, because when she gets the job, she's going to have to go to Paris and give it everything she's got, since it's her dream.





She asks what he's going to do?
And he replies that he has to stay in LA and pursue his own dream.

He says they're just going to have to wait and see.


Sensing that their relationship may be on the verge of ending, Mia tells Sebastian that she's always going to love him. And he replies that he's always going to love her too.


He comments on the view, and she mentions that she's never been there during the day.



And on that note, the scene dissolves into a caption letting us know that five years have passed…



Here is a YouTube video of that scene :





Q. Where was it really shot?


Conveniently, Mia asks that question for us, and Seb answers:

From the script:

MIA
Where are we?

Sebastian looks at her.

SEBASTIAN
Griffith Park.


And for once, the script is completely accurate.


Eventually, the camera pulls back to reveal their location, in Griffith Park, just a short ways behind the Griffith Observatory, which towers over them. It's the location where they fell in love.




This was shot from a hiking trail just south of the Observatory,

Here's a map showing the exact spot:





The address of the Griffith Observatory is
2800 E. Observatory Road, in Los Angeles.

Their spot is behind the Observatory, on a small knoll between two hiking trails that fork apart, less than 50 yards to southeast of the Observatory's big dome.



According to Google maps, the GPS coordinates appear to be about
34°07'03.7"N 118°18'00.5"W





Here is a link to a Google Earth 3-D view of the spot.






Move on to the next movie location seen in "La La Land".





"La La Land" and its images are copyright Summit Entertainment
The rest of this page is copyright © 2017-Gary Wayne - All Rights Reserved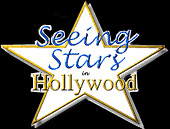 Or return to the Seeing-Stars home page.