Location #6:

"Lipton's"


Q. Where is it supposed to be?

This is supposed to be a restaurant/nightclub, located in Hollywood, somewhere along the walking route between the pool party house in the Hollywood Hills and Mia's courtyard apartment house.



Lipton's is where Mia first sees Sebastian, after hearing his piano music drifting out of Lipton's during her walk back from the party. Entranced, she goes inside the restaurant and watches him play. When he finishes, she seems eager to meet him.

Unfortunately, Sebastian is in no mood to make new acquaintances.



Unbeknown to Mia, Sebastian has just been fired from his pianist gig by his grouchy boss (J.K. Simmons), for daring to play a little jazz, in between the mandatory Christmas carols on his boss's rigid playlist.



So, Sebastian gives Mia the cold shoulder as he angrily rushes past her on his way out the door. (She remembers this slight later, when she sees him playing in an '80s cover band at another party, and gets her revenge.)



Here is that Lipton's scene (minus the flashback):




( In between us seeing Mia walk in the door (at 16:54), and Sebastian storming off (at 21:03), there is a four-minute flashback scene to Sebastian's recent past, showing how he wound up in this position.

( But that's for the next page. This page is all about Lipton's. )

Lipton's shows up yet again, later on, at 1:15:16, in the fantasy sequence that ends the film, in which Mia reimagines how it might have been, with Sebastian rushing to kiss her instead of hurrying past her, and the grouchy boss turning suddenly friendly as a musical montage/dance number begins at Lipton's.





Q. Where was it really shot?

Lipton's is actually a mix of two different locations: one spot was used for the brief shot of the outside door, and a separate location for the restaurant interior.

We have already talked about the location of the exterior door, at the end of the previous page. So let's move on to the interior of "Lipton's"…

Although Lipton's does not really exist, the interior of Lipton's was shot inside an actual restaurant, and one well-known in showbiz circles. It's also one you can visit if you like, and enjoy a warm meal (and some great garlic bread).

The actual restaurant interior is in the San Fernando Valley, a good 15 miles away from that fake "Lipton's" doorway (which is off Hollywood Blvd).

They filmed the interior scenes of Lipton's inside
the Smoke House restaurant, at 4420 Lakeside Drive, in Burbank, CA,
a familiar Hollywood haunt which is located right across the street from Warner Bros. studio (where Mia works at her coffee shop).


Here is a Google StreetView of the Smoke House exterior:



Opened in 1946 by two Lockheed engineers, the opening night of the Smoke House drew Bob Hope and Bing Crosby (who both lived nearby, in Toluca Lake).

Since the restaurant is not only across the street from Warner's, but also close to the other Valley motion picture studios, including Disney, NBC, Universal and (later) DreamWorks, more stars were to follow, and it became a regular watering hole for a good portion of Hollywood.

The walls at the Smoke House are decorated with photos of stars who have dined here, which, over the years, have included Errol Flynn, Judy Garland, Humphrey Bogart, Cary Grant, Milton Berle, Lana Turner. and Robert Redford.
(You can catch a brief glimpse of those photos in this scene.)

Later, Sally Field, Paul Lynde, Jennifer Aniston, Brad Pitt and the "Laugh-In" crew stopped by, most of whom were filming something at one of the local studios.

Adam West had been a regular since his "Batman" days, as was Garry Marshall, who started coming here in 1961 (when he was making "Murphy Brown"), often with a young George Clooney (who was filming "E.R." across the street. Clooney named his production company "SmokeHouse Productions" after this spot.

As you might expect, it's an old-fashioned restaurant, sporting an English Tudor exterior, and an interior with wood-paneled walls, and boasting large. shiny red booths and crisp white tablecloths. The cuisine runs to classic items like prime rib and chateaubriand, accompanied by their legendary garlic bread.

But they didn't shoot the scene in the main dining room of the Smoke House.
They shot it in the restaurant's more casual lounge/bar area. So they needed to put white tablecloths over the usually-bare wooden tables in the bar, and they also added new table lamps, a zillion Christmas lights, etc.

Here is a StreetView 360° panorama of the actual lounge interior:



In the above view. the camera is roughly where Mia was standing when she enters.
(Spin the view around, and you'll see the doorway where she was standing.)

It should be noted that the door she enters through isn't the main entrance to the Smoke House. It's actually an interior doorway leading to the bar/lounge area. (which you'll pass while walking from the main entrance to the main dining room).

( She is walking west when she enters, despite the fact that she was walking east when she walked through that fake door on Hollywood Blvd. )

Ironically. there is a small stage in the Smoke House lounge for performers ( you can see it just to the left of Mia's doorway) , but that's not where they put his piano. Sebastian's piano is roughly in the middle of the room.




Here is a link to a Google Earth 3-D view of the restaurant.






Move on to the next movie location seen in "La La Land".





"La La Land" and its images are copyright Summit Entertainment
The rest of this page is Copyright © 2020-Gary Wayne - All Rights Reserved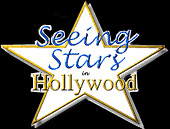 Or return to the Seeing-Stars home page.