Location #37:

The Recording Studio


Q. Where is it supposed to be?





This location is the recording studio where Sebastian works with Keith, after joining his band, and it's actually supposed to be in the west Valley. But it's not.

After overhearing Mia talking about him on the phone to her mother, where Mia seems somewhat embarrassed by his current financial situation, Sebastian compromises his art by reluctantly accepting a high-paying offer from an old classmate, Keith (John Legend), to join Keith's jazz-fusion band, "The Messengers".

Ironically, it is this practical choice which eventually fractures their relationship, both physically and emotionally. Physically, his lengthy tours with Keith's band keep the two lovers apart. And emotionally, It breeds resentment when Mia criticizes his choice to "sell out" by accepting the job, while Seb feels he made a sacrifice for her.


Three different scenes were shot here
( scattered throughout the rest of the movie ).


Here are those three scenes:



1:06:02: Sebastian walks into an a white recording room/studio, where Keith ( John Legend ) and his band are rehearsing. Keith gives him a tempting sales pitch about joining him on a tour at a high salary, then Seb sits in on a jam session with the band, playing keyboards, and is disappointed by the nontraditional jazz they put out (including a drum machine).






1:10:45: a quick montage shot of Seb signing the contract with Keith ( while a string version of "City of Stars" plays in the background. )




1:24:42: At the studio, Seb is about to leave to go attend Mia's Important one-woman play, when Keith tells him he has to stick around for a group photo shoot.




Q. Where was it really shot?


It's somewhat surprising that they didn't just use the Van Beek location, which is an actual recording studio ( known as Evergreen ), since they were already shooting there for those earlier scenes. But they didn't.


These three studio scenes were shot at the same actual recording studio:

EastWest Studios,
at 6000 Sunset Blvd, in Hollywood

That is right next to Sunset-Gower Studio's new Technicolor building.



Here is a Google StreetView of the studio:





EastWest Studio has a long history. Frank Sinatra recorded "My Way", "That's Life", & "New York, New York" here. Elvis Presley recorded his 1968 Comeback Special here. Barbara Streisand recorded her "The Way We Were" here. The Beach Boys did "California Dreaming" and their "Pet Sounds" album here. The Mamas & the Papas recorded "California Dreaming here", Olivia Newton-John recorded "Hopelessly Devoted To You" (from "Grease") here, Michael Jackson recorded his "Dangerous Album here....

They recorded the memorable TV themes from "Mission Impossible", "M*A*S*H" and "The Godfather" here. Not to mention Madonna, The Rolling Stones, David Bowie, Blondie, Dolly Parton, Natalie Cole, U2, Céline Dion, REM, Green Day, Metallica, the Red Hot Chili Peppers, Ariana Grande, Rihanna, Justin Timberlake...

The studio offers 61,000 cubic feet, and features an 80-channel Neve 8078 Console, the largest in the world.


( You can read more about the history of the studio here. )


Here's a scene-by-scene comparison of
screenshots to actual photos of EastWest:

1:06:02: Sebastian sits in with Keith's band, for the first time:



This white room is their Studio 1.

Here is a matching photo of the actual EastWest's Studio 1:




[ I used Photoshop to remove the color of a blue spotlight that was originally shining on the walls,, to make it easier to compare the EastWest studio walls to the walls seen in this scene. ]


–

1:10:45: a quick montage shot of him signing the contract with Keith:



This is in the studio's center lounge.



Below is a photo of the lounge at EastWest. Note that the Da Vinci-like sketches/murals, on the wall behind them, match the wall on the right side of the photo below. The couch pillows also match:




–



1:24:42: Sebastian is told by Keith that he has to wait for a photo shoot before he can go to Mia's one-woman play:

This is Studio 2 at EastWest Studios:
( You can easily recognize the unique woodwork in the room.
It was specially designed to be reminiscent of the inside of a guitar. )





Here is a link to a Google Earth 3-D view
of the recording studio.






Move on to the next movie location seen in "La La Land".





"La La Land" and its images are copyright Summit Entertainment
The rest of this page is copyright © 2017-Gary Wayne - All Rights Reserved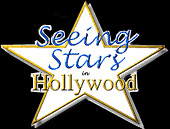 Or return to the Seeing-Stars home page.