Seeing Stars: Hollywood Landmarks..


...
The Park that Movies Built
1313 Harbor Boulevard,
Anaheim, CA. / (714) 781-4565


Disneyland is located a good 30 miles away fromTinseltown, so why is it included in a website about Hollywood? Well, the fact is that Disneyland is pure Hollywood.
Think about it. Walt Disney's unique theme park is based upon the animated and live action films of Disney Studios, some of the most popular motion pictures of all time.
As the Disney people see it, Disneyland is just one giant "show," where the customers get to mingle with the performers "on stage."
Disneyland has a unique viewpoint of the park and its employees, complete with its own language, which you could call "Disney-speak." According to the company philosophy, Disneyland is not just an amusement park, it is a "show" that takes place "onstage" in
what amounts to a series of three-dimensional movie-style sets, called "lands." Those who help put on this "show" aren't called "employees," they are called "cast members," who "audition for roles," and wear "costumes" instead of uniforms. Visitors to the park are the "audience," and the public sections of the park where these "guests" stroll are considered "on stage" by the "cast members" (as opposed to the "backstage" areas, which are off-limits to the "guests").
Many people tend to think of Universal Studios Hollywood as a Hollywood-themed "movie park," and Disneyland as a more generic theme park. But the truth is that Disneyland was letting people "ride the movies" long before Universal got into the act. It was, in reality, the first theme park built around the motion picture experience.
We sometimes forget just how many of the attractions at Disneyland are based on Walt's classic films, beginning with the tiny Main Street Cinema, where you can watch the original 1928, black & white cartoon of "Steamboat Willie," the first cartoon with a sound track (made shortly after "The Jazz Singer"), and the movie that first put Disney on the map.
The Tarzan Treehouse actually started out as the Swiss Family Treehouse in Adventureland is a copy of the elaborate treetop dwelling portrayed in Disney's 1960 adventure film "Swiss Family Robinson." It was re-themed in 1999 to match their more recent animated film, "Tarzan."
Right next door is the Indiana Jones adventure, based on "Raiders of the Lost Ark." And those Jungle Cruise boats nearby owe more than a little to "The African Queen" for inspiration.
In Frontierland, both the Mike Fink Keel Boats and the Davy Crockett canoes are borrowed from Disney's hit TV series "Davy Crockett."
In Critter Country, Splash Mountain is a page taken right out of Disney's 1947 musical "Song of the South," where you plunge into a briar patch with "Brer Rabbit."
In Tomorrowland, two of the attractions actually
were movie theatres: the 360-degree Circlevision Theatre, and "The Magic Eye Theatre" with its 3-D Michael Jackson movie, "Captain Eo." (The recent renovation of Tomorrowland has eliminated CircleVision, but Captain Eo has been replaced by another 3-D movie: "Honey, I Shrunk the Audience.") Nearby, Star Tours is based on the popular "Star Wars" series of movies; the robots R2D2 & CP3O welcome you aboard the ride - which is more or less a movie itself (with a ride simulator).
And of course Fantasyland is one giant Hollywood celebration of Disney's classic animated films.

Disney Studios produced the first full-length animated film in history, "Snow White and the Seven Dwarfs" in 1937, and it is represented by the ride "Snow White's Scary Adventures" as well as the Snow White Grotto.
Disney's "Alice in Wonderland" (1951) inspired two rides: Alice in Wonderland and The Mad Tea Party teacups.

Likewise, both Dumbo the Flying Elephant and the Casey Jr. Circus Train are based upon scenes from Disney's 1941 animated film, "Dumbo."
Mr. Toad's Wild Ride was inspired by the antics of the character J. Thaddeus Toad in the 1949 Disney version of "The Wind in the Willow."


You can sail in a pirate ship over a moonlit London in Peter Pan's Flight (based on Disney's 1953 animated version of the classic story), or experience Pinocchio's Daring Adventure (with scenes taken from that 1940 classic film).
Inside the Sleeping Beauty Castle you can view colorful dioramas straight out of that 1959 animated musical.
And now there's Toontown. Toontown was inspired by the 1988 film, "Who Framed Roger Rabbit?,"
and it is simply one giant, loony Hollywood set - a wacky animated movie come to life, in all its vibrant colors, crazy sounds, and wild shapes. This is where the stars of the 'toons live. Here your kids can visit the homes of Mickey Mouse and Minnie, climb aboard Donald Duck's houseboat, or ride Roger Rabbit's "Car-Toon Spin." You can even visit Mickey, the actor, in his backyard movie studio, replete with props from old Disney movies lying about, and a director decked out like DeMille.
Even the attractions that aren't directly based on a particular Disney movie have their roots in Hollywood storytelling. "Pirates of the Caribbean," for instance, harkens back to such Disney classics as "Treasure Island" ; the submarine ride is more than a bit reminiscent of "20 Thousand Leagues Under the Sea."
The universal movie themes of jungle adventure, cowboys & Indians, and futuristic sci-fi epics round out the mix of Hollywood legends celebrated here.

And now that Disney owns Star Wars, Disneyland is added a new land: Star Wars: Galaxy's Edge (located north of Frontierland), where you can live out your fantasies of adventure in a galaxy far, far away.


Disneyland was the first theme park to apply movie-making methods to its rides. Previous amusement parks simply offered basic thrill rides, such as roller coasters and carousels. Walt attempted to re-create the movie experience, in effect to put the ride-goer into the middle of a movie set.
Take "Pirates of the Caribbean," for instance. To develop this ride, Disney brought in his team of veteran movie-makers and plotted out the entire adventure, much as you would write a script for a movie. Ride-goers sail into a scene straight out of every well-known pirate movie, on a boat that passes between two pirate galleons as they blast cannonballs at one another - except that these pirates are three-dimensional animatronic figures and not just projected images up on a screen. In short, Disneyland was the first "movie park."
And recently, Disney has reversed the process. They have begun making movies inspired by the rides at Disneyland, including "Jungle Cruise," "Pirates of the Caribbean" and "The Haunted Mansion".
Ironically, most so-called experts predicted that Disneyland would be a failure. The amusement park professionals of the time told Disney he couldn't charge admission, that the rides were too expensive, and that he had to sell beer to make a profit. Well, Disneyland opened on July 17, 1955, and just seven weeks later the one millionth visitor passed through the Disneyland turnstiles. Ten years later, it was 50 million. Now, almost 400 million people have visited the Magic Kingdom.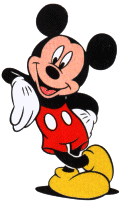 And if you want to see stars, Mickey Mouse is as big a star as Clark Gable ever was. In fact, the famous mouse holds the Guinness world record for the most fan mail ever received by a star! So if you or your kids want to see your favorite Toon stars up close & personal, this is the only place where your kids can shake hands with Donald Duck, pose with Cinderella, or watch Tinkerbell fly through the night time sky.
The best place for the kids to actually meet and shake hands (or hugs) with the Disney characters is in Main Street's Town Square (in front of the Mad Hatter shop) when you first enter Disneyland. Second best is Toontown, where they can meet Mickey up-close in his home (but be prepared for a long wait in line). They can even get the stars' autographs.
But the Hollywood spectacle at Disneyland isn't limited to the rides or costumed characters. There are also movie-themed shows. And what shows!
The Fantasyland Theatre (near the entrance to Toontown) has presented live, musical, on-stage versions of 1990's "Dick Tracy," 1991's "Beauty and the Beast," and 1995's "Pocahontas," with spectacular results. The "Beauty and the Beast" musical was so good, in fact, that a revised version of the show later opened on Broadway and became a smash hit! More recently, they staged a rousing musical version of "Hunchback of Notre Dame" ("Festival of Fools") at the former Big Thunder Ranch.


Elsewhere, on smaller stages (such as at the Carnation Gardens) your kids can sometimes watch the classic Disney characters sing and dance.
The late Main Street Electrical Parade featured a host of Disney toon stars ablaze in millions of sparkling lights, and the annual Christmas Parade showcases similar characters in a winter holiday setting. In between are such movie-related parades as "The Lion King Celebration," last summer's "Hercules" parade and current "Mulan" parade.
The incredible "Fantasmic" show (on the Rivers of America, in Frontierland) brings together just about every major Disney character, in a eye-popping blend of music, fireworks, fountains, lasers, giant flowers, live performers, and holographic
projections on special water-mist screens. It's a spectacular show that pits Mickey in a magic contest against infamous Disney villains (such as the demon from "Fantasia" and the fire-breathing dragon from "Sleeping Beauty"). It's a show to end all shows.
(Be sure to pick up a "Disney Today" brochure when you enter the gate. It includes a schedule of all the day's shows.)
So, when's the best time to visit the park? Crowds can range from 10,000 on rainy Winter weekdays to 70,000 on hot August weekends. To avoid the crowds, don't come in mid-Summer, or during a holiday weekend. (The worst crowds of all are on July 4th and New Years Eve!)
My suggestion is to visit on a weekday in late May or early June, when the summer season has just barely started. The weather will be Spring-like, the crowds will still be relatively light, lines may be short, but most of the Special summer attractions will be in full swing.
Or better yet, come at Christmas time.
For a Christmas visit, come in the weeks before Christmas, for a wonderful, uncrowded time, with lots of special holiday events. (Avoid the week after Christmas, when the park is always very crowded.)

---

(Also see the page about the many Hollywood stars who have visited Disneyland.)

(Also see the page about Disney's California Adventure, right next door.)


Parking: Large paid parking garage (including tram service to gate): $30.


Admission Price * (as of June 2022): (for regular one-day passports)
Adults: (10+) $104– $164. *
Children (3-9): $104 – $164. *
(Children under 3 are free.)
Park-Hopper (includes both Disneyland & DCA): $164 – $224. *


(As of June 2022, sale of annual passports has been temporarily suspended.)

* Important: Disney has begun an unusual system of fluctuating ticket prices, based on the expected crowd size for that day. So, on light, off-season days, the price of an adult ticket will drop, but on crowded days, the price will rise. In other words, you're going to pay more for weekends, summer, and holiday periods. The prices above show that price range.

Note: There are often better deals available At Disneyland for California residents, special tickets featuring lower prices and/or more value. These lower-costs Come and go over time, so if you live in California, be certain to inquire about California Resident offers.

(Admission price includes free parades & shows, but not parking, which is currently $30. Prices keep going up, so phone ahead to check on the current cost of a admission.)


Hours: Open daily, 365 days a year. Hours vary with season. Phone for exact hours.
During the main summer tourist season, the park is usually open daily from 8 AM to 1 AM.

During the non-summer seasons, the park usually opens later (at 9 AM on weekends and 10 PM on weekdays) and closes earlier, at 6 PM on weekdays. But it still stays open later on weekends (12 midnight on most Saturdays, 9 PM on most Sundays).


Getting there: Disneyland is located in the city of Anaheim, at the northwest corner of Harbor Boulevard and Katella Boulevard. / From the Santa Ana (5) Freeway, take the Harbor Boulevard exit. Follow the signs south on Harbor to the Disneyland gate, then turn right (west) into the park. / Alternatively, from the Garden Grove (22) Freeway, take the Harbor Boulevard exit, then drive north up Harbor about 3 miles and turn left (west) at the Disneyland gate (just past Katella Boulevard).

[For more information on this subject, you can access Disneyland's official website at: https://disneyland.disney.go.com/.
Looking for something in particular? Search the Seeing-Stars website!