Seeing Stars: Final Resting Places of the Stars

PART VI
1218 Glendon Avenue,
Westwood, CA. / (310) 474-1579




[This is the last page of a six-page article. Click here to go to page one.]


Just outside this Gardens area, between the Gardens and the road, is a grassy strip with a Row of seven lawn graves, all with large, upright, slab-style headstones.

At the far east end of this row of lawn graves, you will find what I believe may well be the grave of Hollywood legend Kirk Douglas (1916-2020), who died in 2020 at the age of 103 (which almost certainly makes him the longest-living star to be buried here in Westwood.)

The first occupant of this grave was Kirk's son, Eric Douglas (see the photo to the right), who unfortunately had died young of an overdose, in 2004. And as of February 2020, it's only Eric's name that you will find on the headstone.

But these graves hold up to four family members. As an example, Carroll O'Connor's nearby headstone lists not only Carroll O'Connor's name, but also that of his late son Hugh, and his widow Nancy (who is still among the living). What appears to be a single grave can actually serve as a family plot.

So, I suspect that Kirk was probably buried here as well, in the same grave as his son, and there is probably room left for Kirk's widow as well. ( But we won't know for certain until his name is added to the marker - and that could take up to a year, if Jewish tradition is followed).

Kirk Douglas was one of the biggest stars of Hollywood's Golden Age (not to mention the father of actor Michael Douglas), probably best known for the starring role in the epic 1960 gladiator movie "Spartacus".

Other memorable roles included that of Vincent van Gogh in the 1956 film, "Lust for Life". But his long career spanned six decades, from 1946 until his final screen appearance in 2008 (at age 92).

With a square jawline and a trademark dimpled chin, Kirk Douglas's characters in the movies tended to be rugged males who, despite being the leading man, were often rather unsympathetic people, sometimes downright heels, such as his ruthless studio exec in the 1941 drama,"The Bad and the Beautiful" (opposite Lana Turner) and the unscrupulous boxer in the same year's "Champion".

AFI listed him in the top 20 of their "Greatest Hollywood Screen Legends" of all time, along with the likes of Bogart, Cary Grant and Jimmy Stewart.

Kirk ha a star on the Hollywood Walk of Fame, was awarded the Presidential Medal of Freedom (in 1981), and was nominated three times for a Best Actor Oscar. Finally, In 1996, The he was awarded him a special lifetime achievement Academy Award, saluting his 50 year career.
Just two spaces to the right (west) of the Douglas grave, you will come across a lone blank headstone.

Here, in this unmarked grave plot near the curb, is Oscar-winning actor George C. Scott (1927-1999).
Best known for his role as "Patton," George C. Scott starred in over 75 productions, including "The Hustler," "Dr. Strangelove," "Anatomy of a Murder," "The Hospital," "Firestarter," "Taps," "Hardcore," "The Changling," and exceptional TV versions of "Jane Eyre," "Inherit the Wind" and "A Christmas Carol." And who could forget his eccentric 'Sherlock Holmes' in "They Might be Giants"?
Ironically, he may be most remembered for an award he refused to accept; he made headlines when he turned down the 1971 Oscar for "Patton," because he didn't feel that he was in competition with other actors. Unfortunately, his grave still doesn't have a marker. However, I've confirmed that he is located immediately to the left of Walter Matthau's grave. It's the only remaining space there which still has a blank headstone.



Another resident at Pierce Bros is 'Oscar Madison' himself, comic actor Walter Matthau (1920-2000). Often playing a crotchety sort, Walter was wonderfully paired with Jack Lemmon for "The Odd Couple," and again, almost 30 years later, for "Grumpy Old Men." He was the cantankerous 'Mr. Wilson' in 1993's "Dennis the Menace," the reluctant coach in "The Bad News Bears," an aging vaudeville comic feuding with partner George Burns in "The Sunshine Boys,"
and the grouchy 'Horace Vandergelder ' to Barbra Streisand's 'Dolly Levi' in "Hello Dolly." He also starred in "Cactus Flower," "Plaza Suite" and "Kotch."
His grave has a large marble headstone - it's located right along the curb, on the south side of the main road, just north of the new Memorial Gardens area, and just to the right (west) of (unmarked) George C. Scott.



And in July of 2001, almost a year to the day, Walter's lifelong friend and fellow actor Jack Lemmon (1925-2001) was also buried at Pierce Bros.
Jack Lemmon and Walter Matthau made 10 movies together, beginning with the classic 1968 comedy "The Odd Couple," and including "The Fortune Cookie," "The Front Page" and (near the end of their lives) "Grumpy Old Men." (Jack even directed Walter in "Kotch".)
So the fact that they ended up together at Pierce Bros. is more than appropriate.
But Jack Lemmon was an outstanding actor in his own right, starring in comedies such as "Mr. Roberts," "Bell, Book and Candle," "The Apartment," "Irma La Douce," "Good Neighbor Sam," and "The Out-of-Towners," yet also brilliant in dramas such as "The Days of Wine and Roses," "Save the Tiger," "The China Syndrome" and "Missing." And who can forget "Some Like It Hot," with Jack in drag opposite Tony Curtis and Marilyn Monroe? He was nominated for eight Academy Awards and won two, becoming the first actor to win both a Best Actor and a Best Supporting Actor Oscar.
Those in attendance at his July 1 funeral here included Kirk Douglas, Michael Douglas, Catherine Zeta-Jones, Kevin Spacey, Sidney Poitier, Shirley MacLaine, Gregory Peck, director Billy Wilder and the sons of both Lemmon & Matthau.
Jack Lemmon was buried in a new row of graves on the lawn between Walter's location and the chapel entrance. If you're facing Walter's grave, just turn right and walk west along the curb, and look to your left (south) until you spot a long hedge. Walk around the hedge and you'll find a row of large marble headstones (identical to the kind above Walter's grave) up on the lawn a few paces.
A joker to the last, his headstone reads
Just to the left (east) of Jack Lemmon, in the very next grave, is veteran actor Carroll O'Connor (1924-2001), TV's "Archie Bunker" on the smash hit sitcom "All in the Family."
Debuting in 1971, at the peak of the 60's anti-war movement, "All in the Family" was revolutionary for its day. At a time when most sitcoms were lightweight comedies such as "The Brady Bunch", "Family" was breaking taboos left and right, dealing with controversial, current issues ranging from Watergate to rape, and tackling hot targets from the KKK to the Jewish Defense League with sharp political satire, sexual frankness and occasional bathroom humor. It attacked bigotry by making it look ridiculous.
But it was Carroll O'Connor's portrayal of 'Archie Bunker' that made the show work.
Carroll appeared in almost 50 productions, including the role of 'Sheriff Bill Gillespie' in the TV series "In The Heat of the Night", plus the movies "Cleopatra," "Hawaii" and "Kelly's Heroes." It's a tribute to his acting ability that he was best known worldwide as the lovable bigot Archie, who Rob Reiner called "the single most indelible character in the history of American television." It was easy to forget that Carroll was actually a liberal in real life when he took on the fiery persona of that died-in-the-wool, cigar-chomping, Nixon-loving conservative from Queens,
who called his son-in-law 'Meathead' and told his wife 'Edith' to "Stifle!". Yet Archie developed as a surprisingly complex character, sympathetic despite his obvious faults. The show was a tremendous hit.
Carroll died of a heart attack in June of 2001. His funeral was held at the nearby St. Paul the Apostle Church in Westwood. His grave is located directly between those of Jack Lemmon and Billy Wilder.


[ Also buried here is Carroll's adopted son, Hugh O'Connor (1962-1995), who played 'Lt. Lonnie Jamison' on his father's show ("In the Heat of the Night"). Unfortunately, plagued by drug problems, the young man shot himself in 1995. ]



And what do Jack Lemmon, Walter Matthau and Marilyn Monroe, Dean Martin, and Ray Walston all have in common? They all starred in landmark films for the great director Billy Wilder (1906-2002).
Billy Wilder directed, produced and/or wrote such classics as "Some Like It Hot" (with Marilyn and Jack), "The Seven Year Itch" (with Marilyn's famous blowing skirt scene), "The Apartment" (for which Jack won an Oscar), "The Fortune Cookie" (with Matthau & Lemmon), "Kiss Me Stupid" (with Dean Martin and Ray Walston), "Irma la Douce" (with Jack again),
plus "Sunset Blvd.," "The Lost Weekend," "Sabrina," "Stalag 17," "Double Indemnity," "Ball of Fire," "Ninotchka" and "One, Two, Three".
He was nominated for an Academy Award over 20 times, and won seven Oscars - for "Sunset Blvd.," "The Lost Weekend" and "The Apartment."
He died in March of 2002, less than a year after he attended Jack's funeral here. Billy was buried just two graves down (to the east) from Jack Lemmon (and immediately to the left of Carroll O'Connor) in the same row of new graves with marble headstones.
His headstone bears the punchline from his best-known film, "Some Like It Hot".



This particular row of graves, that already included stars Jack Lemmon, Carroll O'Connor and Billy Wilder, gained even more luster in 2011, when TV's "Columbo", Peter Falk (1927-2011), was buried here as well.

You'll find his grave behind a wrought iron fence (but clearly visible), just to the left of Billy Wilder.

Peter Falk was best known as the rumpled raincoat-wearing Lieutenant Columbo, whose bumbling, absentminded demeanor masked a keen mind, and whose unassuming, polite (but relentless) methods caused his often-brilliant adversaries to underestimate him as an incompetent pest - much to their own disadvantage.

Between 1972 and 1994, he was nominated for ten Emmy awards (for Best Actor) for playing that beloved detective character, and won four of them.
Besides "Columbo" (and many other TV appearances), Falk appeared in a number of movies, including one of the funniest (and strangest) comedies you'll ever see: 1979's "The In-Laws", as well as "It's a Mad, Mad, Mad, Mad World", "Murder By Death", and as the grandfather/narrator in "The Princess Bride".
He was a favorite of director John Cassavetes (also buried at Westwood), and starred in several of Cassavetes' movies, including "Husbands" and "A Woman Under the Influence".

He was nominated for two Academy Awards, for "Murder Inc." and "Pocketful of Miracles".


In October of 2004, stand-up comic Rodney Dangerfield (1921-2004) was buried at Pierce Bros. Best known for his famous line "I don't get no respect!", but at Rodney's funeral, comics Adam Sandler and Jim Carrey were pallbearers, while Jay Leno, Tim Allen, Chris Rock, Jon Lovitz, Louie Anderson, George Lopez, and others celebs attended.
Besides his stand-up career, Rodney also appeared in several movies, most notably "Caddyshack" and "Back to School"- usually playing a loveable but disgruntled slob with a tendency to insult people with his outrageous style. He also played the Devil in "Little Nicky", and had a rare dramatic role as an abusive father in "Natural Born Killers."
His grave is easy to find. It's right at the curb, on the south side of the park, in front of the markers of Jack Lemmon, Billy Wilder and Carroll O'Connor. And the epitaph perfectly matches Rodney's screen persona: "There Goes The Neighborhood."

Also located near the curb, to the left of Rodney Dangerfield and to the right of George C. Scott, is the grave of showman Merv Griffin (1925-2007).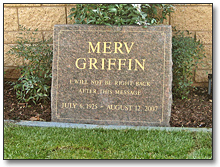 Merv was best known as a talk show host, back in the Golden Age of talk shows, going up against Johnny Carson himself.
"The Merv Griffin Show" (with British sidekick Arthur Treacher) ran from 1962 to 1986, and certainly gave "The Tonight Show" a run for its money.
Mr, Griffin was also a successful singer, and an occasional actor. He won 17 Emmys and had a star on the Hollywood Walk of Fame.
But as an off-camera entrepreneur, Merv created two of the biggest hit TV game shows to ever grace the airwaves: "Jeopardy" and "Wheel of Fortune" (he even wrote their memorable theme songs), and owned the Beverly Hilton hotel, amassing a fortune estimated at $1 billion.



Just to the right of Merv, also near the curb, is the grave of actress Farrah Fawcett (1947-2009).
Farrah was best known as one of TV's original "Charlie's Angels", as well as for her marriage to "Six Million Dollar Man" actor Lee Majors, and her long relationship with actor Ryan O'Neal.
And who can forget that famous poster of Farrah in a red swimsuit, that made her America's favorite pin-up in the 1970's?
In addition to "Angels", Farrah also starred in a number of topical dramas, including "Extremities" and "The Burning Bed".
She and Ryan O'Neal reunited in her last days, and there was even talk of an upcoming marriage, but alas, Farrah died of cancer before that could happen.
She also had the misfortune of dying on the same day as Michael Jackson, and the massive mourning for that superstar eclipsed media coverage of her own passing.
In January of 2001, veteran character actor Ray Walston (1914-2001) had his memorial service at Pierce Bros. Ray Walston was known more recently for his work as a judge on the TV series "Picket Fences," but is perhaps best known for his lead role in the TV series "My Favorite Martian" (in which he co-starred with Bill Bixby), not to mention his memorable role as the teacher 'Mr. Hand' in "Fast Times at Ridgemont High," and his classic performance as the Devil in the Broadway musical "Damn Yankees." Unfortunately, Ray wasn't buried at Pierce Bros, they just handled the funeral. He was cremated, and his ashes were returned to his home in Beverly Hills.


In January of 2008, a memorial service for actor Heath Ledger (star of "Brokeback Mountain" and "A Knight's Tale") was held at Pierce Bros. His body was flown in to Westwood from Manhattan, after his tragic death at age 28. But he was to be buried in his home of Perth, Australia.


Many expected that Zsa Zsa Gabor, who died in late 2016, would be buried here at Pierce Bros, where her sister, Ava Gabor, is already interred. However, there seemed to be a dispute in the family about that, and at her funeral in Beverly Hills, Zsa Zsa's husband displayed an urn containing her ashes, and declared that she would be taken to Austria and buried next to her father. So, as far as I know, her ashes are either resting in Austria, or else perhaps still sitting on the mantle of her husband's (and her former) home in Bel-Air.

A final resting place among the stars here at Pierce Bros Westwood Memorial Park will reportedly cost $40,000 or more. In fact, Playboy magazine founder Hugh Hefner paid a hefty sum ($75,000) 20 years ago to purchase the crypt just to the left of Marilyn Monroe (click here to read about Marilyn's grave) - who was his first Playboy "Playmate."

But it costs nothing to visit.
If you need assistance finding a particular grave, don't be afraid to ask the people in the office - on the south side of the park. They are usually very helpful. (In fact, I've been told that they sometimes hand out copies of my own map of the park.)


[This is the last page of a six-page article. Click here to go to page one.]


Parking: There is a circular driveway/road which leads through the cemetery grounds. (Be sure to bear to your right when you approach the cemetery's wrought-iron gates, or else you will end up in a parking garage meant for the local office towers.)
Hours: Daily: 8 AM - 5 PM.
Getting there: The cemetery is difficult to find, hidden away in Westwood, immediately south of Wilshire Boulevard on Glendon Avenue, between Malcom (on the east) & Wellworth Avenues (on the south). The only access is from the east side of Glendon Avenue, up a small driveway between the pink-stone skyscraper on the southeast corner of Glendon & Wilshire and the parking garage just south of that skyscraper. (Don't confuse this small park with the huge Veteran's cemetery located north of Wilshire, near the 405.) / From Rodeo Drive, take Wilshire Boulevard west (about two and a half miles) to Glendon Avenue (which is one block before Westwood Boulevard), and turn left (south) on Glendon. Then immediately turn left (east) up the driveway, and then turn right again (south) into the gates of the small cemetery. (If you look carefully, you will spot a small, square pink-stone sign off Glendon reading "Pierce Bros Westwood Village Memorial Park.") / From the San Diego (405) Freeway, take the Wilshire Boulevard exit and go east on Wilshire one half mile to Glendon Avenue (the first street east of Westwood Boulevard).