Seeing Stars: Final Resting Places of the Stars

PART V
1218 Glendon Avenue,
Westwood, CA. / (310) 474-1579




[This is the last page of a six-page article. Click here to go to page one.]


In 1999, Pierce Bros unveiled a new Gardens section, located east of the chapel & office, near the southeast corner of the park. The area appears to be devoted exclusively to those who have been cremated. However, it is much more attractive than most such columbariums, complete with fountains, gardens, an arbor, and marble vaults. And since it opened, it has become the final resting place for over a dozen big-name stars, ranging from the Brady Bunch mom to .

Given the maze-like nature of the area, finding those graves can be somewhat tricky. But don't worry, I've created a new big map of the area, and I provide detailed instructions below about how to locate each celebrity.

Click here to see my big map of the entire park.

And click here to see a close-up, detailed map of this columbarium area.

---
Near the entrance to the Gardens area, you'll see two large stone fountains.
Near the fountain to the east (on your left, when you're entering) you'll find a marble bench, which contains the ashes of the late Peggy Lee (1920-2001), a jazz/pop singer known for her deadpan delivery of sultry songs like "Fever," "Manana" and "Big Spender," over a career which spanned more than 50 years.
She started out with the Benny Goodman Orchestra in 1941. She won a Grammy in 1969 for the hit "Is That All There Is?" Younger people may remember her as the sultry voice of 'Peg', the shaggy, white dog in Disney's animated "Lady and the Tramp" who sang "He's a Tramp (But I Love Him)". She wrote that song (along with others like "Manana" and "It's a Good Day"), and she later sued Disney for royalties - and won! She recorded more than 600 songs and played to packed houses around the world. She was also an actress, winning an Academy Award nomination for her role as the hard-drinking singer in the 1955 jazz saga, "Pete Kelly's Blues."


---
On the other (west) side of the walkway, you'll see an identical marble bench.
This one belongs to actor James Coburn (1928-2002). Like his contemporaries, Lee Marvin and Charles Bronson, James Coburn played intimidating tough guys - some good, mostly bad, in a large number of movies and TV shows. He started out as a supporting actor, particularly in Westerns, but soon moved up to larger roles, in movies such as "The Magnificent Seven" and "The Great Escape".
He became a star in 1966 with the title role in "Our Man Flint" (a satirical take on 007), and followed it up with a sequel ("In Like Flint") and the similar spy romp, "The President's Analyst", before nabbing the title role in 1973's "Pat Garrett and Billy the Kid". Just three years before he died, he won an Oscar for his supporting role as the abusive father in 1999's "Affliction".


Just a few steps away, on top of a marble planter wall that surrounds the big tree near the fountains, you'll find an inscription dedicated to Audree Wilson, the mother of the Beach Boys members Brian Wilson, Dennis Wilson and Carl Wilson (who is buried out on the main lawn). The Hawthorne-based surf group had such hits as "Surfin' USA," "Fun Fun Fun," "California Girls," "God Only Knows" and "Surfer Girl." Their mother's epitaph reads: "The Original Surfer Girl."





From Peggy Lee's bench, turn around and look south, and you'll see a short flight of four steps leading up. Just to the left (east) of those steps is a series of large stone columns supporting an arbor above, that are connected by a wall of marble crypts with bronze markers. This wall of columns runs east/west.
Those stone columns also contain marble markers. And at the bottom of the very first stone column, on its north side, you'll find the marker of
Florence Henderson
(1934-2016)
.
TV viewers will know her best as 'Mrs. Carol Brady', in the long-running, '70s family sitcom, "
The Brady Bunch
".
As the show's
theme song
went: "
Here's the story of a lovely lady....
"
Besides the series itself, she also showed up as 'Carol Brady' in a number of "Brady" spinoffs and sequels in the years that followed.
But she was also a very familiar face on television in that era, popping up regularly on late-night talk shows like Johnny Carson's "
Tonight Show
", on game shows like "
The Match Game
", on the usual '70s shows like "
The Love Boat
" and "
Fantasy Island
", and in a series of popular TV commercials. She was awarded a star on the Hollywood Walk of Fame in 1996.
From Florence Henderson's column, walk to your left (east) beneath the arbor, past three more stone columns. And just past the
fourth
column, immediately to its left, and on the bottom row of marble crypts, you'll find the bronze marker of
Doris Roberts
(1925-2016)
.
Audiences will know her best as 'Marie Barone', Raymond's overbearing mom in the popular sitcom "
Everybody Loves Raymond
" (and the ultimate mother-in-law-from-hell to Ray's long-suffering wife, Debra). The show ran for nine seasons, from 1996 to 2005.
But before that show, Doris was also a TV regular on the popular '80s show,
"Remington Steele
", where she played plucky receptionist 'Mildred Krebs' at the Remington Steele Detective Agency, where her boss was none other than future-007, Pierce Brosnan.
Mostly a character actress, Doris was a familiar face on a wide range of movies and TV shows during her 60+ year career, during which she earned a star on the Hollywood walk of Fame.
(
Click here
to see my big map of the entire park.)
Keep walking east and you'll come to a corner in this wall of crypts, and will find yourself up against another wall, which faces west, and runs north/south.

Here, near the middle of this wall (where a grass lawn begins on your left), you will find the small crypt/niche of actress Janet Leigh (1927-2004).
Although she appeared in many films, Janet will always be remembered as 'Marion Crane', the woman stabbed to death by crazy 'Norman Bates' in the infamous shower scene from Alfred Hitchcock's "Psycho" - one of the most iconic scenes in the history of Hollywood.
(She reportedly never took a shower again, after filming that bloody 1960 scene.)
Most people may need to be reminded that she was also Dick Van Dyke's frustrated girlfriend, 'Rosie', in the happy-go-lucky 1963 musical, "Bye Bye Birdie", where she not only acted, but also sang & danced.

Earlier, she had played 'Meg' in an all-star 1949 production of "Little Women" (opposite Elizabeth Taylor). She was the title character in the 1955 musical "My Sister Eileen" (opposite Jack Lemmon, who is also here at Pierce Bros). And she had the lead (opposite Charlton Heston) in Orson Welle's classic, "Touch of Evil". But she will always be 'Marion Crane' to most moviegoers.

Married to actor Tony Curtis, she was also the mother of "Halloween" star Jamie Lee Curtis.


Literally right next to Janet Leigh's crypt (immediately to its left) is the crypt of veteran TV actor Jack Klugman (1922-2012).

Jack was best known for his TV roles as 'Oscar Madison' (opposite Tony Randall's 'Felix') on the hit '70s sitcom "The Odd Couple", and as a sharp medical examiner (and amateur detective) named 'Quincy', on the '80s TV drama/mystery series, "Quincy M.E."

Earlier in his career, he was mainly a character actor, and in 1957 he co-starred with Henry Fonda in the movie classic, "Twelve Angry Men".

(And we can't forget four great episodes of the original "The Twilight Zone".)

I met Jack in person once at Hollywood Park race track (dressed almost exactly like his slobby screen persona, 'Oscar'). Like 'Oscar', Jack loved the races. He even owned a star thoroughbred racehorse named "Jaklin Klugman" who ran in the 1980 Kentucky Derby and was named Horse of the Year.

So, with Jack Klugman and Walter Matthau, we have both of Hollywood's two 'Oscar Madisons' buried here in the same small memorial park.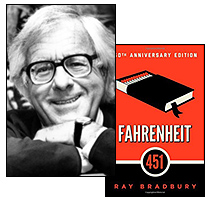 While you're at the crypts of Jack Klugman and Janet Leigh, note that there is a small green lawn on the other (west) side of the sidewalk. And on the south edge of that grassy lawn, there are a series of raised headstones. Check the inscription on the third stone and you will see that it marks the grave of Ray Bradbury (1920-2012), the acclaimed science-fiction author best-known for his novel, "Fahrenheit 451".
That book's title is the temperature at which paper spontaneously bursts into flame, and the novel told the tale of a repressive future in which books are banned, and "firemen" are government enforcers who seek out and burn the last remaining books. The novel was turned into a movie in 1966.

A prolific writer, he also wrote "The Martian Chronicles" (which became a TV mini-series starring Rock Hudson), "The Illustrated Man" (also made into a film), as well as 300 stories and 30 books. He has a star on the Hollywood Walk of Fame, an asteroid was named after Mr. Bradbury, and even a crater on the moon.


(Click here to see my big map of the entire park.)

Follow this same path around the lawn to the left, and head back west. On your right side, you will come to a two-level marble wall that indents to the north (see the photo below). The upper portion contains the usual small, rectangular bronze markers, while the lower portion contains round plaques.

Here, you will find the niches of several well-known celebrities from the world of television and popular music:

The first is actor Brian Keith (1921-1997), best known today for his role as the gruff-but-lovable 'Uncle Bill' on the
popular 60's TV sitcom "Family Affair".

His co-star on the show was Sebastian Cabot (who played his butler, 'Mr. French'), who is also buried here at Pierce Bros. (Anissa Jones, who played 'Buffy' on that show, died of a drug overdose in 1976; she was cremated and her ashes scattered.)
Brian Keith also starred in over 100 films & TV shows, including Disney's original 1961 "The Parent Trap" (with Hayley Mills,) "With Six You Get Eggroll" (with Doris Day,)
the TV series "Hardcastle and McCormick" and 1975's "The Wind & The Lion" (in which he played Teddy Roosevelt.)
Brian's space is located on the top row of the south-facing wall of small crypts, about five spaces from the right corner. (Click on the photo to the right.)
He is buried above his daughter, Daisy Keith, an actress who appeared with her father in the short-lived TV series, "Heartland," back in 1989. Daisy killed herself in May of 1997. Brian Keith, suffering from lung cancer & emphysema, shot himself at his Malibu home one month later.

On the same south-facing wall of crypts as Brian Keith, but to his left (west), you'll find the crypt of David Nelson (1936-2011), who played (and was) the oldest son on the popular sitcom, "The Adventures of Ozzie & Harriet".

(To be more precise, it's three spaces from the top of the wall, and six spaces to the right of its NW corner.)
His brother, Ricky Nelson, got more attention, but David was a big part of the show, playing the steady, older brother. The show ran from 1952 to 1966, as the viewers watched David & Rick grow from kids to young men.

Ozzie, Harriet & Ricky are all buried at Forest Lawn Hollywood Hills, so I'm not sure why David wound up in Westwood - but here he is


Nearby, to the right (south) is bandleader Les Brown (1912-2001). He formed his orchestra, "Les Brown and his Band of Renown," in 1936, and it was a mainstay with Bob Hope's military tours for decades.

The song '"Sentimental Journey'' was a No. 1 hit for his band (and its singer, Doris Day) and was one of the most popular songs of World War II.
His crypt is very near Brian Keith's. From Brian's, just turn to your right, and follow that short, west-facing wall down (south) a few feet to its end corner. His small marker is on the bottom row, above some planted flowers.




In the very same row, just three spaces to the left of Les Brown, is the niche of another star of the Big Band era: Patty Andrews (1918-2016), the youngest member of the Andrew Sisters, the preeminent vocal group of the WW2 era, often performing with Glenn Miller and Bing Crosby.

The Andrew Sisters' unique harmonies are synonymous with that era, with huge hits such as "The Boogie Woogie Bugle Boy" and "Don't Sit Under the Apple Tree".
One 1999 arrival at Pierce Bros Westwood actually died almost 50 earlier.

She is Fanny Brice (1891-1951), the original "Funny Girl" whose life story was told in the Barbra Streisand movie of the same name (as well as in its sequel, "Funny Lady").

Her ashes were originally interred at Home of Peace cemetery in East L.A. But in 1999, after this new area was unveiled at Pierce Bros, her ashes were moved here.
Go back to Florence Henderson's grave, and just to the right of her stone column you'll see a short flight of four steps going up. Climb them, and (on your left/east side) you'll see a wrought iron gate which separates a small private area from the rest of this section.

Face the gate, and you'll see Fanny's crypt inside, to the right side of the sidewalk (see the photo.)



Carol Burnett's daughter, Carrie Hamilton (1963-2002), is also buried in this private, gated section, in the first space on the left (as seen from the gate).

Her father was Joseph Hamilton, the producer of "The Carol Burnett Show" and "Mama's Family." An actor in her own right, you may remember Carrie best as 'Reggie' in the original TV series "Fame". (In fact, you can see mother and daughter together in a scene from "Fame", here.)

After winning a battle against drug addiction, she died of cancer in 2002, at the age of 38.

(After Carrie died, Carol said that her ear tug, which used to send the "Hello, I love you" message to her grandmother, at Hollywood Forever, now sends the same message to Carrie here.)



Nearby, but a bit harder to find, is actor Karl Malden (1912-2009).
Today's public probably remembers him best from his work on the hit 70's police drama "The Streets of San Francisco", in which he co-starred with a young Michael Douglas, and as a commercial spokesman for American Express travelers checks.
But long before that, Karl Malden won an Academy Award for his role as Blanche's suitor, 'Mitch', in the 1951 drama "A Streetcar Named Desire." He was nominated for another Oscar for playing the scrappy priest ('Father Berry') in the 1954 classic "On the Waterfront" (again opposite Marlon Brando).
Possessing a unique & memorable nose, Karl was a character actor - not a leading man, but an outstanding actor in any case. He was the warden in "Birdman of Alcatraz" (opposite Burt Lancaster), Rose's boyfriend in "Gypsy", and General Omar Bradley in "Patton" (opposite George C. Scott), among many other roles. He appeared in over 50 movies before finally entering TV with "Streets..."
His final role, appropriately enough, was as another priest, on a 2000 episode of "The West Wing".
To find his grave, look in the section that has been added to the east of the niche section with Janet Leigh. (You'll have to leave this area and walk to your right, around the wall to the east, to find it).

Here, you'll find a pair of north/south grassy rows, with a sidewalk dividing the two rows of lawn graves (and with each grave divided by long hedges). Look at the graves on the west side of this sidewalk. Karl Malden's grave is the last in that row, a lawn grave nestled between two hedges.

Click here (then scroll down) to see three photos of his grave, so you'll know what to look for.




And in another north/south row of lawn graves, this one to the east of the fountains area and just west of Peter Falk (map), you'll find the grave of actor Sage Stallone (1976-2012).


Sage is perhaps best-known for playing Rocky Balboa's son in the 1990 sequel "Rocky V", when he was just 14-years old.

(In case you missed it, you can watch a scene between the Sage and his dad, here.)
The son of Sly Stallone, he died young, at age 36, of natural causes.



[This is the fifth page of a six-page article. Click here to go to page one.]