At 00:07:42, Frank says goodbye to his wife, Jordan, at a
train station
.
She's refuses to leave without him, but he eventually manages to
convince her to go, promising to meet her later in Venezuela, and
telling her to wear a white dress, so he can spot her in the crowd.
This is the Santa Ana train station,
at 1000 E. Santa Ana Blvd, in Santa Ana, CA.

Santa Ana is in Orange County, about five miles southwest of Disneyland.

Don't be fooled by its Old California look. Although the architects clearly
went out of their way to make this station resemble more historic
stations (such as Union Station), this is actually a very modern
station, by train station standards. It was built in 1986.

(It's officially called the Santa Ana Regional Transportation Center).
The station was featured in another Hollywood production: the last scene
of the 1988 Dustin Hoffman/Tom Cruise movie: "Rainman" was shot here.


Here is a matching Google StreetView of the station.



At 00:21:17, Ray and Ani go to a home in a residential neighborhood, and enter,
without knocking, through a back door. Inside, they find the bird mask worn by
whoever accosted Ray at Caspere's bungalow, and they also find camera &
darkroom equipment, and the shotgun used to shoot Ray.
It turns out the be the home of Laura & Leonard Osterman, the brother & sister
who had been orphaned by the Vinci police murder of their parents, during
the staged diamond robbery back during the 1992 riots.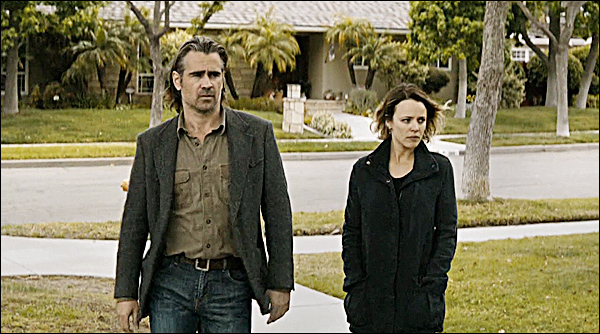 This home is at the
northeast corner
of

E. Oleta Street
&
El Mirador Ave
, in
Long Beach
,
CA
.
The address is
1000 El Mirador Ave
, but Ray & Ani
enter the home through its Oleta Street side.
That's just a few blocks southwest of Cal-State Long Beach.
(The house seen
behind
them, in the screenshot above, is 5840 Oleta Street.)
Why they went all the way to Long Beach to shoot a fairly standard house
remains a mystery, since (as far as I know) they filmed nothing else in Long Beach.
Since there were no visible street numbers, I assumed this was probably in Torrance,
near Chad's school, and I wasted a lot of time searching that area, without success.
Finally, I discovered that
Geoff,
a fellow locations enthusiast (of
90210locations.info
)
had learned its whereabouts, and was cool with my using the info here.
(Thanks, Geoff!)


[
Warning
: This is a
private
home. Do not trespass on their property,
knock on their door, or do anything that might disturb the residents. ]
And here's a Google StreetView of the house.



00:27:32: We see a Greyhound station, where Ani is putting Laura on a bus to Seattle.

Laura (AKA Erica) is one of the two children (now adults)
who were orphaned during the 1992 jewel heist.

Now, considering that the Santa Ana train station is also a Greyhound station,
you would think that the producers would have just used it for this scene.
But no, instead, they trekked all the way down to the L.A. Harbor to
use a building that I first photographed back during my "
Dexter
" days,
when that show passed it off as a Miami airport.
And it's not even a bus station, it's actually a cruise boat terminal.
This is the
Los Angeles World Cruise Center
,
at
600 N. Harbor Blvd
, in
San Pedro
,
CA
.
Or to be more precise, this scene was shot on the
northeast
(narrow)
side
of the cruise terminal, made up to look like a bus station by the addition
of a few signs and a few carefully-parked Greyhound buses.
You'll find the Cruise Terminal at the L.A. Harbor, next to the Main Channel,
as soon as you get off the Harbor (110) Freeway at the Harbor Blvd exit,
next to the Vincent Thomas Bridge.
Here is a
Google StreetView
of the spot.

00:30: 28: We see Ray walk towards a large, futuristic building.

Inside, Ray meets with the Leonard (Laura's brother), the angry orphan plotting revenge
against the cops and politicians involved with Ben Caspere and his parents' murder.

He's there to kill Chief Holloway (one of the corrupt Vinci cops), but Ray convinces
him to hold off while he gets Holloway to talk, so he can record his admission.

Holloway shows up, and more or less admits to everything - as Ray records him.
But it turns out that Holloway's partner in crime, Burris (another Vinci cop) is also there.

All hell breaks loose when Holloway says that Ben Caspere was the father
of Laura, and that Caspere killed her because she got pregnant again.

Leonard attacks Holloway with a knife. Burris tries to shoot Ray, but Ani appears
and shoots Burris. as Leonard has Holloway down and is repeatedly stabbing him,
security shoots both Leonard and Holloway to death, In the mayhem,
the voice recorder is smashed, but Ray & Ani escape.

This unique building is the brand new
ARCTIC transportation station
,
located just two miles east of Disneyland (on the same street).
at
2626 E Katella Ave
, in
Anaheim
,
CA
.
ARTIC
stands for the
Anaheim Regional Transportation Intermodel Center
,
and you'll find it across the street from (north of) Angel Stadium,
and also across the street (south of) the Honda Center.
If you've ever sat up in the cheap seats of Angel Stadium, you know
that its great view included the sight of trains coming and going
from the small AMTRACK station nearby. This huge ARTIC
center replaced that small train station in 2014, and the
new center now includes a major bus station as well.
Here is a
Google StreetView
of ARCTIC .


At 00:47:48, Frank & Ray attack the Russians at a rustic log cabin / lodge.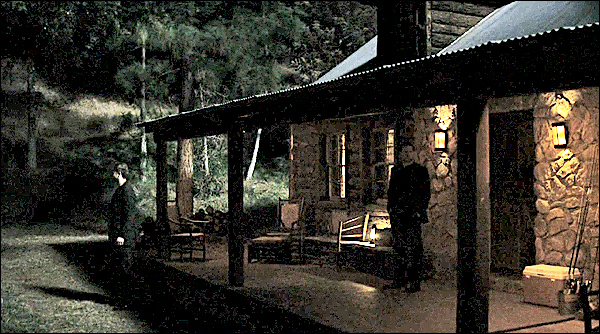 Tossing in tear gas first, Frank & Ray wait outside the front door and mow
them down with automatic rifle fire as they try to escape. Frank then goes
inside and shoots Osip Agrabov in the head, at close-range.

They get away with $12 million in cash.

At first, I figured this was probably up in Mount Baldy, along with the
good guys' hideout-motel and the other earlier lodge.
But when I couldn't find it there, I figured it was probably just a ranch set.
One thing that years of location-hunting has taught me is that there aren't many
actual rural areas near Hollywood. So, when producers need a log cabin
or a barn, they usually just go to one of the many movie ranches
that dot the hills surrounding Los Angeles.
My first guess was Disney Ranch, which I know has several different cabins.
But none of them matched. Fortunately, I have a collected long list of
movie ranches, and after working my way through them, I finally
found the right cabin at a spot called
Canyon Ranch
.
Located up in the hills above Thousand Oaks, they actually have
three different cabins. Fortunately, their
website
identifies
each of them, with photos, and this one is clearly their
"
Rustic Cabin
" (as opposed to their "Huck Finn" cabin
or their "Main Log Cabin").
The address of
Canyon Ranch
is
368 E. Carlisle Road
,
in
Thousand Oaks
,
CA
.
The cabin itself is located at these GPS coordinates:
34.125244, -118.874150
Here is a Google Earth view of the cabin.

And here is a Google StreetView of the ranch's gate.



00:55:48: Ray, on the lam after he & Frank have killed the Russians and stolen
millions of dollars in cash, makes the fatal mistake of stopping to take
one last look at his son, Chad, at the kid's school.
He parks his car nearby and walks to the school,
where he sees his kid and gets a salute in return.
But when Ray returns to his car, he finds a tracker affixed to his car's undercarriage,
and he is unable to remove it. He knows he's screwed.

I wasn't able to find this school back when it first appeared in an early episode.

But this time, they let their guard down. A street sign is clearly visible
(in the first screencap above) that reads "2400 Apple Ave."

Mapping that, it was easy to spot the pale blue house on the corner,
and from there, the elementary school nearby.

That pale blue house we see is at the northwest corner of
Apple Avenue & Lincoln Ave, in Torrance, CA.

The camera is looking west/northwest in that shot.
Here is a matching Google StreetView.

The school turns out to be Torrance Elementary School,
at 2125 Lincoln Ave, Torrance, CA.

Here's a Google StreetView of the school & the yellow sign.