01:00:30: Meanwhile, Frank is also on the lam, and is having even worse luck.

He stops his car briefly under a freeway overpass, and a group of
armed thugs box him in with their cars, smash his car's window,
and then kidnap him. He doesn't even know who they are.

This scene was shot heading west on E. 16th Street (around 1528 E. 16th Street),
where it curves under the Central Avenue offramp of the westbound
Santa Monica (10) Freeway, just south of downtown Los Angeles.

The building in front of them is 1441 E. 16th Street, and it appears
to be owned by a clothing company named Sans Souci.

Here's a matching Google StreetView of that
underpass where Frank is kidnapped.


With Frank at gunpoint in the car, the kidnappers turn onto a freeway onramp.

Between the 1441 number on the building and a sign reading 17th Street,
(seen as they drive to the onramp), this was fairly easy to find.

This is the 17th Street onramp to the Santa Monica (10) Freeway,
just east of Naiomi Ave. (It is indeed the next logical
freeway onramp from the kidnapping spot).

The camera is looking east/southeast down 17th Street.

Here is a matching Google StreetView of that freeway onramp.



01:04:18: Frank's kidnappers drive him out into the desert,
where they meet up with the men who hired them to grab him.

Frank is surprised to see that the Mexican gangsters (Gonzales) are behind his abduction.

It seems they were angered when Frank burned down his clubs, since they had made a
deal with him to move their drugs through those clubs.
He tries to buy his freedom by giving them his half of the $12 million. They take the money,
and are about to abandon Frank in the desert, when one wise guy demands his suit.

That is too much for Frank, especially since he has stashed the blue diamonds
in the pocket of that suit. He jumps the guy, but another member of the gang
stabs him in the back. They then drive away, leaving Frank to slowly bleed
to death as he tries, unsuccessfully, to walk back to civilization.

I honestly never thought I'd be able to pinpoint this particular spot.

I assumed, of course, that it was out in the Mojave Desert, which lies
northeast of Los Angeles (and is the automatic choice when filmmakers
need a desert location near L.A.). But the Mojave is enormous, with
very few landmarks, so finding any one spot is very difficult.

I was about to just write that it was filmed somewhere out in the Mojave Desert,
when I ran into a wonderful podcast called "Welcome to Vinci", which (with
the help of the show's location manager, Caleb Duffy) identified many of the
show's locations, including this one. (Thanks, Kevin!)

It turns out that this spot goes by the seemingly oxymoronic name of
"Soggy Dry Lake". ( Apparently, it was once called simply
"Soggy Lake", but then, well... it dried up.)

Most of the desert locations I've tracked down in the past turned out to be
in the Lancaster / Palmdale area, which is just 30 miles or so northwest
of the San Fernando Valley. But this Soggy Lake is a whopping
85 miles east/southeast of that usual desert area, and almost
100 miles northeast of downtown Los Angeles, as the crow flies.
(If that crow is driving a car, it's more like 130-150 miles.)
Soggy Lake is about 10 miles east of the Lucerne Valley, and is actually
closer to Johnson Valley, but Lucerne apparently claims it.

So, to cut to the chase, here are the GPS coordinates:
34.452607° -116.690349°

It's so isolated that not only is there no Google StreetView available there,
the nearest StreetView is three and a half miles to the south, on the
oddly-named Old Woman Springs Road, where, looking north
towards Soggy Dry Lake, you get this "wonderful" view.

Even the aerial photos end up looking like the surface of Jupiter.

It's better to just stick with these map links:




01:05:38: Knowing that he is being followed by men out to kill him,
we see Ray driving on a freeway, heading out of town.

He spots a B&W police car, at a weigh station, but doesn't seek their help,
since he is (wrongfully) wanted for killing the state attorney.

This is weigh station is located on the northbound Interstate-5 in Santa Clarita, CA,
midway between the Magic Mountain Parkway exit and the Newhall Ranch Road exit.

( In the shot above, the camera is looking northwest.)

Here's a matching Google StreetView of the spot.



01:06:19: We see Ani and the scarred woman from the bar get off a bus
at what is supposed to be a boat dock down in Baja, Mexico.

There, on a small pier / dock, they board a boat bound for Venezuela.

The shot above gave me enough background to work with.

I could tell that this was somewhere in the L.A. harbor, either near Ports O'Call or
across the channel on Terminal Island. So, all I had to do was use Google Earth
to look for those white tanks (on the right side of the screencap) and line them
up with two wooden piers on the other side of the channel.

I found that the tanks were part of the Del Monte Foods plant,
(what used to be the old Starkist Tuna cannery)
at 1000 Barracuda Street, on Terminal Island.
The small pier / dock is behind (on the east side of) Al Larson's Boat Shop,
at 1046 S. Seaside Way, which is also on Terminal Island.

GPS coordinates: 33.734223, -118.268142

(The place where the bus was parked is just a few yards away, to the northwest.)

In the screencap above, the camera is looking northeast, from that dock.
The blue channel in between isn't the main L.A. harbor channel;
it's a small "Fish Harbor" channel that separates the far west
end of the Terminal Island from the rest of the island.

( We have seen Al Larson's Boat Shop before on this show. They used
one of its buildings for the scene where Frank was found dead. )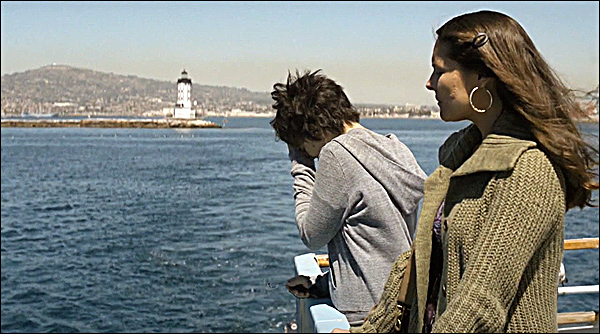 As the boat leaves, and Ani breaks down, we can see
a small, white
lighthouse
in the background.
No, that is
not
in Baja, California.
That is the
Angels Gate lighthouse
, at the entry to the
Main Channel of
Los Angeles Harbor
, off
San Pedro
.
It's located at the end of a very long, rocky breakwater
that begins at the Cabrillo Pier.


01:07:20: Still running from the killers pursuing him, Ray drives up into the mountains.
as he dictates a final message for his son into phone. But when he tries to
send the message, he finds his phone can't get a connection out there.

Ray winds up finally bailing out in a redwood forest, where he tries to escape on foot.

But he is pursued by a group of determined killers, led by Burris, who hunt him down.

He manages to take out a few of them, before he is finally shot & killed in a hail of bullets.

This is another location I never thought I'd be able to pinpoint, but which I discovered
thanks to the "Welcome to Vinci" podcast.

I figured it was somewhere in the Sequoia National Forest, which it was,
but I had no idea exactly where in that enormous, 1,780 square mile reserve.

Turns out that they shot this in Balch Park, in the Sierra Nevada mountains,
up in Springville, CA, in Tulare County.

That is about 150 miles north/northwest of Los Angeles,
and about 58 miles north northeast of Bakersfield,
part of the Giant Sequoia National Monument.
There is no Google StreetView available,
the best Google can provide are these photos.



01:21:39: The final scene of the series shows us what is
supposed to be a Street Festival in Venezuela.

Ani has met up with Frank's wife, Jordan, and the two of them have just finished
turning over the evidence they've collected to a reporter. They are also caring
for Ani's baby, which turns out to be Frank's child

Still traveling incognito, they step outside the room and blend into the festival crowds.

This street scene was staged in Los Angeles, on the 500 block of 11th Street
in L.A.'s somewhat garish Garment District.
In the screencap above, the camera is looking east down 11th Street,
from the corner of 11th & Wall Streets.

Here's a Google StreetView of that street.
In the screencap above, the sign reading "Wall Street Center", seen behind the
revelers, is at 420 E. 11th Street, a short block west of the main crowd scene.
(The camera is looking west.)

Here's a Google StreetView of those shops.