Location #51:

Mia's New Home / Chateau Marmont Interior


Q. Where is it supposed to be?



This same house location is used for both the interior of Mia's hotel room at Chateau Marmont. and as Mia's new home with Seb ( in the final fantasy montage ).



The actual exterior of this house is seen only very briefly in an old home movie, but it's interior is seen several times..



Here are its appearances:



1:45:15: Continuing the "five years later" scenario, after we see Mia drive up to the Château Marmont, we see what is supposed to be the interior of her hotel room there, as Mia opens the door and walks inside.



Viewers are shocked when Mia is greeted by a strange man, whom she kisses passionately. She then walks into the adjoining room, where an infant girl is sitting on the floor. And as Mia rushes to play lovingly with the baby, it quickly becomes apparent that ( in the five years that have passed ), Mia has married someone else ( other than Sebastian ) and now has a baby daughter.





At 1:52:11, as part of the final fantasy musical montage, we see Mia and Sebastian together in the same house, running happily, hand-in-hand, past a jazz poster that now decorates the wall.





At 1:56:50 ( and as part of the same Imaginary montage), we see them watching home-movie footage of Mia and Sebastian, now married with a child, inside the same house.





At 1:56:50 ( still in that fantasy home-movie ), we see Mia & Sebastian walking out of the unusually-shaped front door of the house, carrying their baby, and waving at the camera, then looking at a fountain and walking through the flowering garden.


At 1:57:12, we see them inside their house again, duplicating the earlier, real-life scenario where the Mia and her husband leave their baby with a nanny ( to go out for a night on the town ), only this time, it's Seb as her husband.



Q. Where was it really shot?


All of the shots above, including house interiors, the front doorway, the gardens, etc., were filmed at the same place. And it wasn't the Château Marmont.


You will find this house at
Orcutt Ranch,
at 23600 Roscoe Blvd,
in the West Hills section of L.A.'s San Fernando Valley.




That's in the far northwest corner of the Valley. It's about 20 miles from the real Chateau Marmont, and about 25 miles northwest of downtown L.A.

Orcutt Ranch is not really a ranch, at least not the way most of us think of one. It's more of an orchard/farm surrounding what was the private vacation / retirement home of a notable Valley resident. But it does retain a certain rural feel to it, even in modern L.A. (as do a few other remaining spots in the Valley).

Now a public park ( known officially as "Orcutt Ranch Horticultural Center" ), it began as the private estate of oil executive William Warren Orcutt.
It's gardens are now a popular spot for weddings.




You'll find that unusually-shaped door on the southeast side of the house, while the fountain is tucked away on a central patio on the east side of the home. The rose gardens are at both the south and east side of the house.

Here is a Google panorama view of the house:






Now you might ask: Why would the producers choose a house as the location for the interior of the Chateau Marmont hotel room, rather than shoot inside an actual hotel room ( or some place that looks more like one ).

Well, while Chateau Marmont does offer standard hotel rooms, it is best known for its cottages and bungalows, which are basically small, separate houses. And that's where a big star, such as Mia, would be likely to stay,

So, the living room of a house (particularly this one) actually looks more like a Chateau bungalow than would most normal hotel rooms.

Also, there's the matter of matching the period look. The Chateau Marmont was built in 1929, and the bungalows still reflect the old-fashioned style of that Art Deco era. Likewise, the Orcutt home was built in 1926, sharing the same Art Deco style. And since the Orcutt home is usually unfurnished, it allowed the producers to simply bring in Deco furnishings that would match those found at the Chateau Marmont.



You can tour the house and gardens, but only on the last Sunday of each month (except July & August) from 2 p.m. to 5 p.m. ( Phone first, to make sure those times haven't changed. )



( Here is a link to an amateur Youtube video of Orcutt Ranch. )





HOW DID I FIND IT?



Two decades ago, what turned out to be this Seeing-Stars website was originally intended to be a massive guidebook about all of L.A. / Orange, As such, I spent years visiting and researching every single attraction that the SoCal area had to offer.

One of the categories that I covered was parks. Not average parks, of course, but those that offered something special and distinctive to set them apart, such as an historic home, beautiful gardens, nature centers, or large lakes.

That research took me to Banning Park in Wilmington, Palisades Cliffside Park in Santa Monica, El Dorado Park in Long Beach, Heritage Park in Cerritos... to name just a few..

And one of the places I discovered was an unusual park in the Valley named Orcutt Ranch.

I had heard that the park not only boasted an historic house, but also orange groves where you could actually pick oranges (in July) and oak trees almost 1,000 years old.

When I visited, I found it to be an interesting, but somewhat odd location. Among other things, it had an adobe home that didn't look much like an adobe, with ( pre-Nazi ) swastikas as part of the decor, and an unusual front door shaped like a semi-triangular Moorish-style arch.

The name was a little deceptive. Rather than a ranch, it turned out to be more of an orchard/farm surrounding the home, decent gardens, assorted outbuildings, and some time-worn statuary.

But suffice it to say, it stuck in my mind, even after I gave up on the idea of a general guidebook and narrowed my project's focus to Hollywood and its related locations.

So, I recognized that unusual doorway the moment I saw its image flickering on that home movie screen, in the fantasy montage.

( Honestly, after my initial visit to the park, I never thought I'd hear about Orcutt Ranch again, at least not in connection with my Hollywood website. But you never know when some bit of obscure L.A. knowledge is going to come in handy… )

I had never been inside the Orcutt home ( it wasn't open to the public when i visited ), I had only seen the exterior, So, at first I wasn't sure whether they had used the interior or just the unique front door.

To find out, I Googled for photos of the Orcutt interior, and was somewhat surprised to see that its interior not only matched the images of Seb & Mia in their fantasy house, but it also matched the earlier images of her and her husband at the Chateau Marmont.









Here is a link to a Google Earth 3-D view of the ranch house.





Move on to the next movie location seen in "La La Land".





"La La Land" and its images are copyright Summit Entertainment
The rest of this page is copyright © 2017-Gary Wayne - All Rights Reserved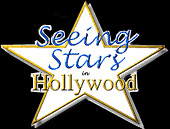 Or return to the Seeing-Stars home page.