There is only one brand new filming location in this episode:

At 0:20:53, we see a somewhat dingy, little motel.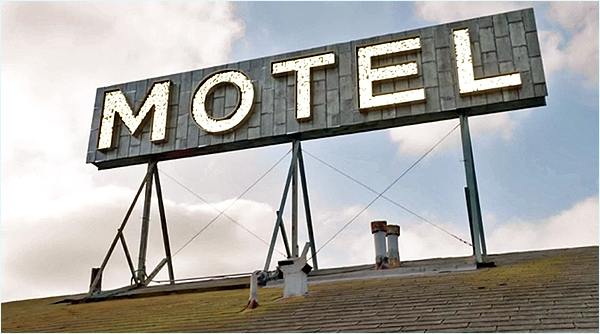 Inside, Sparks and his wife are in a room, along with their imaginary,
dead daughter, Katie (the vision being created by "The Offspring").

When Sparks seems to be having second thoughts, his wife tries to reassure him.

And then their imaginary Katie says to Sparks, in a rather sinister tone:
"Whose side are you on? You have to choose."
At 21:52, Molly & Gordon Kern show up at the same motel.
They recognize Sparks' car, parked in the motel lot.

Kern warns Molly that her baby ("The Offspring") is manipulating her. But she is
convinced that her "baby" is simply alone, afraid, and needs her.

When she comes out of the motel office, she is ambushed by a mercenary,
who forces her at gunpoint into Sparks' room, where he expects to find the baby.

Instead, Mr. Sparks shoots him dead. Sparks lies and tells Molly that his wife
and "The Offspring" left him, that "it's over", and that "he's gone".

These scenes were shot at an actual motel.

It's the Circle-K Motel, at 5329 Sepulveda Blvd, in Culver City, CA.

Culver City was best known as the home of the greatest movie studio
of Hollywood's Golden Age: MGM Studios. And right next door
was the RKO / DesiLu studio. Both studio lots are still in Culver City.
The old MGM studio is now Sony Studios, and RKO is Culver Studios,

The motel is on the west side of Sepulveda, about a mile and a half south
of those studios, just north of where Sepulveda branches west off Jefferson,
tucked between a PetCo store and American Legion post 46.

Here is a Google StreetView of the motel:


The rest of the filming locations in this episode were previously seen in earlier
episodes, but you can read about them by clicking on the photos below:
( At 0:03:43, we are back at
Wimberly Woods
. )
(Click on the photo to read about that location.)

( At 0:14:24: there are more driving scenes on
Agoura Hills roads
. )
(Click on the photo to read about that location.)

( At 0:14:16: we are back at "Lucille's Diner", AKA the
Rock Store
. )
(Click on the photo to read about that location.)