The car thieves (Ludacris & Larenz Tate) are driving away from
the scene of the crime, planning to sell the stolen car, when they
accidentally run over an Asian man (Greg Joung Paik), who
gets stuck under their car. They argue about helping him.
This scene was shot on east C Street, near the corner of
C Street & Broad Ave, in Wilmington. *

After failing to sell the hot car, Larenz Tate tries to flag down
a bus on a city street, but is stopped by his friend, Ludacris,
who launches into a rant about how buses are a conspiracy
to embarrass African Americans.
This scene was shot at (and nearby) 12821 Venice Blvd.,
in the Mar Vista / Venice section of Los Angeles. *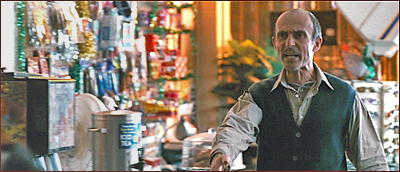 A Persian merchant (Shaun Toub) has his shop vandalized
by racists, and then the insurance company refuses to
reimburse him for his loss, due to a faulty door.
The scenes in his shop were filmed inside an empty,
brick building located at the northwest corner of
Avalon Blvd & C Street, in Wilmington (just one block west
of the spot where the car thieves run over the Asian man). *


Policeman Matt Dillon comes across an accident scene where
a car is overturned and about to burst into flames. As he
struggles to free the driver, he discovers that it is the same
woman (Thandie Newton) he had earlier harassed.
This scene was shot on top of a hill near the north end of
Gaffey Street, near the intersection of 36th Street & Gaffey,
in San Pedro, across from the entrance to
Angels Gate Park.
(Angels Gate Park has been used for filming other movies & TV shows,
including "The Usual Suspects", "Pearl Harbor", and "The O.C.")




* Locations marked by an asterisk (*) may be located in high-crime areas.
Exercise reasonable caution.
More "Crash" locations!
Most of photos on this page are stills from the DVD of "Crash"
(which you can buy by clicking here) and are copyright Lions Gate Films.
The rest of the page is Copyright © 2020-Gary Wayne / Seeing-Stars.com