The location: .





Q. What is it supposed to be on the show?
A. A glass church with an ocean view.


Q. Where is it supposed to be on the show?
A. Unknown, but it is assumed to be somewhere near Newport.


Q. When did we see it on the show?
A. In Episode 27 (of season one), "The Ties That Bind", at the wedding - when Julie & Caleb get married there. (The wedding party and dancing afterward was filmed in the garden in front of the church.)

And again later, in Episode 24 (of season two), "The Dearly Beloved", when Caleb's funeral is held there.

It was seen for the last time in the very last episode of the show (season four), "The End's Not Near, It's Here". It was the church where Julie and Bullet were supposed to be married, before they changed plans and moved the wedding to Berkeley. Frank arrived at the chapel at the last moment to try to stop the wedding - but found the church empty (prompting him to phone Julie in Berkeley).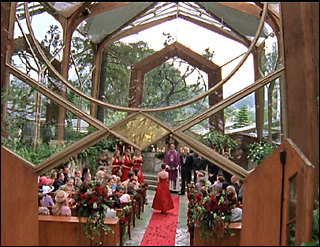 Q. What is it actually in real life?
A. An actual church (albeit, an unusual one).


Q. Where can I find it in real life?
A. In Palos Verdes. This is actually Wayfarer's Chapel, a very real glass church built by the son of famed architect Frank Lloyd Wright, and a local tourist attraction in its own right. Built to blend into its rustic environment, the chapel is surrounded by redwoods and tranquil streams, its steps are paved in Palos Verdes stone, and its walls made of glass to let in the sunshine (and the ocean views). It is a tranquil, beautiful spot, well worth the drive to visit.

The address is 5755 Palos Verdes Drive South, in Rancho Palos Verdes. That's about 2 miles east of the old Marineland site, and about 3 miles northwest of the Country Club.


(I shot the photo below inside Wayfarer's Chapel in 2006.)

There have been some actual celebrity weddings at Wayfarer's Chapel. You can read more about the chapel's Hollywood history here.

Here is a map link showing its exact location.

And here is a link to the chapel's official website.



Q. How the heck did you figure out where it was?
A. I've been to Wayfarer's Chapel many times. I did a page about it for my Seeing-Stars site. So I recognized it immediately when I saw it on the show.
By Episode - By Category - By Geographical Location - Clickable Map - Aerials

THE O.C. screenshots from the show and all related characters & elements are trademarks of and © Warner Bros. Entertainment Inc.
All other photos & text are Copyright © 1999-2021-Gary Wayne and may not be used without written permission.





Return to Seeing-Stars.com