0:22:18: With her car gone, and locked out of the building,
Meghan starts walking through the bad neighborhood.

She spots a taxi and runs to it, but the taxi driver isn't helpful.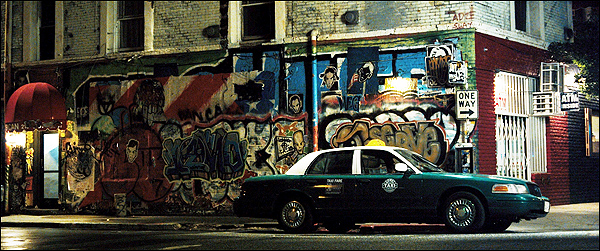 This taxi scene was shot about 500 feet northwest of the loft, at the
northeast corner of Traction Avenue & S. Hewitt Street.

The taxi is parked outside a small hotel called "The American",
located at 303 Hewitt Street, Los Angeles

There is indeed a real mural on the wall there, but not the one you see in the movie.
Here is a matching Google StreetView of that corner.


0:25:37: Misunderstanding what she says, the foreign taxi driver takes her
to a strip club called "Tattoo", and when she tells him she has no money,
he demands a lap dance to pay the fare. She tricks him and runs away.

In the screencap above, the camera is looking east / northeast down
Willow Street, towards Santa Fe Avenue, in downtown L.A.,
about half a mile southeast of the loft.

The supposed "strip club" is a total fake.

It's really just the blank, brick wall of a building (Willow Studios) located
at the northwest corner of Willow Street & Santa Fe Ave, in downtown.

The neon signs, the door, the awning, the trees... all just set dressing added to that brick wall.

Here is a matching Google StreetView of that corner and the wall.


0:26:17: As she escapes from the angry taxi driver, and begins to wander the city on
foot in the middle of the night, we see a night view of the downtown L.A. skyline.




She gets spooked by a man who at first appears to be chasing her...




... but he turns out just to be some poor jogger who is more afraid of her than she is of him.



This scene was shot on the 100 block of S. Myers Street, in downtown L.A.

The camera is looking north, and she and the jogger are running south on Myers.

(That's on the east side of the L.A. River.)

Here is a matching Google StreetView of the area.


0:27:10: Getting desperate, she stops a passing car, but given her short, tight, yellow dress
(and the late hour), the guy assumes she is a hooker and propositions her.

This was shot on Mesquit Street, where it passes under the 6th Street Bridge,
at the corner of Mesquit Street & E. 6th Street.

The camera is looking south/southeast up Mesquit.

That gray & white edged building on the corner, behind her,
is officially at 600 S. Santa Fe Ave.

Here is a matching Google StreetView of the street & bridge.