At the beginning of the film, we see the three Angels escape from a Mongolian bar,
then run into trouble with tanks atop a border crossing. That dam isn't in Mongolia,
of course. It's actually the Hansen Dam, a flood control dam in the northern part of
the San Fernando Valley, four miles southeast of the city of San Fernando, CA.
They added fake lookout towers, an artificial door, and a rented Patton tank to
complete the effect. You'll find the dam near the corner of Glenoaks and Osborne.




During the opening credits, we see Lucy Liu, dressed like a cowgirl,
riding a horse down the middle of a street, where she lassos a bad guy.
This scene was shot on the 2000 block of Avenue of the Stars in Century City.
The big, curved building to the right is the Century Plaza Hotel.

The blue glass building (right in front of the fleeing bad guy) is the Fox Tower
(which was "blown up" in the movie "Die Hard"). Across the street, to the left
is the ABC Entertainment Center and the Shubert Theatre
(which are scheduled to be torn down soon).

Cameron Diaz's character has moved from Venice (where she lived in the first
movie) to this beach home, where she's moving in with her boyfriend, 'Pete'.
It's here that the girls do their dance, and it's here where Lucy Liu throws
Matt LeBlanc on his back on the sidewalk.

It is a real house, located at 2028 The Strand, in Hermosa Beach, CA.
Here is a photo I shot of the house in 2003. Click on it for a larger view.
(The producers added the white flower boxes in front of the brick wall.)

The Strand faces the beach, a broad pedestrian walkway in between the
homes and the beach. You can't reach it by car, but if you park on nearby
Hermosa Avenue and walk west down to the beach, you'll find the house
between 20th and 21st Court.
(Remember, this is a private home, so don't trespass or disturb the residents!)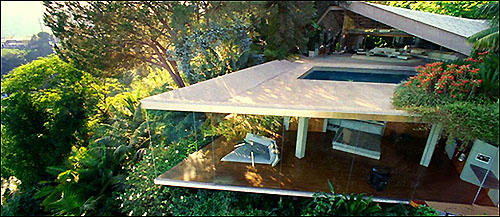 Lucy Liu's father, played by John Cleese, lives in a fabulous glass home.
This is a real house. In fact, it's a rather famous one, the Sheats/Goldstein
house, designed by architect John Lautner. It's located on top of a
steep cliff over looking Benedict Canyon in Beverly Hills.

(Remember, this is a private home, so don't trespass or disturb the residents!)

MORE "Charlie's Angels: Full Throttle" Filming Locations!
The photos on this page are stills from the DVD of "Charlie's Angels"
(which you can buy by clicking here) and are copyright Sony/Columbia/Tri-Star Pictures.
The rest of the page is copyright Gary J. Wayne - 2015 / Seeing-Stars.com