Q. What is it supposed to be on the show?

A. Several key houses, including Bill's house, Sookie's house, Lafayette's house, Jason's House, and the Bon Temps cemetery.



Q. Where is it supposed to be on the show?

A. In Bon Temps, Louisiana.



Q. When did we see it on the show?


A. These are the homes of the lead characters, so one or more one of these houses shows up virtually every episode.

The surrounding natural land is also often used for generic rural scenes on the show.




The location: The Ranch




Q. What is it actually, in real life?
A. A large parcel of natural, undeveloped land, filled with a number of movie sets (fake houses, built for the show).


Q. Where can I find it in real life?


A. They built these True Blood house sets at what is known as Greer Ranch, a movie ranch located up in the Santa Monica Mountains, at 1200 Las Virgenes Road, in Calabasas, California (on a small side road called Las Virgenes Canyon Road, off the east side of the street).

Understand that a movie ranch isn't a real ranch - you won't find anyone raising cattle there.

Movie ranches were created to serve Hollywood's need for outdoor locations, where they could film Westerns and other movies that required a natural background.

Back in the early days of movie-making, cameras & lighting equipment were large, heavy and difficult to transport. So traveling to other states or countries to shoot on location was burdensome and expensive. Plus, when they film outside of a 30-mile zone, they have to pay union workers at a higher rate. So they tried to stick close to home.

When the script required a forest, or a farm, or a lake out in the country, they needed it nearby. The easiest solution was to shoot at one of the dozens of movie ranches that sprung up near L.A. to oblige the business.


Some of the ranches were just open rural property, while others sported elaborate, permanent sets, such as Western towns. But all of them featured an open, natural setting that couldn't be found in the city: fields, pastures, trails, oak forests, streams, ponds, rural vistas... and most of them were located in the mountains that surround Los Angeles, which provided a picturesque mountain backdrop.

During Hollywood's Golden Age, most of the major studios owned their own movie ranches, but they still rented others when their own ranch didn't give them the specific setting a particular movie needed.

Most of the original studio ranches are long gone (the exception being Disney's Golden Oak Ranch), and much of that mountainous land now belongs to the government park service.

But there are still quite a few independent movie ranches, and Greer Ranch is one of them, albeit not as well-known (or as elaborate) as some of the others.

When True Blood needed to recreate Bon Temps, they knew they would need to shoot the same houses over and over (for seven years, as it turns out), and that those houses would have to be in a setting that could pass for rural Louisiana.


The easiest solution was to simply build the homes here in L.A., close together, in the same rural setting.

The only character's home that actually existed in real life was Bill's mansion. But it was in Louisiana, and obviously, they couldn't run back to Louisiana every time they needed to shoot a scene at Bill's house. So they simply built a replica of that Southern mansion here. And nearby, they built Sookie's big house and the Bon Temps graveyard.

I'm not sure if they built Lafayette's and Jason's houses, or if those smaller buildings were already on the Greer Ranch property when they moved in (and they just decided to use them on the show). But either way, they're here too.

It's safe to say that they filmed more at this ranch than at any other location. In fact, I wouldn't be surprised if they filmed more here than at all of the other exterior locations combined.

You can read more about the ranch here: www.filmgreerranch.com

Here is a photo tour of sorts, of the various True Blood houses at Greer ranch,
thanks to photos from True Blood fan, Jay B. :
Sookie's house (above and below)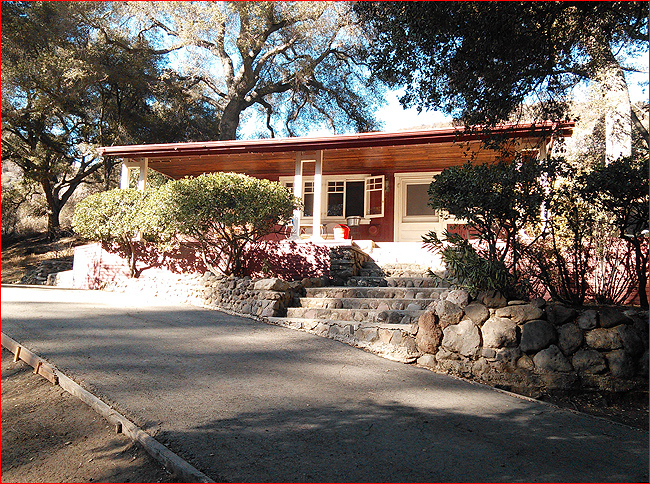 LaFayette's house (above & below)

Jason's house (above & below)

Bill's house (above & below)

The Bon Temps Cemetery (above & below)

And here's a map of the ranch and the locations of the various houses:

(Click it to see a larger version)

[ Be aware that this is private property, and the entrance is gated. I've had some fans report
that they visited the ranch without incident, and some who had encounters with security.
So, be careful, obey the laws, and stay safe. ]