Seeing Stars: Where the Stars Play



on the streets of Long Beach, CA.
(562) 436-9953 or (888) 82-SPEED


Update: Toyota has announced that the 2016 pro-celebrity race will be their very last one. They are ending the popular program due to costs.


For this final year's race, they be brought back a number of celebrity winners from previous years' races, including Ricky Schroder, Alfonso Ribeiro, Frankie Muniz, Stephen Baldwin, Brian Austin Green, and Adam Carolla, plus pro past winners including Al Unser, Jr.


The final race was run on Saturday, April 16, 2016, at 11:40 a.m.


(To no one's surprise, Alfonso Ribeiro won it all. Good goin' Carlton. ;)


Update: two years later, in August 2018, Toyota announced that they were pulling out of the Long Beach Grand Prix completely, after four decades of sponsoring the event.


Long Beach Grand Prix officials have begun looking for a new sponsor, and the next race is scheduled for April 2019 (but there has been no talk yet of bringing back the celebrity race).

Want to see movie and TV stars risk death right in front of your eyes? Then come to Long Beach on an early Saturday in April.
Since it began in 1974, the annual Long Beach Grand Prix road race has become this beachside city's biggest event, a three-day festival attracting world-class Indy 500 drivers from around the world, and featuring Indy cars roaring through the streets of downtown Long Beach at 200 miles per hour. The race is even covered live by ABC's "Wide World of Sports."
Sunday's big professional race is preceded by a week of festivities. On the day before Sunday's main race, visitors can watch qualifying races, time trials, and visit the Indy Car garage.

But the most popular Saturday event involves watching Hollywood celebrities compete against each other (and famous sports figures) in the 10-lap Pro/Celebrity race, which attracts stars from the movies, TV and the sports world.
Past winners of the celebrity race include actors Gene Hackman ("Unforgiven"), Stephen Baldwin ("The Usual Suspects"), Lorenzo Lamas, singer Donny Osmond, Olympic champion Bruce Jenner, and TV's Rick Schroder ("NYPD Blue"), Jason Bateman ("Family Ties"), rocker Ted Nugent, actor James Brolin ("Hotel") and Alfonso Ribeiro (who played Carlton on "Fresh Prince of Bel-Air").
The 39th & final Celebrity Grand Prix will be run at noon on Saturday, April 16, 2016.

Star Trek's 'Captain Picard' himself, Patrick Stewart, was named Grand Marshal of 2015's race, and he was the one to say "Gentlemen, start your engines". (And yes, he once drove a car in the race, back in 2002.)

That year's eclectic group of celeb drivers included Robert Patrick (star of "Terminator 2", who now plays 'Agent Cabe Gallow' on CBS's "Scorpion"), Alfonso Ribeiro ('Carlton Banks' on "The Fresh Prince of Bel-Air" and who won "Dancing with the Stars"), Mekhi Phifer (who played 'Dr. Greg Pratt' "ER", and is now in the "Divergent" sequel, "Insurgent"), Mark McGrath, (lead singer of the alt band Sugar Ray), John Rzeznik (lead singer of the Goo Goo Dolls), Edy Ganem, who plays 'Valentina Diaz' on "Devious Maids"), James Maslow (who played 'James Diamond' in "Big Time Rush", and appeared on "Dancing With The Stars"), Nathan Kress (who played 'Freddie Benson' in Nickelodeon's "iCarly"), Joshua Morrow (who plays 'Nicolas Newman' on "The Young and The Restless"), Mexican telenova star Raul Mendez, model & TV hostess Donna Feldman, Steve Mason, ESPN Radio host of "The Mason & Ireland Show", and Willie Gault, NFL wide receiver for the Chicago Bears and the L.A. Raiders.
They divide the entrants to the race between celebrities and pros. Ironically, at the end of this year's race, the winner was both a pro and a celebrity, as Alfonso Ribeiro was the first to cross the line. He was listed as a "pro" becaused he had won the celebrity event twice before (two decades ago). The co-star of "Fresh Prince of Bel-Air", and winner of "Dancing With the Stars", like all pro entrants in the race, had to start 30 seconds behind the rest of the celeb pack, but he still managed to circle the pack and win for the third time.


Celebs who raced in 2014 included actor Adrien Brody ("The Pianist", "King Kong"), Eric Braeden ('Victor' on "The Young and the Restless"), Phil Keoghan (host of "The Amazing Race"), singer/songwriter Brian McKnight ("Back at One"), Corbin Bleu ('Chad' in "High School Musical"), Max Thieriot ('Dylan' in "Bates Motel"), Sam Witwer ('Aiden' in "Being Human"), Colin Egglesfield ('Tommy Rizzoli' in "Rizzoli & Isles"), and Nick Wechsler ('Jack Poter' in "Revenge"), among others.

The winner in 2014 was Brett Davern, one of the stars of the MTV teen comedy, "Awkard".

The CBS Sports Network televised the 2014 celebrity race (albeit the day afterwards), on Sunday,
April 27 at 8:30 p.m. EST. (5:30 p.m. PST.)


In 2013, the race was run at noon on Saturday, April 20, 2013.
Celebs racing in 2013 included Jenna Elfman ("Dharma & Greg"), Michelle Rodriguez ('Letty' in the "Fast & Furious" franchise), Jackson Rathbone ('Jasper Hale' in "Twilight"), Jeremy Sisto ('George', the dad in "Suburgatory"), comic Wanda Sykes ("The New Adventures of Old Christine"), Jesse Metcalfe ('John Rowland' in "Desperate Housewives"), Michael Trucco ('Samuel Anders' in "Battlestar Galactica"), Brett Davern of ('Jake' in MTV's "Awkward"), Kate del Castillo (star of "La Reina del Sur"), and Olympic gold medalist swimmer, Jessica Hardy.

The winner was Rutledge Wood, the host "Top Gear USA".


Celebs in the 2012 race included Academy Award winner Adrien Brody ("The Pianist"), Hill Harper (' Dr. Sheldon Hawkes' on "CSI: NY"), Eddie Cibrian ('Jesse Cardoza" in "CSI: Miami"), Scott Porter ('George Tucker' on "Heart of Dixie"), Kim Coates ('Tig Trager' in "Sons of Anarchy"), Kate del Castillo (star of the telenovela "Muchachitas"), Eileen Davidson ('Ashley Abbott' on "The Young and the Restless"), Bill Rancic (first-year winner of "The Apprentice"), Jillian Barberie (co-host of KTTV's morning show, "Good Day L.A."), "reality star" Brody Jenner; UFC champion Cain Velasquez, and "Top Gear USA" host Rutledge Wood.

The 2012 winner was Adam Carolla, who was the host of radio's "Loveline" and the co-host/creator of TV's "The Man Show", and who had appeared on "Dancing with the Stars." CSI's Hill Harper was 2nd.

And LeAnn Rimes sang the National Anthem.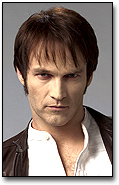 In 2011, celebs participating in the race included Stephen Moyer of "True Blood" (honestly, did you ever think you'd see 'vampire Bill' out in the daylight driving a race car??), Kevin Jonas of the Jonas Brothers, Dennis Haysbert ('President Palmer' on "24", "The Unit"), Megyn Price ('audrey' on "Rules of Engagement") , "Brian Austin Green ("Beverly Hills 90210", "Terminator: The Sarah Connor Chronicles"), Kevin Eubanks (bandleader on Jay Leno's "Tonight Show"), Eddie Cibrian ('Jesse Cardoza' on "CSI Miami"), Djimon Hounsou ("Amistad," "Gladiator"), Anthony Anderson ('Kevin Bernard' on "Law and Order," William Fichtner ("Prison Break", "Invasion"), and Kim Coates ("Black Hawk Down", "Sons of Anarchy").
The winner was William Fichtner.
In the qualifying race on Friday, Stephen Moyer had the fastest time and captured the pole position for Saturday's race. But in the process, he ran into a wall and rolled his car in a nasty-looking crash. He bowed out of the actual race, since "True Blood" was in production and they didn't want to lose their star. Kevin Jonas crashed in the actual race. Neither star was hurt.



Celebs racing in 2010 included Keanu Reeves ("The Matrix", "Speed"), Zachary Levi ("Chuck"), Adrien Brody ("The Pianist", "King Kong"), Christian Slater ("The Forgotten", "True Romance"), Patrick Warburton ('Puddy' on "Seinfeld", "Rules of Engagement") and his TV wife Megyn Price, Brian Austin Green ("Beverly Hills 90210", "Terminator: The Sarah Connor Chronicles"), Anthony Anderson ('Kevin Bernard' in "Law & Order"), Tika Sumpter ('Layla' of "One Life to Live"), radio/TV host Adam Carolla, skateboarder Tony Hawk, and singer Jesse McCartney.

The 2010 winner was Brian Austin Green, followed by Adrien Brody and Zachary ("Chuck") Levi.

Keanu Reeves won the 2009 race, beating other drivers that included Adrien, Alex Trebek (host of "Jeopardy!"), Luke Wilson ("Legally Blonde"), Raven-Symone ("That's So Raven"), Mary Lynn Rajskub ('Chloe O'Brian ' on "24") Jon Hamm ('Don Draper' in "Mad Men"), Tim Daly (''Joe Hackett' on "Wings"), Eric Close ('Martin Fitzgerald' on "Without a Trace"), among others.


In 2008, the writers strike interfered with the race, but celebs still included "That '70s Show" star Wilmer Valderrama ('Fez'). The 2008 winner turned out to be none other than Jamie Little, ABC/ESPN's NASCAR gal, only the second woman to win the race. ("Ratatouille" producer Brad Lewis led for most of the way, but John Salley crashed into a wall, and Nancy Lieberman crashed into him, and the resulting yellow flag cost him his lead.)
In 2007, the celebrity drivers included "Star Wars" creator George Lucas, Chris Klein ('Oz' in "American Pie"), Joshua Morrow ('Nicholas Newman' on "The Young and the Restless"), and a surprising number of female drivers, including Emily Procter ('Calleigh Duquesne' on "CSI: Miami", who didn't know how to drive a manual transmission), Kathryn Morris ('Lily Rush' on "Cold Case"), tennis great Martina Navratilova, Aisha Tyler ("CSI"), actress/model Kelly Hu and Robin Quivers (Howard Stern's radio co-host).
That year, George Lucas managed to get in a wreck attempting an impossible pass on the hairpin turn, slamming into a wall of tires, and then being hit head-on (by a driver who had won the right to be in the race in a charity auction). Dave Mirra, a professional BMX rider, won the race. Martina Navratilova came in second in the wreck-shortened race, and Joshua Morrow came in third.
In 2006, the celebrity drivers included William Shatner ('Captain Kirk' on "Star Trek", 'Denny Crane' on "Boston Legal"), returning champion Frankie Muniz ("Spy Kids"), tennis superstar Martina Navratilova, American idol favorite Bo Bice, NFL Hall of Fame quarterback John Elway, Patrick Dempsey ("Sweet Home Alabama", 'Dr. Derek Shepherd ' on "Grey's Anatomy"), Antonio Sabato Jr. ("The Bold and the Beautiful", "Melrose Place"), William Fichtner ('Sheriff Underlay' on "Invasion"), Olympic Gold Medalist gymnast Shannon Miller, Roger Cross ('Curtis Manning' on "24"), Paul Caine (the publisher of "People" magazine) and many others. An accident during the race took out Antonio Sabato Jr., and William Shatner also took a hit . The winner in 2006 was extreme skateboarder Bucky Lasek. John Elway came in second and Martina Navratilova got third place.
The winner in 2005 was Frankie Muniz ('Malcolm' on "Malcolm in the Middle"), in a celebrity race that featured a lot of crashes. "General Hospital" star Ingo Rademacher smashed into the tire barriers on the first turn (and again at the end, along with Olympic swimmer Aaron Peirsol). Frankie's "Malcolm" co-star, Justin Berfield ('Reese'), totaled his car during practice Friday, crashed again during qualifying, and went into the tires in the big race, colliding with Patrick Dempsey ("Sweet Home Alabama," "Iron Jawed Angels"), along the way. Other 2005 celebrity drivers included singer Meat Loaf (I Would Do Anything for Love / "Fight Club"), Mark Steines (anchor on "Entertainment Tonight"), Karl Malone (future NBA Hall-of Famer with Lakers and Jazz), Paige Hemmis ("Extreme Makeover: Home Edition"), and U.S. Olympic medalists Amanda Beard (swimming) and Misty May (Beach Volleyball).
Last year's celebrity drivers (2004) included Sean Astin ('Samwise' in "The Lord of the Rings"), Melissa Joan Hart ("Sabrina, the Teenage Witch"), Frankie Muniz ("Agent Cody Banks", "Malcolm in the Middle"), Lil' Kim (rap/hip hop recording artist), Andrew Firestone ("The Bachelor"), female boxing champ Laila Ali, Carlos Bernard ('Tony Almeida' on "24"), Andrea Parker ('Lydia Weston' on "Less Than Perfect"), Chris McDonald ('Ted Shackleton' on "Cracking Up"), Liza Snyder ('Christine Hughes' on "Yes, Dear"), "Access Hollywood" correspondent Tony Potts, and returning champ Peter Reckell ('Bo Brady' on the NBC soap "Days of Our Lives").
In 2003, celebrity drivers included Josh Brolin (Senator 'Bill Sterling' on "Mr. Sterling"), actress & model Angie Everhart, Apollo 11 astronaut Buzz Aldrin (the second man to walk on the moon), Olympic Skiing Champion Picabo Street, Country Music artist Tommy Shane Steiner, Peter Reckell ('Bo Brady' on "Days of Our Lives" , who won this year's race), Adam Carolla (co-host of "The Man Show" and the radio show "Loveline"), Jesse James (host of Discovery Channel's "Monster Garage", who won the race), Steve Hartman (sportscaster for KCBS-TV) and Tony Potts (reporter for "Access Hollywood"). Josh Brolin's girlfriend, actress Diane Lane, was also there, and planted a kiss on Josh after the race.
Celebrity racers in 2002's race included Star Trek's 'Captain Picard', Patrick Stewart, producer James Cameron ("Terminator", "Titanic"), Thomas Gibson ('Greg' in "Dharma and Greg"), supermodel Angie Everhart, Goran Visnjic ('Dr. Luka Kovac' in "ER"), Dulé Hill ('Charlie Young' in "The West Wing"), Christopher Titus ("Titus"), Jacob Young ('Lucky Spencer,' ABC's "General Hospital"), Patrick Warburton ("Seinfeld," "The Tick"), pro-wrestler/actor Bill Goldberg, and two cast members from "Malcolm in the Middle": Christopher Kennedy Masterson ('Francis') and Brian Cranston ('Hal'). For the first time, a woman won the celebrity race, Olympic gold medal swimmer Dara Torres finished first in 18:21. "Malcolm's" Chrisopher Masterson came in second, while Mark-Paul Gosselaar ("Saved By the Bell," "NYPD Blue") hit a wall and spun out, but still finished in 19:05. (Although James Cameron, Thomas Gibson and Angie Everhart were originally on the list of participants, they bowed out before the race began.)
The 2001 celeb winner was actor Josh Brolin ("Mod Squad", "Hollow Man"), whose father, James Brolin (husband of Barbra Streisand) won the same race in 1978. Josh also won in 2000. In 2001he was beaten by professional driver Scott Pruett (remember, this is a pro-am, where the celebrities race against the pros).
Other celebrity racers in 2001 included William Shatner ("Star Trek," "Third Rock"), Rick Schroder ("NYPD Blue," "Silver Spoons"), Greg Kinnear ("As Good As It Gets"), David Alan Greer ("DAG," "In Living Color"), Piper Parabo ("Coyote Ugly"), Christopher McDonald ('Rex Weller' on "Family Law"), Erik Palladino ('Dr. Dave Malucci' in "ER"),
Elisa Donovan ('Amber' in "Clueless", "Sabrina"), Mark Consuelos ('Mateo Santos' on "All My Children", who won this year's race), Jon Seda ("Selena"), Mark Steines ("ET" correspondent), plus sports notables Jim Kelly, Dara Torres and Billy Blanks.
Shatner came in ninth that year, but said "That was the kick of my life. I was passed, I passed others and I finished in style.''
Celebrity racers in 2000 included Melissa Joan Hart ("Sabrina the Teenage Witch"), director George Lucas ("Star Wars"), Ashley Judd ("Double Jeopardy"), Alyson Hannigan ('Willow' in "Buffy the Vampire Slayer"), Antonio Sabato, Jr., Rachel Hunter, baseball Hall of Famer Robin Yount, and two-time NFL Super Bowl champion, John Elway.
The 1999 Celebrity Grand Prix racers included rap singer Coolio, Donny Osmond (of "Donny & Marie"), Andy Laur ('Charlie' on "Caroline in the City"), Melissa Joan Hart, Daryl Mitchell ('Leo' on ``Veronica's Closet''), Lauralee Bell ('Cricket' on "The Young & the Restless"), Jose Solano ('Manny Gutierrez' on "Baywatch"), Catherine Bell ('Mac' on "JAG''), model Kim Alexis, plus Olympic track & field legend Carl Lewis and others.
In both 1997 & 1998, the celebrity winner was Sean Patrick Flanery ("Young Indiana Jones" & "Powder"). The winner in 1996 was Grant Show (who plays Jake on "Melrose Place"). Alfonso Ribeiro took the checkered flag in both 1995 and 1994.
In the 1998 Celebrity Grand Prix, the celebrity racers included Jim Belushi ("Blues Bros. 2000"), Cameron Diaz ("There's Something About Mary"), singer/actor Queen Latifah ("Sphere," "Living Single"), Daryl 'Chill' Mitchell ('Leo' on "Veronica's Closet," Dexter on "The John Larroquette Show"), Andy Laur ('Charlie' on "Caroline in the City"), Catherine Bell ('Maj. Sarah MacKenzie' on "JAG"), Eric Braeden ('Victor' on that same soap), Joshua Morrow ('Nick' on "The Young & the Restless"), Jim Moret (CNN Correspondent) and Carlos Amezcua (co-anchor of the "KTLA Morning News").
Other recent entrants have included Tim Allen (star of "Home Improvement"), Matt LeBlanc (Joey on "Friends"), Tony Danza ("Who's The Boss?" & "Taxi"), David Hasselhoff ("Baywatch"), Minnie Driver ("Good Will Hunting"), Craig T. Nelson ("Coach"), Jason Priestly (Brandon on "Beverly Hills 90210"), Anthony Edwards (Dr. Mark Greene on "E.R."), the singing Nelson twins ("Love & Affection"), Sean Astin (son of Patty Duke & John Astin, and star of the 1993 movie "Rudy"), Mark Curry (star of TV's "Hangin' with Mr Cooper"), Mark-Paul Gosselaar (Zack in "Saved By the Bell"), Perry King ("Melrose Place"), Sharon Lawrence ("NYPD Blue"), Jason Gedrick ("Murder One"), Stephen Root (Jimmy on "NewsRadio"), Kate Linder ("The Young and the Restless"), as well as a host of local newscasters, pro baseball players, NFL football players... even local radio D.J.'s.
Each participant competes in an identically prepared Toyota Celica GT Liftback. The celebrity race takes ten laps (and about 14 minutes) to cover the 15.9-mile race. So, while the stars' race cars can reach 130 mph, most of the time the actual speed of the race is more like 66 mph.
Still, celebrity racing can be dangerous. In both 1994 and 1995, for instance, TV star Mark-Paul Gosselaar was taken out of the race early when his race car was hit by cars driven by world champion jet-skier Cristy Carlson and "ER "'s Anthony Edwards. And in 1995, Matt LeBlanc of "Friends" hit a wall. In 1997, defending champ Grant Show was taken out of the race when he was hit by a car driven by Jason Bateman. (And in 2002 Jason Priestly was racing in Kentucky when he hit a wall head-on at 180 mph, breaking his back and receiving head injuries - fortunately, his prospects for recovery looked good.)
The sport of auto racing has attracted a number of big Hollywood names over the years, including Jay Leno, David Letterman, Paul Newman, Gene Hackman, Tom Cruise and Marsha Mason, all of whom are hooked on the checkered flag.
In Sunday's main (pro) Grand Prix race, such world-famous racing names as Michael Andretti, Mauricio Gugelmin, Paul Tracy, Dario Franchitti, Alex Zanardi & Kenny Brack compete head to head for $1.2 million in prize money as their cars roar up Shoreline Drive and down Seaside Way at breathtaking speed, slowing only for the hairpin turns. Massive bleachers and scaffolding go up along the race route weeks in advance. The winding race route covers 81laps of a 1.97-mile course on the streets circling the Long Beach Convention Center complex, for a race time of just under two hours. The route offers the Queen Mary and the blue Pacific as a colorful background.
While the methanol-burning, open-cockpit Indy cars can go from 0 to 100 in 4.5 seconds, and can reach speeds in excess of 230 mph in the straight-aways, the many turns on the route slows the average speed down to just under 100 mph. (The record for one full lap is 109 mph).
The big race creates a festival atmosphere downtown, drawing over 200,000 visitors each year to Long Beach, with the all of the accompanying traffic and parking problems you might expect. Many people who don't really care about Indy cars come just to be part of the international party scene. The event attracts celebrity spectators as well. In 1994, the Long Beach crowd included former-Beatle George Harrison and rocker Tom Petty, who were watching the race together from the grandstands. In 1996, Olivia Newton-John was spotted eating lunch at the race, while Paul Newman was seen motoring around on a red moped. Paul was also expected at the 1999 race, as were David Letterman, Tim Allen, LeAnn Rimes and baseball great Robin Yount. Rock guitarist Jeff Beck played tha National Anthem to start the race. A surprise at the 1999 race was Nicolas Cage, who was photographed signing a t-shirt for a fan.
Be warned: this isn't an inexpensive way to spend a weekend: three-day passes with reserved seats will cost you $90 to $135 (depending on your seat), not to mention parking or Indy garage passes. But if you have the cash, you'll be in for a major treat. And it is possible to get Saturday general admission alone for $62 (for the celeb race) or Sunday-only general admission for $72 (for the main race).
The course takes the race cars past the new Long Beach Aquarium of the Pacific, with a view of the Queen Mary, as well as Shoreline Village and the new Pike.
Tickets are available online at http://www.gplb.com/ticket-prices/. Or just phone (888) 82-SPEED.
Parking: Official "Circuit Parking" is $15 for Sunday Only, and $40 / $50 for three day parking. Parking spots can be reserved in advance when you buy tickets.
Parking elsewhere can be a pain as well as an added expense. There are over a dozen paid parking lots in the area. Phone for a list of this year's available parking areas. You might also consider taking the Metro Blue Line, or one of the RTD buses which leave from nearby sites, such as Los Altos Shopping Center, Marina Pacifica mall, and Cal-State Long Beach. The fare is low, and the bus drops you off at the transit station on 1st street, near Long Beach Boulevard.
Admission Price:
General Admission only:
All three days: $75
Saturday only: $48
Sunday only: $55

Admission plus a reserved seat:
All three days: $135 & $90
Saturday only: $62
Sunday only: $72 & $83

Hours: The Grand Prix is held on a weekend in mid-April.
The Celebrity race takes place on Saturday starting around noon. The celebs also have qualifying races the day before, Friday, usually before noon.
Practice and qualifying for the main Grand Prix race is on Friday & Saturday, until about 4 PM. The pro Grand Prix finals are on Sunday, beginning around noon. Days and hours may change. Phone for details of this year's race & festival.

Getting there: The Grand Prix cars race through the streets of downtown Long Beach, just south of Ocean Boulevard and northeast of Shoreline Village; a route which includes Shoreline Drive and Seaside Way. / From Hollywood, take the Hollywood (101) Freeway south (about seven miles) to the Santa Monica Freeway, and take the Santa Monica (5) Freeway east (about five miles) to the Long Beach Freeway. Then take the Long Beach (710) Freeway south (about 18 more miles) to the downtown Broadway exit. Go east on Broadway to Long Beach Boulevard, then turn right (south) to Ocean Boulevard and the Grand Prix race route. (Beware of road closures on race day. Phone ahead to find out which streets will be blocked off.)
[For more information on this subject, you can access the Grand Prix's official website at: http://www.gplb.com.]

Click here to browse books about Grand Prix racing
Looking for something in particular? Search the Seeing-Stars website!