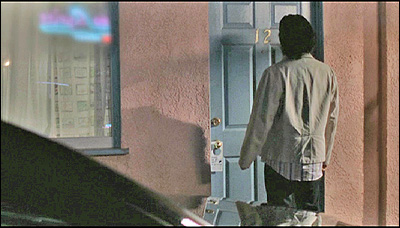 The location: The Sea Sprite motel.




Q. What is it supposed to be on the show?
A. A cheap motel where pornographer Lance Baldwin stays (not to be confused with the Mermaid Inn).


Q. Where is it supposed to be on the show?
A. Uncertain, but In the Newport Beach area.


Q. When did we see it on the show?
A. We catch an our first, passing glimpse of the motel at the very start of Episode 5 (of season 1), as just part of the background.

We don't see it again until Episode 16 (of season 2), when Sandy Cohen goes to the blackmailer Lance's apartment to try to negotiate the ransom for the porno tape which Julie made when she was young.

We see it again later when, after Julie has confessed her sordid past to Caleb, Caleb also goes to Lance's apartment at the Sea Sprite motel and shows him the extortion money. But after getting his hands on the tape, Caleb double-crosses Lance, takes back the $500,000 cash, and has two thugs beat Lance up.

(Not to be confused with the Mermaid Inn, another cheap motel, where Lance and Julie meet later on.)


Q. What is it actually in real life?
A. A motel at the beach - but not Newport Beach.


Q. Where can I find it in real life?
A. It's really the Sea Sprite motel, located just south of the Hermosa Pier, at 1016 The Strand, in Hermosa Beach.

(Click here to read more about The Strand.)

(I shot the photo to the right in 2006. But the motel has since been painted blue.)

Here is a map link of the exact location.

[ I'm told that the same motel was seen in "Gilmore Girls". It was where Rory stayed when she went to Florida on Spring Break, during her first year at college. ]



Q. How the heck did you figure out where it was?
A. During our very first glimpse of the motel (at about 45 seconds into Episode 5 of the first season), you can clearly see the sign reading "The Sea Sprite Motel" . That isn't the case in the scenes where Sandy goes to Lance's apartment - all you can see is the apartment door and window. But if you look closely at the motel window, as Sandy approaches, you can see the reflection of a neon sign in the glass window, reading "etirpS aeS ehT". (I've enlarged and flipped the image to the right.)
By Episode - By Category - By Geographical Location - Clickable Map - Aerials

THE O.C. screenshots from the show and all related characters & elements are trademarks of and © Warner Bros. Entertainment Inc.
All other photos & text are Copyright © 1999-2021-Gary Wayne and may not be used without written permission.





Return to Seeing-Stars.com