Seeing Stars: Where the Movies Were Shot (on Location)


The new Fox series, "The Last Man On Earth", is supposed to take place Tucson, Arizona.

But in reality, the show is filmed in Southern California.




When the last man on earth, 'Phil Miller' (played by Will Forte) arrives alone in Tucson,
he moves into a big, empty home located on a street surrounded by rocky hills.

This is actually Chatsworth, California, a section of Los Angeles that
is located in the far northwest corner of the San Fernando Valley.

Those picturesque, rocky hills drew the attention of filmmakers long ago, when those
Chatsworth hills were used for filming countless Westerns. Old-timers may recognize
the general area from the opening credits of TV's "The Lone Ranger".




The house he chooses is, in real life, located at
11847 Peak Road, in Chatsworth, CA.

Peak Road is one of several private residential streets tucked away behind
guarded gates in a suburb north of the Ronald Reagan (118) Freeway.

This neighborhood can only be reached via one entrance road: Iverson Drive, .
That gated entrance to the suburb is seen in this Google StreetView.




The first woman he meets, 'Carol' (played by Kristen Schaal) opts to move
into a house right across the street from Phil.

And sure enough, in real life, you'll find her house literally right across
the street from his house (about 200 feet to the northeast),
at 11858 Peak Road, in Chatsworth, CA.





After Phil witnesses Carol struggling to grow tomatoes without water, he does one
rare, selfless thing - he hikes up to a giant water tank and runs a series of
hoses from that source down to Carol's house, to water her tomato plants.

That water tank is really located on a hill just above their street in Chatsworth,
about 500 feet southwest of their homes.







Phil & Carol are sure they are the last man & woman on earth, so much so that
they decide it's their duty to repopulate the earth. Carol insists that they get
married first, and in Episode 3, Phil reluctantly plays along with a wedding.




That wedding scene was shot at an actual church:
the Congregational Church of Chatsworth,
at 20440 Lassen Street, in Chatsworth.

Here is a Google StreetView of the church.



But they are wrong. Soon enough, they find out that they're not alone after all.

While driving in their limo back from the wedding, they literally run into another person at an
intersection. It turns out to be an attractive young woman named 'Melissa' (played by
January Jones), which immediately makes Phil sorry that he agreed to 'marry' Carol.




In real life, that intersection is located at
the corner of N. Oak and N. Main Street, in Santa Paula, CA.

Santa Paula is the only filming location that's not in the Los Angeles area.
It's a small town located about 65 miles northwest of downtown L.A.

( I'm not sure why they went that far to film the scene, since they don't
seem to have shot anything else while they were there .)

Here is a Google StreetView of that actual intersection.
(looking south from Oak Street)





In Episode 4, Carol decides to allow Phil to have sex with Melissa to help
repopulate the world, and Melissa somewhat reluctantly agrees.

Phil makes a big deal out of it, and creates a rather outlandish setting in a public park,
including lights, flowers, aerial fireworks, and a bed out in the middle of the park.




Unfortunately for Phil, those fireworks draw the attention of a third survivor, a friendly,
chubby fellow named 'Todd' (played by Mel Rodriguez), who shows up in a red
sports car, just in time to spoil Phil's first opportunity to have sex with Melissa.

That "romantic" scene was shot in Chatsworth Park North
at 22300 Chatsworth Street, in Chatsworth, CA.

Here is a Google StreetView of the park.




Melissa never really liked Phil (since he's an insincere jerk), so despite the fact that Todd
is overweight, Melissa is glad to have another guy around, and the two start dating.

In this scene, they go to "Senior Goodtimes Family Funtorium", where they ride
go-carts and play miniature golf (while a jealous Phil watches from a distance).

This small amusement center is real - only the name has been changed on the sign.

It's really the Mountasia Family Fun Center,
at 21516 Golden Triangle Road, in Santa Clarita.
(That's just west of the hardware store location.)

Here is a Google StreetView of the fun center.
(note the matching sign)





Melissa & Todd end up living together in this house (seen in Episode 11):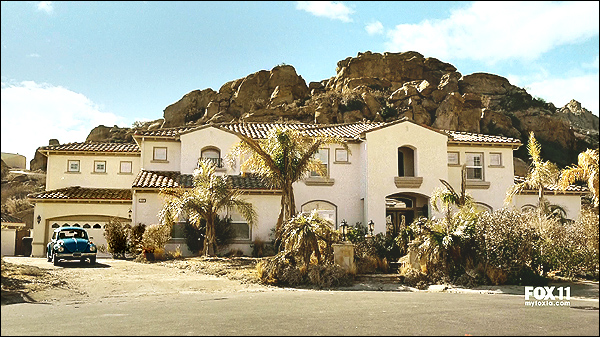 That house is, not surprisingly, right next door to (west of) Phil's house, and right across
the street from Carol's house, in that same private residential neighborhood in Chatsworth.

The address of this house is

11861 Peak Road

, in

Chatsworth

,

CA

.





There are a lot more filming locations for "The Last Man on Earth"
located on the next page...







Click Here to Return to the Main Menu

Advertise on seeing-stars.com



Copyright © 2020-Gary Wayne
All Rights Reserved
(Click here to read disclaimers)