Location #45:

Laura's Engagement Party


Q. Where is it supposed to be?

1:31:02: We see Sebastian playing a grand piano at a garden party.



When I first saw this scene, I assumed it was supposed to be the wedding of his sister, Laura, since we had previously seen her showing off her engagement ring in the park, with her fiancé, Harry.

But checking the script, I found out that it's actually supposed to be Laura's engagement party. ( Not that it makes much of a difference, but just to set the facts straight. )



In the scene, we see Laura dancing affectionately with her fiancé, while well-dressed family & guests look on. It's a lush garden setting, with ivy-covered walls of aged brick. The camera pans across the scene, from right to left, and stops to watch Sebastian play the piano, before ending the number with an acknowledgment of the polite applause that follows.

It's a brief scene in the movie that doesn't show us much, other than the fact that Laura loves Harry, and that Sebastian is playing at her party, sans Mia.

In the original script, it's a more detailed scenario, with a conversation between Sebastian and his sister, in which she confirms that she will be moving to New York ( or some other city ) after she marries, which means that Sebastian will be losing the last person in his life ( that we know of ) who cares about him. She encourages him to put a down payment on a house. While Laura is finding happiness, it would appear that Sebastian is even more alone.



The fadeout from this scene leads directly into the next scene, set in Sebastian's apartment, where the phone rings, and it's an important call from a casting director trying to contact Mia about a big audition.



Q. Where was it really shot?


This was one of the most difficult locations to identify.

There isn't much to go on. Just small hillsides of ivy, rounded hedges, Mission -style archways, and old ivy climbing up columns of irregular-shaped, aged brick.

I certainly didn't recognize it. I considered a lot of possibilities, including several public gardens ( e.g. The Huntington, Descanso Gardens ) but decided that from the look of it, it was probably a private estate. Which made it even more difficult.

But then, there was something about the aristocratic nature of the garden, the aged brick and old ivy, that reminded me of Pasadena, which has always had a very traditional, Old World aspect - at least in its wealthier neighborhoods ( as anyone who has visited The Huntington would know ).

And since I know that Pasadena is the home of several venerable estates that have been used for filming ( from the Gamble House to the Fenyes Mansion to "Wayne Manor" in the Batman series ), I decided to take a closer look at all of the Pasadena estates that had been used for filming or public events in recent years.

I started Googling for images of Pasadena mansions & filming locations. hoping to spot the same aged brick and ivy that I had seen in the party scene.

And that is when I lucked out.

Every spring, Pasadena hosts a "Showcase House of Design", a charity event where the public is invited into a of the historic estates in the city.

It just so happened that in 2017, Pasadena's Showcase House was the
S.S, Hinds Mansion, the former home of a wealthy lawyer who turned to acting during the Depression, and who is best known for playing 'Peter Bailey', the father of Jimmy Stewart's character, 'George Bailey', in the classic "It's a Wonderful Life".

The estate has also been used in several films and TV shows, including "Beaches", "Columbo" and "Mad Men".

As a result, there were a fair share of photos of the Hinds estate to be found on the web, and my search turned up these:










And that was almost enough for me. The rounded hedges, the old ivy, the columns of irregular-shaped bricks, the Mission-style arches...
I was 90% sure that this was the right location.

But just to be positive, I emailed Pasadena, and asked if "La La Land" had filmed at the Hinds estate. They got back to me, confirming that it had.
The engagement party scene was filmed at
the Samuel Hinds Estate
at 880 La Loma Road, in Pasadena, CA.

That's less than a mile southwest of another La La Land location,
the romantic Pasadena Street Bridge.

Despite the fact that the Hinds Mansion is a private home, if you had come during April or May of 2017, when the estate was serving as the Pasadena House of Design for that year, you could have toured the property ( in return for a charitable contribution ).

But unfortunately, that rare window of opportunity has passed, and is unlikely to return any time soon. The Hinds estate is a private spot once again, so don't go bother the residents ( unless you're planning to shoot a major movie there ).

But I can give you a little more history of the estate.

It was built in 1916, in English Tudor Revival style. The mansion covers 7,479 square feet, and sits on two acres of lushly-landscaped grounds, complete with a small waterfall, and that picturesque brick loggia where they filmed our scene..


The man who built it, Sam Hines, appeared in over 300 films as an actor. So it seems appropriate that is home should also play a role in our Hollywood fantasies.





Here is a link to a Google Earth 3-D view of the Estate






Move on to the next movie location seen in "La La Land".





"La La Land" and its images are copyright Summit Entertainment
The rest of this page is copyright © 2017-Gary Wayne - All Rights Reserved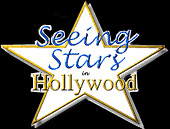 Or return to the Seeing-Stars home page.