Location #24:

Mia's Back Alley


Q. Where is it supposed to be?

59:27: In the scene, Sebastian honks his car's horn while Mia is in her apartment house with her roommates. He is there to pick her up for a date.



Mia exits through a back gate, and gets into his car.




They drive away, up an alley. But when they come to the next corner, Sebastian makes a right turn onto what turns out to be the wrong way on a one-way street.

In a comic moment, we see him frantically driving backwards, with a truck heading the same direction, right towards him.



( The scene leads into the "Summer" musical montage,
which shows the couple on a series of dates, at various L.A. landmarks. )



Here is a YouTube video of that alley scene:





Q. Where was it really shot?



When Mia walks out to his car, she is actually going out the back gate of Rose Towers, the same Long Beach courtyard apartment complex that they used for the exteriors during the earlier "Someone in the Crowd" dance scene.

The official address of the apartment house is 1728 E. 3rd St., in Long Beach, CA.

However, this time, instead of exiting through the front ( which would have put her back on 3rd Street ), she is instead heading out the back gate of the apartment complex, which leads to an east/west alley known as Bird Way.

To be more specific, they are at approximately 1735 Bird Way, in Long Beach, CA.,
And Mia is walking south as she exits the gate.

( And yes, those purple recycling bins you see in the alley are real. )


Here is a matching Google StreetViewView of her back gate:




When he drives away, they are heading west down that alley (Bird Way):



At the west end of Bird Way, Sebastian comes to a residential street, which in real life is known as Gaviola Avenue, where he turns right (north) and discovers that he's heading the wrong way on a one-way street. He then backs up quickly, now heading south on Gaviola.

Surprisingly, Gaviola Avenue actually is a one-way street, heading south-only.




Here is a link to a Google Earth 3-D view of the alley.





Move on to the next movie location seen in "La La Land".





"La La Land" and its images are copyright Summit Entertainment
The rest of this page is Copyright © 2020-Gary Wayne - All Rights Reserved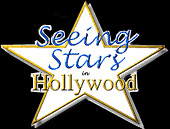 Or return to the Seeing-Stars home page.