Location #19:

The Pier (City of Stars )


Q. Where is it supposed to be?



46:39: After leaving Mia at the jazz club, Sebastian goes for a walk out on the nearby pier. There, he begins singing "City of Stars", and interacts with an older couple that he meets there, briefly dancing with the man's wife...




Here is a Youtube video of that pier scene:




Q. Where was it really shot?

This was filmed on an actual pier, and it is indeed right next door to the jazz club.

This is the Hermosa Beach Pier, found at the far west end of Pier Ave.

It was a last-minute decision to shoot the City of Stars number on the pier. They originally planned to have Seb exit onto Pier Avenue and sing while strolling past some of the businesses on that beach block. But after scouting the location, they spotted the great view from the pier and decided to shoot there instead.

But as for those iconic blue lamp posts, I have some good news & some bad news.

The bad news is that they weren't real. In the same way the film-makers added fake blue lamp posts to the view location ( where they performed A Lovely Night ), they also added the same prop blue lamp posts to the Hermosa Pier.

(Those blue lamp posts are sort of a running theme in this movie...)

In reality, the Hermosa Beach Pier is a rather plain, nondescript pier:





( If you're looking for a big pleasure pier, try the Redondo Beach Pier,
which is less than two miles south of Hermosa. )

But the good news? The City of Hermosa Beach is seriously thinking about adding the same kind of blue lamp posts to the pier!

They realized that the pier looks better with them, and wanting to capitalize on the popularity of "La La Land", they are considering adding those blue lampposts as a permanent fixture, so that the Pier will look like it did in the movie:


( See this article for the details. )


The city also held a "La La Land Day" in Spring of 2017, when they
briefly returned the prop lamp posts to the pier, and brought some
of the actors from the film to speak to the crowd (including the pair
who played the older, dancing couple on the pier ).





Here is a link to a Google Earth 3-D view
of the Hermosa pier and the Lighthouse Cafe nearby.







Move on to the next movie location seen in "La La Land".





"La La Land" and its images are copyright Summit Entertainment
The rest of this page is Copyright © 2020-Gary Wayne - All Rights Reserved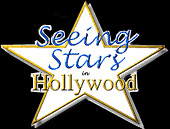 Or return to the Seeing-Stars home page.