That matchbook leads the bad guys to the Hollywood Roosevelt Hotel,
located at 7000 Hollywood Boulevard. Above, we see the neon sign
on the hotel roof. Below, we see the hotel's lobby and elevator.

(However, they cheated a bit here, substituted the lobby of the old
Ambassador Hotel, at 3400 Wilshire Blvd., for some of the shots.)
The big fight at the end begins on the roof of the El Capitan Theatre,
at 6838 Hollywood Boulevard. In the photo below, you can see the
Hollywood-Highland project across the street, including the Hollywood
Renaissance Hotel and the Babylon Arch. Most of these scenes,
however, were shot on a set built to resemble the El Capitan rooftop.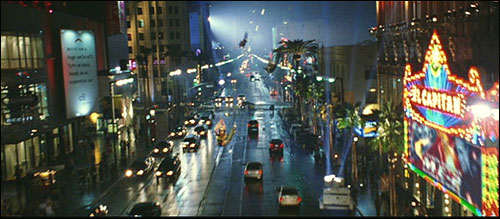 Demi Moore tries to escape by leaping from the roof of the El Capitan (right)
and gliding down to Hollywood Boulevard below, with the Angels hot on her
trail - they swing down on strands of theatre lights. (We are looking east in
this photo, towards the corner of Hollywood & Highland.)
But then (in a twist that will leave savvy Los Angelenos shaking their heads),
when Demi and the Angels alight on the ground, they are no longer on
Hollywood Boulevard, but are suddenly on south Broadway, in the historic
theatre district, which is 7 miles away (to the southeast) in downtown L.A.!
We can see, during the car chase, the Orpheum Theatre, which is located at
842 S. Broadway. Chances are that the producers thought that most
movie-goers wouldn't notice that it wasn't really Hollywood Boulevard, since
Broadway is lined with old theatres.
And the final showdown (between Cameron Diaz and Demi Moore)
stays on Broadway. In fact, it takes place on the gilded stage of the
fanciest old theatre in Los Angeles, the Los Angeles Theatre,
located at 615 S. Broadway. The Los Angeles Theatre was built
in 1931, and was also the location for Jim Carrey's "Man on the Moon".

MORE "Charlie's Angels: Full Throttle" Filming Locations!
The photos on this page are stills from the DVD of "Charlie's Angels"
(which you can buy by clicking here) and are copyright Sony/Columbia/Tri-Star Pictures.
The rest of the page is copyright Gary J. Wayne - 2015 / Seeing-Stars.com