0:33:00: The mother discovers that her publishing company's book has a typo.

Worse, it's a vulgar typo in a children's book, and Dick Van Dyke is about
to read the book aloud to a public gathering of kids at a local bookstore.

In the photo above, we see her peddling like mad on a bicycle, trying to get
to the bookstore in time to stop Mr. Van Dyke from reading the book.

In that scene, she is heading west on the north sidewalk of Colorado Blvd.

( The round Canterbury Records Shop sign you see behind her is located at
805 E Colorado Blvd Pasadena, CA. Here is a StreetView of that same round sign. )

When she gets to the bookstore (above) the signs read "Book Soup", but don't believe it.

Book Soup is indeed a real bookstore, and it's known for its celebrity book readings.
However, this isn't it. The real Book Soup is located on Sunset Blvd, in West Hollywood.

This is actually Vroman's Bookstore, at 695 E. Colorado Blvd, in Pasadena.
(Here is a Google StreetView of that store.)







0:40:25: The family drives the older brother to the DMV so he can taking his driver's test.
He's looking forward to driving his girlfriend to the prom, later in the evening:

The small brown building you see above, with the "Motor Vehicles" sign on front, is actually a
former medical clinic, located at 450 N. Lake Ave, in Pasadena. But the side we see in
the screencap above is actually the clinic's west side, which faces E. Villa Street.

Here is a matching Google StreetView of that building.

The brother takes the driver's test, but it is a disaster. After his instructor tricks him
into answering a call on his cell phone, a heated argument breaks out, he loses
control of the car, and it smashes into the curb several parking meters.

In the shot above, his car is traveling east on Villa Avenue. He hits the parking meters & curb
at the southwest corner of Villa Ave & Lake Ave, in front of that DMV / clinic.

Here is a Google StreetView of that accident corner.
The parking meters were props, there are no real meters at that corner.

(The fast food place with the low green wall, seen across the street, is Taquito Mexicano,
at 490 N Lake Ave, on the northeast corner of Villa & Lake.)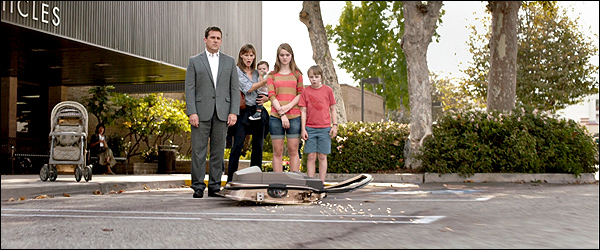 /p>





0:55:27: Unable to drive without a license, and still wearing a ridiculous blue tuxedo,
the brother has to have the family drive him to his snobbish girlfriend's house.

Surprise! This nice home isn't in Pasadena. But just barely...

The address is 1254 Boston Street, in Altadena, CA.
Altadena is a residential town just to the north of Pasadena.

Here is a matching Google StreetView of the house.




[ Warning: This is a private home. Do not trespass on their property,
knock on their door, or do anything that might disturb the residents.]









0:58:23: The Before the prom, the family (and the girlfriend) stop at Nagamaki,
a Japanese restaurant ((similar to Benihana) where they cook food at your table.

His girlfriend hates the place, until a group of popular kids from their school
show up and rave about it, and then she pretends to love it.


Meanwhile, the father has a crucial meeting with a group of potential young employers
at the same restaurant, and he is stuck wearing a ridiculous, puffy pirate shirt.

But he makes the best of it, and puts on a show, catching shrimp in his mouth,
and then accidentally sets his puffy sleeves on fire.




This is actually Shogan Japanese Restaurant,
at 470 N. Halstead Street, in Pasadena

where they really do cook your food at your table,
according to their website.

Here is a Google StreetView of the restaurant.