Seeing Stars: Where the Stars are Immortalized




13000 Venice Boulevard,
Venice, CA. / (310) 306-7981
It's rare to find a monument erected to honor a single actor or actress.
It's even more unusual to find a statue of a movie star that was erected before they became a movie star.
But that's exactly what you'll find at Venice High School.
Right in front of the high school, in the middle of a small rose garden, is a larger-than-life-size statue of actress Myrna Loy. And the orginal version of the statue was made years before Myrna appeared in a single movie.
If the school looks familiar to you, it might be because you saw it featured as "Rydell High School" in the 1978 hit movie musical "Grease" (starring John Travolta & Olivia Newton-John) .
Look closely at the opening scenes of "Grease," and you can see the white statue of Myrna Loy in front of "Rydell High" when John Travolta meets up with his buddies following their summer vacation (just as the movie's cartoon credits fade into an actual shot of the high school).
But the school's Hollywood history goes back a lot further than 1978. Myrna Loy was a student here before she broke into showbiz, and she posed for the statue that stood out front.
Actually, it wasn't a particularly good likeness of Miss Loy. Standing atop a stone pedestal, back arched, the short-haired figure is semi-nude (wearing only a thin gown which leaves little to the imagination), with one arm raised in a dramatic pose.
The statue is located between two other white statues - one male, one female, both crouching, in a work known as Inspiration.
All three statues were modeled by Venice High students, and the trio are meant to depict the Mental, Physical and Spiritual.
According to the bronze plaque on the east side of the pedestal, the statues were erected in 1921, which means that Myrna Loy (then named Myrna Williams) was only 16 years old when she posed for the "Spiritual" statue - long before she became a celebrity. So originally, the statue was meant simply as a work of art.
Now, of course, it is a tribute to Venice High's most famous alumna. The school even named its annual drama award "the Myrna."
Those of us born too late to have seen most of her films (except on the "Late Show") may have forgotten just how big a star Myrna Loy really was, or what a rich film legacy she left.
Myrna Loy was discovered by Rudolph Valentino shortly after she left Venice High. She appeared in a few silent movies, and was even a chorus girl in 1927's landmark "The Jazz Singer," Hollywood's first talkie.
But it was in the late 1930's that Myrna Loy became M-G-M's top female star at the box office. She was named the most popular actress in Hollywood, and starred alongside such megastars as Cary Grant, Spencer Tracy, and Clark Gable (despite the fact that she turned down the starring role in "It Happened One Night.")
Her career took off in 1934 on a curious note, when she starred in "Manhattan Melodrama," the movie that lured bank robber John Dillinger out of hiding. (The gangster was shot to death in an FBI ambush while leaving the Biograph Theatre after seeing her film.)
In that same year, she starred in the movie that would make her a household name: "The Thin Man" - based on the Dashiell Hammett novel of the same name.
In the "Thin Man" films, Myrna Loy was paired with William Powell, as Nick & Nora Charles, a witty, wealthy, urbane married couple who oozed sophisticated charm, and (together with their dog, "Asta") solved murder mysteries on the side.
The chemistry was magic, and she and William Powell went on to make 14 movies together, including "Another Thin Man," "Shadow of the Thin Man," "The Thin Man Goes Home," etc.
(The "Thin Man" formula of romantic sleuths has often been often copied since then, in a number of similar films of that era, and most recently, in the Robert Wagner / Stephanie Powers' TV series, "Hart To Hart".)
In 1937, Ed Sullivan asked his 20 million readers to vote for the "King and Queen of Hollywood." Clark Gable won the title of "The King "; Myrna Loy was chosen as "The Queen."
During World War II, Myrna Loy unselfishly put aside her Hollywood career and became a full-time Red Cross worker. After the war, she returned to the movies, making light comedies with Cary Grant such as "Mr. Blandings Builds His Dream House" (1948) and "The Bachelor & the Bobby-Soxer" (1947), plus the nostalgic "Cheaper By the Dozen" (1950) with Clifton Webb. But she also starred in outstanding dramas such as "The Best Years of Our Lives" (1946), widely hailed as one of the best movies ever made in Hollywood.
Later in her career, Ms. Loy was involved in politics (supporting UNESCO), and starred on the Broadway stage. She never received an Academy Award nomination for her films, but she was awarded an honorary Oscar in 1991, two years before she died.
By the time I first visited the statue, in 1993, it had already been damaged and repaired, showing obvious signs of wear, vandalism and rust. The statue's arms had been repositioned to a folded position. And it was surrounded by a tall cage of white metal bars to prevent further vandalism. It didn't work.
By 2000, the original white concrete statue had been so badly damaged that it had to be removed. For a decade, the spot in front of the school, where the Myrna Loy statue used to be, stood empty.
But the great news is that in 2010, the community got together and raised $140,000 to commission a brand new version of the statue, a striking work in bronze, even larger and more impressive than before, that now stands in the same spot in front of Venice High.
A new plaque below the statue reads, in part:

Myrna Loy Statue
This re-creation was completed through the generosity and hard work
of Peter Schwab ('61), Laura Ferre ('76), the Venice High Alumni Association,
countless VHS alumni and the Venice community.
This beautiful re-creation has been sculpted by Ernest Shelton.

To which I would like to add:
Congratulations, Venice. You did the right thing, and you did it well.

Here is a series of photos I shot on April 18, 2010: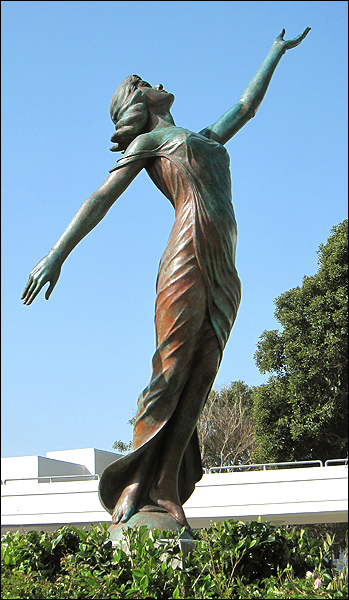 Getting there: Venice High School is located on the south side of Venice Boulevard, at Maplewood Avenue. / To reach Venice High School, from the San Diego (405) Freeway, take the Venice Boulevard exit, and head west on Venice Boulevard (about two miles) to Maplewood Avenue. The school will be on your left side, and the statue is located on the lawn in front of the school.

[For more information about Venice High, you can access their website at: http://venicehigh.net.]
Looking for something in particular? Search the Seeing-Stars website!