Seeing Stars: Restaurants Owned by the Stars..




8873 Sunset Boulevard,
West Hollywood, CA / (310) 854-1172



Unfortunately, Detroit-Style Coney Dog didn't make it.

The celebrity owners sold out in 2013.

There were big lines at the restaurant when it first opened, but apparently, there weren't enough Detroit expatriates in L.A. to keep the place going.

I'll leave this page up, in case anyone wants to read about Coney Dog, but remember that the article below was written when the business was open.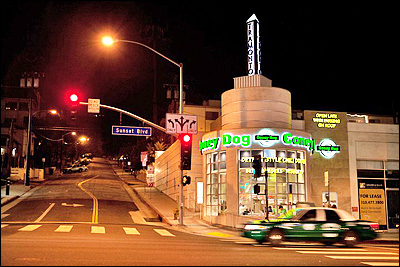 There's a new restaurant on the Sunset Strip, across from the Viper Room and next to the Whisky A Go Go. Given the neighborhood, it's surprisingly affordable.

Better yet, it's owned by a number of celebrity investors, including Tim Allen, Adam Sandler, "Spider-Man" director Sam Raimi, and writer/director Mike Binder ("Indian Summer", "Reign Over Me").

All of the investors (except for Sandler) have Detroit roots.

If you're from the Motor City, you should love this place. They import the hot dogs from Detroit, they serve Detroit specialties like "Faygo" pop, "Better Made" potato chips and "Stroh's" beer. There are flat-screen TV's to watch Lions, Tigers and Redwings games. And their menu even includes "Loose Burgers".
Now to the uninitiated, it would seem that something called a "Coney Dog" would have originated on Coney Island, in New York. Not so, say the Detroit fans.

According to them, the Coney Dog was created in Detroit by Greek immigrants, and just named after Coney Island.

So, what exactly is a Coney Dog?

It's a hot dog topped with onions and hot mustard buried under an avalanche of unique Detroit-style chili.

Suffice it to say, it's a Detroit staple. And now there's finally an authentic coney island in L.A.

Coney Dog opened in mid-2010 at the northeast corner of Sunset & Clark St., in West Hollywood, and since then, it's picked up more than a few celebrity customers, including Brad Pitt, Kristen Bell and fiance Dax Shepard, writer/director Rod Lurie ("The Contender", "Straw Dogs") & writer/director Todd Philips ("The Hangover").

The opening fundraiser (for the Midnight Mission) brought out Dick Van Dyke, Ed Begley Jr. and Tom Arnold, who worked behind the counter.

The Coney Dog is bright, clean and modern. Despite the fact that it's basically fast food, it isn't self-serve - you'll find waiters & waitresses here to serve you.

Prices are a bit higher than at most hot dog joints (the dogs will cost you about $4), but considering what you'll pay at most Sunset Strip restaurants, they're certainly reasonable.

One thing that is definitely not Detroit-style are the vegan versions of the food items, also available on the menu. But hey, it's L.A.! (Plus, Mike Binder's wife is vegan.)

Here is a Google StreetView of the corner.
Parking (hard to come by on the Strip) is available on the roof for $1. (But don't stay longer than one hour, or the price goes up to $4 an hour.)

And as a bonus, "The Matthew Aaron Show", a popular L.A.-based entertainment Podcast, broadcasts live from Coney Dog every week, with celebrities like Kurtwood Smith (the dad on "That '70s Show") and Dave Coulier (Joey on "Full House") dropping by for interviews.



Getting there: The Coney Dog is at the northeast corner of Sunset Blvd & Clark St.. From Hollywood & Highland, take Highland south to Sunset, turn right and head west on Sunset for about three miles. It will be on your right hand side. Parking available on the roof.
[For more information, go to Coney Dog's official website at: www.coneydogla.com ]