">


Seeing Stars: Restaurants Owned by the Stars.





9229 W Sunset Blvd.,
West Hollywood, CA / (310) 887-3848



Hey, Jude, don't take it bad...

Alas, this West Hollywood branch of Blowfish has closed its doors (although other branches remain open).

I will leave the page up for a while, for anyone interested in reading about the restaurant. But bear in mind that the article below was written when the restaurant was open and doing business.



You have to love the name of this restaurant: "BLOWFISH: Sushi to Die For". For the uninitiated, parts of the fugu blowfish are deadly poison, so eating it can prove fatal if it isn't prepared correctly. However, it should be noted that, unlike some places, Blowfish doesn't really serve fugu - just a harmless relative.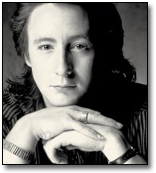 But equally interesting is its celebrity clientele, and one of its owners: Julian Lennon, first son of Beatles legend John Lennon. Paul McCartney wrote the classic song "Hey Jude" about Julian (it was originally "Hey Jules"). One of his childhood drawings reportedly inspired the Beatles' hit "Lucy in the Sky With Diamonds". And, of course, Julian is a hit singer in his own right (Too Late for Goodbyes, Valotte).
Situated at the west end of the Sunset Strip (just a few blocks east of Beverly Hills), on the bottom floor of a high-rise, Blowfish is a trendy, hip environment where over a dozen flat-screen TVs blast anime (Japanese cartoons), while music is blasting over the speakers. On Fridays, there's hip-hop in the backroom lounge.
Lindsay Lohan celebrated her 18th birthday at Blowfish, with Wilmer Valderrama & Donnie Masterson (of "That '70s Show"). Other celebrity customers include Leonardo DiCaprio ("Titanic"), Denzel Washington ("Training Day"), Adam Sandler ("Click"), Nicolas Cage ("Leaving Las Vegas", "Face/Off"), Vin Diesel ("The Fast & the Furious"), Kevin Spacey ("American Beauty"), Chris Klein & Tara Reid, ("American Pie"), Mischa Barton ('Marissa' on "The O.C."), Neve Campbell ("Wild Things"), Pamela Anderson ("Baywatch"), the Olsen twins ("Full House"), Chris Noth ("Law & Order), Tori Spelling ("Beverly Hills 90210"), JC Chasez ('N Sync), Nicole Richie and Fred Durst (Limp Bizkit).
Lunch is mainly business types, but the place heats up after dark, with the bar taking the spotlight, serving drinks such as the "Peach Nympho" (peach juice & sake). Prices are moderately high, but the imaginative sushi and the cooked entrees get top marks from most critics. They're open until 2 AM on weekends.

Getting there: Blowfish is located on the Sunset Strip, just west of where Sunset Blvd forks with Dohney Road (near Greystone Mansion), just a few blocks east of the border with Beverly Hills.


See Blowfish's menus on the restaurant's official website: www.blowfishsushi.com


Looking for something in particular? Search the Seeing-Stars website!