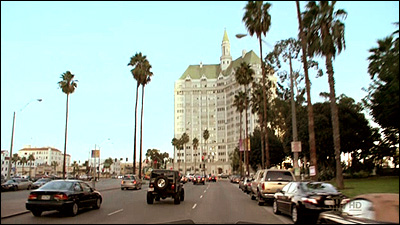 Q. What is it supposed to be on the show?
Q. Where is it supposed to be on the show?
Q. When did we see it on the show?
A. In Episode 12 (the season 4 finale), "The Getaway".

After Arthur Mitchell (the Trinity Killer) picks up his Mustang at Julio's Auto Body, we see him happily driving away, leaving his family behind forever, confident that he has escaped both the police and Dexter.

With a carefree Spanish-language song playing in the background, he heads down one city street in his top-down convertible, then makes a right turn onto another street.

(Eventually, his car breaks down on a lonely road at night.)



Q. What is it actually in real life?
A. Two public streets - but not in Miami.
Q. Where can I find it in real life?
A. When we first see Trinity, passing that colorful mural, he is headed north up Pine Avenue, just south of Ocean Blvd, in Long Beach, CA.

(The mural is painted on the east side of Pine Ave, on a temporary fence around a construction site - so it may not be there later if you visit. But it was still there in late December of 2009.)

Next, Arthur is seen driving east on Ocean Blvd (in Long Beach), as he approaches the intersection of Ocean Blvd & Alamitos Avenue/Shoreline Drive. (The tall building you see is the Riviera condo, at 800 E. Ocean Blvd.)

Both locations are very close to Trinity's Office Plaza (where he meets Lundy and kills a man with a hammer), and Trinity's bank.


He then makes a right turn onto Shoreline Drive (which curves around and heads back west), eventually passing through a traffic light at Shoreline Drive & Linden Avenue.

This is the same street where, last season, they filmed Dexter locked in the trunk of a car.
It goes right past Shoreline Village, where they have filmed many scenes over the years, and the Aquarium (where they filmed a scene with Lila & Dexter in the second season).

Of course, they cheated a little along the way. For instance, we see Arthur passing the south side of the Hyatt Regency Hotel (where they filmed the rooftop confrontation last season) before he reaches Linden Ave, while in fact the hotel lies beyond (west of) Linden.




I shot the photos below in December 2009.


In the photo above , we are looking east across Pine Avenue, just south of ShorelineDrive, in Long Beach, CA.

In the photo below, we are heading east on Ocean Blvd (nearing Shoreline Drive), in Long Beach, CA.





Here is an aerial photo with the route marked. And here is a map link.





Q. How the heck did you figure out where it was?
A. This was easy. Anyone familiar with downtown Long Beach would instantly recognize the Riviera, a landmark building at the corner of Ocean & Shoreline. And not only is Shoreline Drive easy to recognize, there is also a large street sign visible reading "Linden Drive" passes through that intersection.

But the mural stumped me. I usually take don't take Pine south of Ocean, so I didn't recognize it. I phoned my pal at the Long Beach Press-Telegram, columnist Tim Grobaty (who works downtown) and he ID'd it for me. (Thanks Tim.)





By Episode - By Category - By Geographical Location - Clickable Map of All Dexter Locations - Go To Main Menu
The Dexter screenshots from the show and all related characters & elements are trademarks of and © Showtime.
All other photos & text are Copyright © 1999-2021-Gary Wayne and may not be used without written permission.





Return to Seeing-Stars.com
Looking for something in particular? Search the Seeing-Stars website!