Q. What is it supposed to be on the show?

A. A beach café with roller-skating waitresses.



Q. Where is it supposed to be on the show?

Q. When did we see it on the show?

A. In Episode 10, of Season 8, "Goodbye Miami".


Quinn & Debra are having lunch at this café on the beach.


As colorfully-dressed waitresses skate by, Debra tells Quinn that Dexter is leaving Miami.


Quinn thinks that's good for Dexter, but Debra says she doesn't want him to leave.


Quinn suggests she think about what's good for Dexter, and stresses that change can be good..


Deb also tells Quinn that Batista gave her badge back.


This gets Quinn thinking about spending time with Deb again, and he eventually breaks up with Jamie.



Q. What is it actually in real life?

A. A snack shop on the beach..



Q. Where can I find it in real life?

A. This is "Alfredo's Beach Club", a casual beach snack shop, plus a rental window where sun-lovers can rent bikes, rollerblades & pedal surreys to enjoy.


It's situated right next to the bike path that runs along Alamitos Beach, in Long Beach.


The official address is 700 Shoreline Drive, in Long Beach, and you'll find it just northeast of Linden Ave, between Shoreline Village and Ocean Avenue.


It's where the west end of the beach meets the east end of Marina Green Park, just south of Shoreline Drive.








The nearby Marina Green Park is a narrow, grassy lawn that runs along the north side of the parking lots that lie east of Shoreline Village. The grassy park runs between the parking lots there and busy Shoreline Drive.


Tucked away between the last bit of green grass (of the park), the sandy beach, and another parking lot (just south of the landmark Villa Riviera building), this small triangle is paved with red brick and houses the snack shop, rental stand, a cluster of palm trees, and some patio tables.


To find the exact spot, take Shoreline Drive to Linden Ave. and turn south/southeast into the parking lot. Once in the parking lot, turn left (east/northeast) and drive a short ways to the very end of that parking lot. Running along the north edge of this parking lot (between the lot and Shoreline Drive). Park your car, get out, and follow the park grass northeast (about 100 yards) to where it ends at the red-brick area.


It's about a half a mile east of Shoreline Park, where they filmed the early scene of Vogel contacting Dexter.
And it's about half a mile southwest of the mercado.

And it's a very short drive from Shoreline Village, where the "Dexter" crew has filmed multiple scenes over 7 seasons.

They first used this café location way back in Season 3, when it was the taqueria where Debra first met Anton.




Here are two photos from the Alfredo's website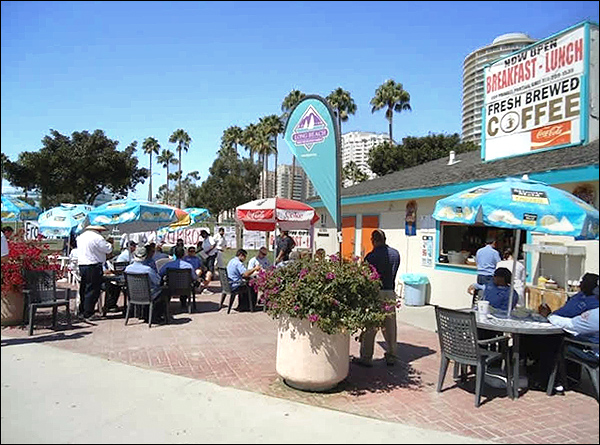 Here is an aerial photo of the location. Here is a Google StreetView.
And here is a map link.


There is a connection between Alfredo's Beach Club and another key Dexter location: Angel's Beach Cafe.
Angel's cafe is filmed at the Kayak Cafe, which is owned and operated by the same company that runs Alfredo's Beach Club (and a host of other concession stands near the Southern California coast).


Q. How the heck did you figure out where it was?
A. In the early seasons, I usually had to hunt down the locations after viewing the episodes, using clues from the various scenes. By the now, though, I've developed a small group of fans, spies & tipsters who kept an eye out for Dexter filming in their neighborhoods, and let me know in advance when something is about to film there.

Between those reports, my own personal reconnaissance around town, and a few new resources I discovered, by the time the new first episode airs, I already know most (but not all) of the filming locations, and only need to watch the episodes and match up the scenes with the correct locations.

This group of helpful fans includes Rick, Ellen, Suzi, Elaine, Mia, Julie, Kerry, Joel, Eric, Jeff, & others. My thanks to all of them.


This tip came from Rick. (Thanks, Rick!)






By Episode - By Category - By Geographical Location - Clickable Map of All Dexter Locations - Go To Main Menu

The Dexter screenshots from the show and all related characters & elements are trademarks of and © Showtime.
All other photos & text are Copyright © 1999-2021-Gary Wayne and may not be used without written permission.





Return to Seeing-Stars.com
Looking for something in particular? Search the Seeing-Stars website!