Seeing Stars: Churches of the Stars..




505 N. Bedford Drive,
Beverly Hills, CA. / (310) 285-5425


| | | |
| --- | --- | --- |
| | Just around the corner from posh Rodeo Drive is the Church of the Good Shepherd. This is the oldest church in Beverly Hills, and over the years, this small house of worship has been the local parish church for most of the Catholic movie stars who live in Beverly Hills, from Rudolph Valentino to Bing Crosby (who both attended Sunday Mass here). It has seen numerous celebrity weddings and funerals. | |

Although the church's interior is modest (it seats just 600), and its decor surprisingly simple, the Church of the Good Shepherd has been featured in several Hollywood films: most notably, it was the location for the funeral scene in the 1954 version of "A Star is Born." (starring Judy Garland).
| | | |
| --- | --- | --- |
| In real life, Elizabeth Taylor was married for the first time (to Nicky Hilton) at this church, in a wedding gown designed by Edith Head. (M-G-M gave her the gown as a wedding gift - and to help promote their upcoming movie, the original 1950 "Father of the Bride.") Three thousand fans waited outside the church. | | |
Gary Cooper converted to Catholicism at this parish (a few years before his death). Rod Stewart was married to supermodel Rachel Hunter at the Good Shepherd church (a union, alas, which was apparently destined not to last.).

Loretta Young was also married here, as was tennis star Tracy Austin (Wilt Chamberlain and her former tennis rival Rosie Casals were among the guests.)
There have also been numerous Hollywood funerals here.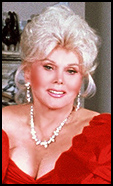 In 2016, the funeral for Zsa Zsa Gabor was held here.
In August of 2007, the funeral of talk show host and media mogel Merv Griffin was held at Good Shepherd. Mourners included Arnold Schwarzenegger, former first lady Nancy Reagan, Dick Van Dyke, Alex Trebek (host of "Jeopardy", which Merv created), and Pat Sajak & Vanna White (hosts of "Wheel of Fortune", which was also a Merv Griffin creation).
One of the earliest was that of "The Sheik" himself, Rudolph Valentino, whose 1926 funeral brought out crowds of fans who lined the streets around the church, as well as celebrities of the day such as Mary Pickford, Douglas Fairbanks, Harold Lloyd, William S. Hart, Jesse Lasky and Pola Negri.
On May 20, 1998, the funeral of the legendary Frank Sinatra was held at Good Shepherd. Stars in attendance included Kirk Douglas, Gregory Peck, Robert Wagner, Jack Lemmon, Sidney Poitier, Jack Nicholson, Nancy Reagan, Jerry Lewis, Wayne Newton, Johnny Carson, Milton Berle, Bruce Springsteen, Debbie Reynolds, Liza Minnelli, Bob Dylan, Tom Selleck, Tony Bennett, Shirley MacLaine, Robert Stack, Mia Farrow, Bob Newhart, Don Rickles, Sophia Loren, Diahann Carroll, Steve Lawrence & Eydie Gorme, Joey Bishop, Tony Danza, Quincy Jones, Dom DeLuise, Tim Conway, Cuba Gooding Jr., Anthony Quinn, Tony Curtis, Jack Paar, Angie Dickinson, Paul Anka, Ben Vereen, Ed McMahon, Red Buttons, Marlo Thomas, Phil Donahue, Suzanne Pleshette, Dionne Warwick, Suzanne Somers, James Darren and, of course, Nancy Sinatra and Frank Sinatra Jr.
Over a thousand Sinatra fans lined the streets outside the church during the funeral, and gave Frank Sinatra one final round of applause as his flower-draped coffin was carried out of the church. Overhead, a skywriting plane created a giant heart in the sky.
( Worth noting: Frank Sinatra had attended Gary Cooper's funeral at this same church, almost to the day of his own, some 37 years before.)

The 1991 funeral of Danny Thomas also drew a large crowd of celebrities to the Good Shepherd, including former U.S. Presidents
Gerald Ford and Ronald Reagan, as well as Loretta Young, Mary Tyler Moore, Phil Donahue, Bob Hope, Milton Berle, Carl Reiner, Joey Bishop and Martha Raye.

The funeral for "Green Acres" star Eva Gabor was held at Good Shepherd in 1995 (where Merv Griffin and Nancy Reagan sat together).
And in September of 1998, they held the funeral of actress Mary Frann here, who played Bob Newhart's wife Joanna on the "Newhart" show.


Other celebrity funerals here include those of actress Rita Hayworth (1987), Gary Cooper (1961), William Frawley, director Vincente Minnelli (husband of Judy Garland and father of Liza Minnelli; 1986), legendary director Alfred Hitchcock (in 1980),
and Brazilian bombshell Carmen Miranda (1955).
A rosary was said at the church for singer/actress Rosemary Clooney (who appeared with Bing Crosby in the holiday classic "White Christmas"). In attendance was her nephew, George Clooney, Kathryn Crosby, Frank Sinatra Jr., Brian Wilson, Natalie Cole, Diahann Carroll and Rosemarie. (Her funeral was later held at St. Patrick's, in her hometown of Maysville, KY.)
Misha Barton (who played 'Marissa Cooper' on "The O.C.") attended services there just after New Year's of 2008, following her arrest for DUI, as did Paris Hilton's parents (when she was in jail).
Like many Roman Catholic churches, the Good Shepherd is open to visitors during the day, so feel free to step inside and take a look around, say a prayer, or even light a candle; no one will accost you.
(Don't confuse the Church of the Good Shepherd with the nearby All Saints church. Both churches have tile roofs, but the Good Shepherd is the one on the west side of the cactus garden; it features two tall steeples and a statue out front of Christ holding a lamb.)

Getting there: The church is located at the corner of Santa Monica Blvd. and Bedford Drive. From Rodeo Drive, just go north to Santa Monica Boulevard, turn left (southwest), and go two blocks. The Good Shepherd will be on your right (northwest) side (just west of the cactus garden).