The location: The Market.




Q. What is it supposed to be on the show?




Q. Where is it supposed to be on the show?




Q. When did we see it on the show?
A. In a brief scene in Episode 3, of Season 4, "The Cold Turkey".

With Marissa dead, and Ryan looking for vengeance, Kirsten sends Ryan & Seth on a shopping trip to the grocery store, hoping it will distract them and edge them back into a normal routine.

While pushing a cart through the market, the guys bump into Julie (Marissa's mother), who has her own agenda.

She has hired a private investigator to find Volchok (whom they blame for killing Marissa), and plans to sic Ryan on him.

After she and Seth have a low-key confrontation, she takes Ryan aside.

While pretending to sample cheese, Julie tells Ryan that the P.I. has located Volchok, and that he should "act normal" until she contacts him in the morning.



Q. What is it actually in real life?
Q. Where can I find it in real life?
A. This scene was shot inside what was then a Wild Oats market (it's now a "Whole Foods" market) at 6550 Pacific Coast Highway, in Long Beach, CA, next to the Alamitos Bay marina.

It is located right next door to (southeast of) the motel where they filmed the scene of Volchok's arrest, in a small shopping center at the southwest corner of PCH and N. Studebaker Road, near the border of Long Beach and Seal Beach.

The shopping center contains, among other things, a PetCo pet store and a Mimi's Cafe restaurant.




.

(I shot these photos of the market in March 2010.)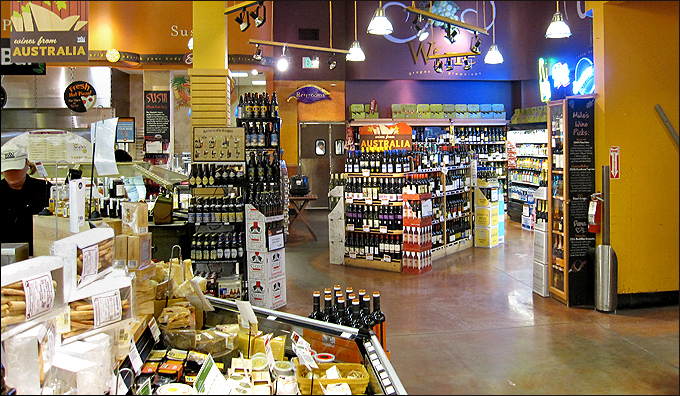 Q. How the heck did you figure out where it was?
A. I looked high and low for this market, without success. I assumed it was probably a Bristol Farms market, so I visited a number of those in the South Bay, but none of them matched. I also visited several Pavilions markets, without success. Never having been to a Wild Oats market, that chain simply wasn't on my radar. So I added the market to my short list of unknown locations.

Three years later, in 2010, I got a tip from a fan, Geoff, who had figured it out.

He noticed that in one brief shot, he could make out the word "Oats" on a girl's shopping basket glimpsed in the scene (something I had managed to overlook). He then determined that there used to be a Wild Oats market right next to the Seaport Marina Hotel, where they had filmed Volchok's arrest in the very same episode.

After he alerted me to the possibility, I paid a visit to the market, armed with paper printouts of the screencaps, compared them to the store's current interior, and found that (despite the change in ownership) the market hadn't changed much over the years. It was a perfect match, right down to small details such as the leaf-shaped sign above the restroom doors, the purple wine wall, and the columns shaped like stacked crates. (Thanks, Geoff!)



By Episode - By Category - By Geographical Location - Clickable Map - Aerials

THE O.C. screenshots from the show and all related characters & elements are trademarks of and © Warner Bros. Entertainment Inc.
All other photos & text are Copyright © 1999-2021-Gary Wayne and may not be used without written permission.





Return to Seeing-Stars.com