Hollywood has new another museum, and this one offers an outstanding collection of vintage Hollywood memorabilia and a great location: located in a landmark building, just steps away from Hollywood & Highland.
The Hollywood Museum (formerly the "Hollywood History Museum") is housed in the venerable Max Factor Building, where the wizard of movie make-up worked his magic on stars since 1935.
The lobby, basically unchanged from those golden days, is a polished Art Deco gem - a white & rose-colored oasis of lavish marble, crystal chandeliers, pastel hues, antique furniture, and potted palms. On the ground floor, you'll find many of the same displays that used to make up the old Max Factor Museum (before it closed in 1996). But now that is only the beginning.
The new museum is considerably larger than it might appear at first glance. It features four floors of exhibits (two floors above the lobby and a basement below), offering a good 38,000 square feet of exhibit space.
To put that in perspective, it is seven times the size of the nearby Guinness World of Record Museum (5,200 square feet), almost four times the size of the neighboring Ripley's Believe It Or Not museum (10,000 square feet), and five times larger than the Warner Bros Museum (at 7,000 square feet). Yet that still isn't really room enough to do justice to the thousands of items on exhibit here. And the size pales by comparison to the Autry Museum's 148,000 square feet, or the massive Petersen Automotive Museum's 300,000.
After paying your admission at the desk in the lobby, just inside the front doors, you'll be told to take the stairs up to the third floor and work your way down. It's a self-guided tour, so you can spend as long as you like admiring any exhibit.
Each of the floors is different. The ground floor is made up of the gorgeous Max Factor rooms and a few large-scale exhibits from recent science-fiction films. The second floor is devoted almost exclusively to costumes by the stars in famous films. The third floor is a hodgepodge of Hollywood memorabilia, ranging from the earliest Technicolor film ever shot, to a Roman bed from "Gladiator".
Taken floor by floor, here are just some of the highlights of the many exhibits: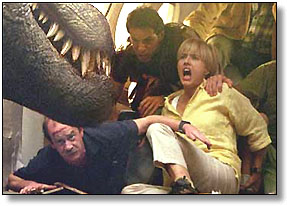 A huge display from the 2001 musical "Moulin Rouge", featuring both the film's famous windmill and the unusual elephant-stage (a miniature) featured in the film, along with various props, posters and costumes.


A large, Roman canopy bed from the movie "Gladiator".


W.C. Field's famous top hat.


Dueling pistols used by Errol Flynn in the 1952 swashbuckler "Against All Flags".


The golden curls of silent screen legend Mary Pickford.


The dog, "Puffy" (wrapped in bandages), from 1998's "There's Something About Mary" (it's a prop, of course, not the real dog).


Boxing gloves, signed by Sylvester Stallone, from the 1976 Oscar-winning film, "Rocky"


A costume (yellow blouse and white slacks) worn by Téa Leoni while being attacked in a wrecked plane fuselage by a long-nosed dinosaur (Spinosaurus) in "Jurassic Park III".


Ra's spectacular jeweled robe from "Stargate" (minus the Tut-like mask).


Cannons, swords costumes, and other artifacts from the recent "Master & Commander" - even the Capain's violin and the botantical specimens the ship's doctor gathered on the island.


An aged clapboard from Charlie Chaplin's classic "The Great Dictator".


The actual bathroom from actor Roddy McDowall's home. He had been known for throwing great parties, and just about everyone who's anyone had visited his bathroom at one time or another, and many of them added a picture or note to the wall. McDowall himself added some other photos, art and celebrity Christmas cards. The bathroom became something of a "tourist attraction" even among jaded Hollywood types, and when he died in 1998 friends insisted it be saved intact...


Pee-Wee Herman's original red bicycle from "Pee Wee's Big Adventure".


One of those large Sand Beetles from "Star Ship Troopers" (this one is "only" two feet long).


The familiar dark suit (and sunglasses) worn by Tommy Lee Jones in "Men in Black".


A suit worn by Leonardo DiCaprio in "Romeo & Juliet" (1996).


A miniature building & fire escape with figures used in the shooting of "It's a Mad Mad Mad Mad World".


An Iron-maiden-like cage from the recent (2002) version of "The Count of Monte Cristo", starring James Caviezel.


Very realistic-looking artificial heads of the stars of "Deep Blue Sea" (1999), used for shark attack scenes.


A life-size model of an dead-looking Sarah Michelle Gellar walking, from "I Know What You Did Last Summer".


A primitive-looking space ship model from an old "Flash Gordon" serial of the 1930's (it resembles a fire extinguisher canister with fins glued on it!).


Costumes of Fred, Wilma, Barney & Betty from "The Flintstones in Viva Rock Vegas".


A loincloth worn by Brendan Fraser in "George of the Jungle".


Moving down to the second floor, we find:
A Jodie Foster dress from "Anna and the King" (1999).


A pink dress Marilyn Monroe wore in 1960's "Let's Make Love".


A dress worn by Susan Hayward in "The Conqueror" (1956), opposite John Wayne.


A black dress with gold trim, worn by Rita Hayworth in 1941's "Blood & Sand".


A Lena Horne, gold lame dress from "Stormy Weather" (1943).


A Barbara Stanwyck skirt & top worn in the 1952 version of "The Titanic".


Jane Russell's tattered dress from "The Outlaw".


A gold sheath dress worn by Elizabeth Taylor in "Cleopatra", as well as the riding hat she wore in "National Velvet".


Plaster life masks of (what appears to be) Clark Gable (eyes closed), Humphrey Bogart, and Anthony Hopkins.


A tiny yellow dress worn by Darla Hood in the 1922 "Spanky & Our Gang" movies.


A Judy Garland, ruffled dress worn in "A Star Is Born" (1953).


More dresses & costumes from actresses such as Bette Davis, Lucille Ball, Ella Fitzgerald, Rita Hayworth, Lana Turner, Joan Crawford, Shirley MacClaine, Greer Garson, Sophia Loren, Susan Hayward, Dorothy Lamour, Linda Darnell, Ethyl Merman, Ann-Margaret, Darla Hood, Rhonda Fleming, and many more.

Clothes worn by actors such as Caesar Romero, Richard Burton, Elvis Presley, Rudy Vallee...


Plaster life masks of the faces of Clark Gable, Humphrey Bogart and Anthony Hopkins.
There are special sections here dedicated to major actresses. A large display of Marilyn Monroe items comes complete with huge enlargements of her famous nude Playboy pose, costumes, and memorabilia such as what may be the last check she ever signed (to her housekeeper, just before her death).
The Mae West collection is particularly large, including her trademark hats, "Diamond Lil" jewelry, and feathered boas. There's even a "Mae West" life-vest, and a photo of her being presented with the inflatable preserver. Quite a few of these costumes come complete with photos taken from the films, with the actress wearing the same item of clothing, or a video monitor showing a clip from the film. The Lucille Ball display includes a large conga drum that belonged to Desi Arnaz, and a nearby monitor features a film clip of him playing a similar drum. (It would be ideal if all of the displays were identified in such a way.)
On the ground floor, in addition to the Max Factor rooms, you will also find:
A "Planet of the Apes" display, featuring costumes from both old and new Apes movies, as well as the crew's crashed space shuttle.


Several giant "Bunny legs", which were toppled by Ben Stiller in the 2004 comedy "Along Came Polly".


A large model of an airplane, from "Jurassic Park 3", suspended from the ceiling, as if crashing.



And in the basement is:
The entire prison cell block where Hannibal Lector was confined in the movies "Silence of the Lambs" and "Red Dragon".

And that is just some of the collection. I don't have room here to list it all.
In 2005, the museum opened a new Soupy Sales exhibit, featuring a wide array of Soupy Sales memorabilia including vintage costumes, television sleeve puppets (White Fang and Black Tooth), books, posters, etc.
There is also a new Bob Hope exhibit, including his suits, costumes, his famous golf club (used as a prop during his shows), and an Army jacket worn on his UFO tours with the troops. Most of the items are from the second half of Bob's career (the 1950's and later), with little from his prime "Road Picture" period (except for a dress worn by Dorothy Lamour).

But before I pour on the praise too lavishly, let me say that the museum is not without its flaws...
Once you get beyond the original Max Factor rooms, the museum doesn't have the kind of slick, commercial look you might find at the Petersen Museum or the Autry Museum. There's a certain amateur edge to the current layout - a feeling, at times (especially on the third floor), that one is walking through the somewhat cluttered attic of a dedicated collector.
Not all of the exhibits are labeled, so it can be tricky to identify some of the items (although the staff is friendly and willing to answer your questions).
The collection is so large and so eclectic that it's hard to group the exhibits into simple categories. As a result, we find "Rocky"'s boxing gloves right next to the "Moulin Rouge" windmill, which is near a display of newspaper reports of World War II war bond rallies, just steps away from the bed from "Gladiator".
Obviously, they have received donations from many different sources, and are eager to put it all on display, even if the diverse exhibits do, at times, make for strange bedfellows. I think they might be better served to try to sort the countless treasures into groups, such as "Westerns" or "Horror Films", or perhaps by decade, and then use room dividers to separate off each section, allowing visitors to concentrate on one category at a time before moving on to the next.
But for those with an appreciation of vintage Hollywood, there's more than enough here to savor. Unless you're really counting your pennies, you shouldn't miss it.
The final trip down to the basement to see Hannibal Lector's prison cell is almost worth the price of admission alone. One boards a room-size freight-elevator (complete with sparkle-ball, silent movies projected on the wall, and a scale model of the Eiffel Tower from "Moulin Rouge") and descends to the lower level.
There one discovers not just Lector's plexiglas cell, but the entire cell block used in the films "Silence of the Lambs" and "Red Dragon", complete with all the original furnishings and props. Even the small folding chair outside Hannibal's cell has a story: it was the actual chair that Jodi Foster sat in when she met with Dr. Lector - it was cut to a smaller-than-normal size me make Clarisse appear smaller and more vulnerable as she faced Hannibal.
(By the way, the "Silence of the Lambs" cell block is available for rental for special events.
So, if you want to have a Halloween party in the Hannibal jail, this is the place to come...)
One footnote: If you ever saw the Spencer Tracy/Kathryn Hepburn movie "Guess Who's Coming To Dinner", you may remember a scene where the old couple pulls into a drive-in restaurant and order two shakes. That was Mel's Drive-In in San Francisco, part of a small chain of restaurants. It was also seen in "American Graffiti", of course. The museum now shares the south part of the building with a new Mel's Drive-In, a retro diner complete with a counter with stools, and a bright 50's decor. It's an interesting (and convenient) place to grab a burger and fries - or perhaps Spencer's milk shake - before or after a visit to the museum. (But I must admit that I tried their signature burger, and it didn't knock my socks off. Still, others seem to love it.) E-Online reported in August 2004 that Tom Cruise paid a visit to Mel's - but he snuck in the back door, so had you been there at the time, you probably wouldn't have seen him.


Phone: For more information, call (323) 464-7776.
Parking: There is a paid parking lot on the south side of the museum. Validation at the museum will take $2 off the cost of parking.
Admission Price: $15 for adults. $12 for seniors and students with ID. $5 for children under 5.
Hours: Open Wednesday through Sunday, from 10 AM to 5 PM. Closed Monday & Tuesday.

Getting there: The museum is located on the east side of Highland Avenue, just one half-block south of Hollywood Boulevard (between Hawthorn Avenue and Hollywood Boulevard). It's within easy walking distance of Grauman's Chinese Theatre, and just around the corner from the Ripley's Museum. / From Hollywood and Vine, go west on Hollywood Boulevard (about 3/4 of a mile) to Highland Avenue. Turn left (south) on Highland, and the museum will be on your left (east) side.
[ You can access the museum's official website at
www.thehollywoodmuseum.com ]
Looking for something in particular? Search the Seeing-Stars website!