Seeing Stars: Hollywood Museums



6764 Hollywood Boulevard,
Hollywood, CA. / (323) 462-5991 or (323) 463-6433



This isn't really a Hollywood museum, so much as it is a museum located in the heart of Hollywood.
The Guinness World of Records is a new attraction located right on Hollywood Boulevard, just a block east of the Chinese Theatre.
Given the sad state of affairs on the Boulevard back in 1994, we were grateful when anything new opened on that formerly faded thoroughfare. And at least this new museum contains a special section about Hollywood. It is also housed in the historic Hollywood Theatre, which was built in 1938 (although most of the theatre's exterior is now hidden behind a gaudy new facade.)
As you might expect, the new Guinness museum is devoted to the same kind of world records that you would find in the famous Guinness Book of World Records
- from the world's heaviest man, to the world's largest apple. Its displays include records set in sports, eating, architecture, the animal kingdom... you name it.
For the most part, the Guinness museum does not try to exploit the bizarre and freakish aspects of life, as its neighbor Ripley's does. While you may see displays about the world's tallest or heaviest people here, you will find nothing to compare to, say, the disgusting bottle of "fetal mice wine" which is on display at the Ripley's next door. There are, fortunately, no shrunken heads or six-legged pigs here.
And the Guinness museum is neither musty nor dated like the Hollywood Wax Museum across the street (despite the fact that both museums are owned by the same people). This new exhibition is professional, spacious, bright, colorful, clean, and modern.
Alas, all of that said, Guinness still leaves a lot to be desired.
Despite the occasional use of multimedia, computers, sound effects and video screens, The 15,000-square foot Guinness World of Records Exhibition is, at heart, basically a walk-through book, and a rather dry one at that.
This is hardly surprising, since the museum's inspiration is the famous Guinness Book of World Records - an all-time best-seller. The Guinness book itself can be a fascinating reference book, and there would seem to be great potential in the idea of bringing those words and feats to life. But unfortunately, most of the time, this museum settles for simply presenting the words and facts in written form. Visitors walk from one poster board to another simply reading about various world records.
However, there are a few notable exceptions to that rule in this two-level museum.
| | | |
| --- | --- | --- |
| | There are several life-size figures representing record holders such as Elvis Presley ("most successful solo artist"), Michael Jackson (wearing Jackson's actual black leather jacket), and Henri LaMothe (he made the world's "Highest Shallow Dive" - from 28 feet into 12 inches of water). But these mannequins are not particularly lifelike, and there is no animation involved. They are just simple wax figures - probably made at the nearby Hollywood Wax Museum. | |
And believe me, they could use a little action here... The closest they come to animation is in a figure of the man who lost a record amount of weight. His likeness fluctuates between 802 and 232 pounds.
The most interesting of these life-size figures is a pairing of 8', 11 1/4" Robert Wadlow ("The World's Tallest Man") and the world's smallest woman, Lucia Zarate, who stood only 26 1/2 inches high and weighed only 13 pounds. A TV monitor broadcasts an old B&W interview with the late Mr. Wadlow.
Nearby, there is a large step-on scale, next to a figure of Robert Hughes the "World's Heaviest Man" (who weighed 1,069 pounds), so visitors can compare the combined weight of their entire family with that of this one obese gentleman.
There are also touch-screen computers, which let you select which record you wish to read more about...
The museum is divided up into several themed sections, including "The Human World," "The Animal World," "Planet Earth," "Structures & Machines," "Sports World," and "The World of Entertainment."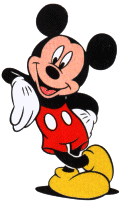 One portion of the museum is devoted to a salute to Hollywood. It includes a small 9-seat "theater" where a video tells about famous Hollywood record-breakers (such as "Ben-Hur," the movie that won the most Oscars), and there are a few Hollywood props scattered about. This section also includes a figure of Mickey Mouse sitting atop a huge pile of mail bags (Mickey holds the record for receiving the most fan mail of any star), as well as a car "crashing" through a wall (to demonstrate the most destructive car chase scene on record, in a movie called "The Junkman"). Elsewhere, you'll find a flying figure of "Superman," and a modest display about Indiana Jones.
The most lively exhibit is probably a simple three-screen mini-theater which presents a colorful video showing one million dominoes being toppled in a fascinating sequence (visitors watch from seats shaped like giant dominoes.) At least there is a sense of motion and vitality here that is sadly missing from most of the museum's other tame exhibits.
But for the most part, the facts about these many world records are simply printed in large letters on poster board, accompanied only by simple illustrations or photos. So a visit here is not unlike strolling through a large book. In essence, the experience essentially amounts to walking about reading what you would read in the Guinness Book of World Records. Occasionally, this reading can be interesting and informative. But it frequently proves rather tiresome, and you have to wonder how they spent the $6 million it supposedly cost to create this museum.
Finally, there is the admission price to be considered. At $8.95 each for adults and $6.95 for kids, I suspect that most families will feel that it simply isn't worth the cost of admission. The actual Guinness book costs less than $6.95 in paperback, so you might be better advised to just buy the book and read it at home at your leisure.
Of course, since this is a museum about world records, and world records are constantly broken, the exhibits will have to be updated regularly. For instance, by now their display on the "Indiana Jones" Trilogy (for record box office success) should be updated to reflect the recent success of "The Titanic" and/or the "Star Wars" trilogy. Which means that you will never be certain just what you'll see here. As such, this review might already be out of date...
Adults: $12.95
Seniors: $8.50
Children (6-12): $6.95
Children under 6 are free.

Hours: Daily: 10 AM - 12 midnight.

Getting there: Located on the south side of Hollywood Boulevard, a block and a half east of the Chinese Theatre, just east of Highland Avenue, and right across the street from the Hollywood Wax Museum. / From Hollywood & Vine, go west on Hollywood & Vine (about 3/4 of a mile), and the museum will be on your left (south) side.
[For more information on this subject, you can access the official website at: http://www.guinnessattractions.com.]
Looking for something in particular? Search the Seeing-Stars website!