"The Gallows / Hanging"


Q. What is it supposed to be on the show?
A. A Western town where a man is about to be hanged.

Q. When do we see it?
A. In Episode 2. A man named Lawrence is standing on the gallows with a noose around his neck, about to be hanged.

The Man in Black rides in and shoots everyone but Lawrence, leading him off with the noose still around his neck, in the Man in Black's ruthless quest to find the Maze.




Q. What is it in real life?
A. This is a set on yet another movie ranch.

Q. Where can I find it in real life?
A. Get ready for another movie ranch (the Westworld location scouts really seem to have loved them, and they used just about every ranch in town that could be passed off as Western terrain).

This one is the Polsa Rosa Ranch, located at 5726 Soledad Canyon Road, in Acton, CA.

It's one of the lesser-known movie ranches, offering 700+ acres of natural beauty, plus a collection of standing set buildings that may or may not be historic/ghost town structures. (The history of the place is difficult to pin down.)

But at least this ranch isn't in the same Santa Clarita hills as most of the others.

Instead, it's located in a mountain pass about halfway between there and the Mohave desert communities of Lancaster & Palmdale, in the Antelope Valley.

To put that in perspective, that's about 30 miles east of Six Flags Magic Mountain, 22 miles east of Melody Ranch, and about 50 miles northeast of downtown Los Angeles.


I'm not sure whether the buildings we see on the property are abandoned old historic structures, some sort of ghost town, as some on the web suggest, or whether they are more recent ranch buildings, or perhaps just movie sets built for filming. I'm leaning towards ghost town/historic buildings, but the answer is elusive.

Whatever, they appear to have built the gallows in a clearing near that bell tower.

They've done a fair share of filming here, including scenes from the recent "Lone Ranger" reboot, from "Fast & Furious 4", cult favorite "Army of Darkness", TV's "Criminal Minds", "Agents of SHIELD", and the movies "The Hangover" and "Pineapple Express". Their tank was even used for underwater scenes in "Titanic".




Here are photos of the Polsa Rosa movie ranch:

The photo below was shot from roughly the same position as the gallows;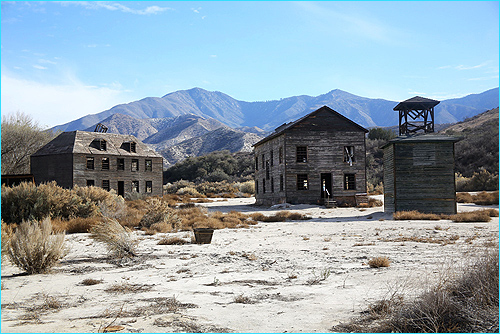 Here is a map link of the ranch.

Here is a Google Earth aerial view, with a marker approximately where the gallows was built.

The GPS coordinates for the gallows spot are approximately: 34.436193, -118.239908

Here is a Google StreetView of the entrance to the ranch - although you have to drive another half mile southwest to reach those familiar buildings, which are hidden from the StreetView camera by the bushy growth around the Santa Clara River.

And finally, here's a better aerial photo of those buildings from Bing Maps.

Q. How the heck did you figure out where it was?
A. I discovered Polsa Rosa Ranch when I was looking for a scene from

Agents of S.H.I.E.L.D.

, one where Colson was being held prisoner in an old town built for an atomic test. Those old buildings are distinctive, and set the ranch apart from other movie ranch towns, so I recognized it when I spotted them again.




The Westworld screenshots from the show & all related characters & elements are trademarks of and © HBO.
All other photos & text are Copyright © 2019-Gary Wayne and may not be used without written permission.

Looking for something in particular? Search the Seeing-Stars website!