Inside, Ani speaks with the Hispanic woman that she earlier served with a foreclosure notice.
At that time, the woman had told the police that her sister was missing, and that her
sister was affiliated with the religious cult run by Ani's father.

That woman has relocated to this motel.
Later, Ania spots a Senator in one of these sex party photos.
( A bit of L.A. trivia: Before MacArthur Park was re-named after
General Douglas MacArthur, its original name was Westlake Park.
The neighborhood around it still bears that name. )


36:54: Ray, Paul and Ani meet with state attorney Katherine Davis,
who recruits all three of them into her confidential special investigation
into Ben Caspere's death and Vinci's corruption.

She uses Ray's need to keep his son as leverage to recruit him.
We are back at the scene of that bloody firefight that ended Episode 4.

In the screencap below, they are standing in front of that three-story
brick warehouse from which the gunmen opened fire.

It is at 625 S. Anderson Street,
on the east side of downtown Los Angeles.

Here's a StreetView of that brick building.


At 41:30, we see an establishing shot of a train approaching a bridge.

This was shot in Vernon, CA.

The camera is looking south down the train tracks that
run along the east side of the L.A. River channel.

The curving trestle you see passes over the river just south
of the 2600 block of Washington Blvd.

The Vernon water tower is visible in the background, to the right.
And here's a matching Google Earth View of the tracks.



At 41:31, we a close up of L. A.'s Union Station.

The camera then pans to the right to reveal another, much taller and more modern building,
which is supposed to be the headquarters of the Catalyst corporation.
Inside, we see Frank talking to Jacob McCandless, a Catalyst representative.

Frank tries to talk him into him giving back the land he was swindled out of after Ben Caspere died.

McCandless feigns complete ignorance of any of the shady dealings going down,
but after Frank threatens to expose them, McCandless makes a promise to get
Frank his parcels back IF he finds Caspere's hard drive
(supposedly filled with incriminating party videos).
That shot of Union station is indeed the real Union Station,
at 800 N. Alameda Street, in downtown Los Angeles.

Built in 1939, this Art Deco landmark is still open for business.

The camera then pans to the 12-floor tower next door, which is the
Metropolitan Water District Headquarters Building,
at 700 N. Alameda Street.

Here's a Google StreetView of both buildings.

And an individual StreetView of that MWD building.



At 47:09, we see Ani walking on a beach with her sister.
Since her sister was in the porn business, Ani tries to get her put Ani in contact with hookers
who might have gone to the Vinci sex parties, so she can find the missing girl.
The huge rocks you see behind them are part of Sequit Point, on the beach
below (approximately) 36300 Pacific Coast Highway, in Malibu.

(Or, if you prefer GPS coordinates. those rocks are at
34.043598, -118.937773 )

That's about 57 miles northwest of Santa Monica.

Ani and her sister are walking west from Sequit Point, onto North Beach,
which, along with South Beach (on the other side of the Point) are part of
the greater Leo Carrillo State Park.

Here's a Google StreetView of the those rocks & the beach.




At 49:12: we see Paul inside a pawn shop, showing the clerk photos of the blue jewels,

The shop above, with the green awning, is Dave Tipp Pawn Shop,
at 561 S. Broadway, in downtown Los Angeles.

After talking to that clerk, Paul goes across the street (east) to another shop:

That would be
Omid Jewelry
, at
560 S. Broadway
, in downtown L.A.
(Both shops are at the corners of Broadway & 5th Street.)
Here's a StreetView of that first pawn shop.



50:59: Ray and his ex-wife stand on a hill, overlooking downtown L.A.,
as she tells him that they found the man who raped her, which
surprises Ray, since he thought he had killed her rapist.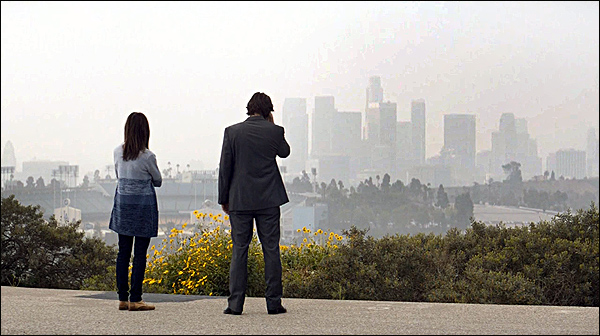 They are standing on a hill in Elysian Park, just above (northeast of)
the L.A.P.D. Police Academy, overlooking Dodger Stadium below.

They are looking south/southwest, towards the skyscrapers of downtown L.A.

The GPS coordinates are 34.082698, -118.236999

The only access to this overlook is through this "Elysian Fields" section
of Elysian Park, the entrance to which is off the winding Angels Point Road.
Here is a matching Google Earth view.


53:36: Ani and Paul go to investigate a cabin in the woods, which wasthe last place
the missing girl called from, and which was also on Caspere's GPS list.

They then follow circling birds to a bloody, dilapidated shack,
where someone has obviously been tortured.
This large, stone cabin is Harwood Lodge, located on Mount Baldy.
in the San Gabriel Mountains, high above Pomona, at an elevation of 8,000 feet.

(In the screenshot above, the camera above is looking south/southeast.)



Here is a photo of the lodge:
Harwood Lodge was built in 1930, and was named in honor of the first woman president
of the Sierra Club, Aurelia Harwood. It is not a public hotel or motel, it belongs to
the club, and is available to Sierra Club members & guests at very low rates.

(My guess is that the dilapidated shack, where Ani discovers
the torture scene, was simply built by the film company.)

Here is a Google Earth view.

More "True Detective" locations coming soon!