Kira's House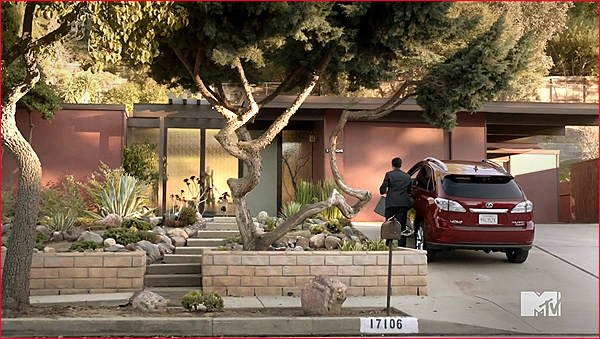 In Episode 15 (of Season 3) Scott is invited for dinner to the family home of
a new student, Kira Yukimura, who has a crush on Scott.

Her parents invited him, as a gesture of appreciation for saving Kira from a coyote.

Unfortunately, they choose to serve sushi, which Scott has never tried,
so the dinner turns into a comedy of errors.

As they are leaving this house, Kira is abducted by the homicidal lunatic William Barrow.


You'll find this house at

17106 Lisette Street, in Granada Hills, CA


Granada Hills is located in the far north San Fernando Valley,
north of Northridge and south of Santa Clarita.

Chances are the home was chosen by scouts, in part, because of the
Japanese-style garden in the front yard - since there's an emphasis
on the fact that Kira's family is Asian.




[ Warning: This is a private home. Do not trespass on their property,
knock on their door, or do anything that might disturb the residents. ]


Here is a Google StreetView panorama of the house:



Here is an aerial photo. And here is a map link.