Berserker Attack on the Road




In Episode 6, of Season 4 ("Orphaned"), one of the "orphans", Garrett, takes Liam hostage,
and forces Scott to help him try to free his fellow "orphan", Violet, who has been arrested
by the Sheriff (Scott's dad) for the murders of a dozen supernaturals.

In this scene, the blackmailed Scott is driving Garrett in pursuit of the Sheriff's car, so
they can free Violet. But soon, they spot the Sheriff's car overturned, and Scott's dad
lying bloody in the middle of the road. Violet is already gone.




When Scott rushes to help, his injured father warns him that: "They're still here!"

The duo are then immediately confronted by a pair of Berserkers. Garrett foolhardily
challenges them, and is almost immediately killed when a Berserker thrusts his giant
claw through Garrett's heart. Scott is also struck down, and left for dead.




Like an earlier scene in the same episode, this fight scene was shot at on Woodley Avenue,
in Van Nuys, where the street passes Woodley Park - in L.A.'s San Fernando Valley.

In fact, it was shot in almost the exact spot as that earlier rainy scene, on the west side
of Woodley, just south of the entrance to the Japanese Garden,
which is at 6100 Woodley Ave, Van Nuys, CA.

It's also near (west of) the park's cricket fields, where they filmed the lacrosse games.

The exact same cluster of street signs can be seen behind Garrett (as he retrieves his weapon
from the car) as is seen in the earlier car-in-the-rain scene. Only this time, the camera
faces the opposite direction (south), for most of the scene.

In the screencap below, note the banners hanging from the lamppost (circled in red):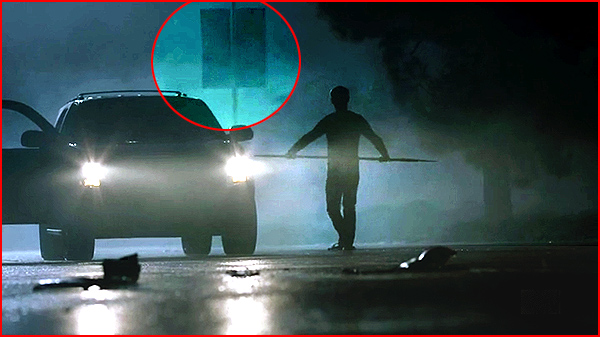 Here are those same banners in a Google StreetView, looking north.



Here is a Google StreetView looking south, towards where the car was overturned.

Here is an aerial view with the spot marked. And here is a map link.