Episode 6 opens with a scene of a group of young Ranger Scouts camping in a forest in
Wrigley, Pennsylvania, sitting around a campfire, telling ghost stories...


Suddenly a bizarre electrical storm strikes, that leaves their troop leader dead and floating in the air.

Naturally, the S.H.I.E.L.D. team is called in to investigate.



Virtually all of the exterior scenes for Episode 6 were shot in the same place:
at Disney's Golden Oak Ranch, at 19802 Placerita Canyon Road, in Newhall, CA.

The Disney Company, which owns both ABC and Marvel, has operated this movie ranch
for ages. Back in the days of the original Mickey Mouse Club, in the late 1950's, they
shot "Spin & Marty" and "Zorro" here, and have since filmed everything from
"Old Yeller" to "Pirates of the Caribbean" at the ranch.

Newhall is in the hills north of the San Fernando Valley, about five miles southeast of
Six Flags Magic Mountain, and about 30 miles northwest of downtown Los Angeles.

The barn, which shows up during the second electrical attack (around 11:24) is
also located at the Golden Oak Ranch.
There are actually several different barns at the Ranch. The one we see here is
called the Pee-wee Barn, because it (and the adjacent farm house) were built
for the 1985 Pee-wee Herman comedy, "Big Top Pee-Wee".

It's a large red barn situated on a grassy knoll on the northeast side of the ranch.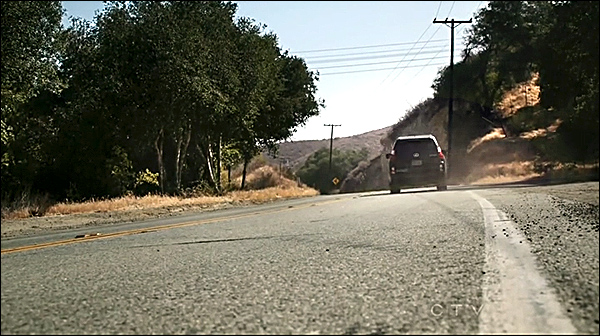 And the road/driving scene you see above, where they are speeding to that barn, was shot right outside
the Disney ranch, with the car heading east on Placerita Canyon Road (at Delden Road, near 20165).

Here is a Google StreetView matching that road scene above.

And here is a StreetView of the main gate to the Golden Oak ranch.