In Episode 16 ("The End of the Beginning"), the S.H.I.E.L.D. team tracks
Deathlok to a deserted horse racing track in Pensacola, Florida.

A running battle through the empty facility leads Coulson and his team down to the
basement of the track, where they are surprised to discover a paralyzed man in
a wheelchair, Thomas Nash (the supposedly-catatonic man they were looking
for earlier at the convalescent home), whom they believe to be the Clairvoyant.

After Nash threatens them (and Skye in particular), Agent Ward shoots and kills him.
It won't surprise you to learn that this wasn't filmed in Pensacola.

This scene was actually shot at Hollywood Park racetrack,
at 1050 S. Prairie Ave, in Inglewood, California.

The top photo of the track is shot looking east out over the infield, from the grandstands.

The second photo down shows the S.H.I.E.L.D. cars pulling onto the track apron
through a gate at the southwest end of the track, near the clubhouse turn.


The famous racetrack opened in 1938. Nicknamed "The Track of Lakes & Flowers",
it was popular with the Hollywood stars ranging from Cary Grant to Jack Klugman.

For over 60 years, the track offered a mix of daytime thoroughbred racing and nighttime harness
racing, that drew equine champions likes of Swaps, Seattle Slew, Affirmed, Native Diver and Niatross.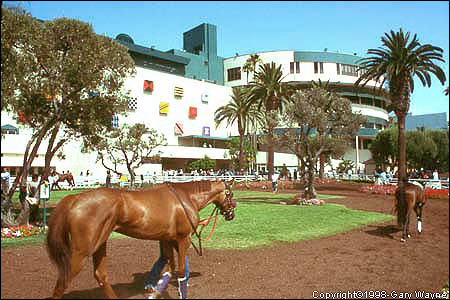 (You can read more about it here.)
Alas, the decline of the surrounding Inglewood neighborhood, plus the legalization of lotteries,
Indian casinos and off-track betting, saw the size of crowds shrink at the racetrack, and new
owners closed its doors permanently in late 2013. The track is slated to be torn down soon.

The producers took advantage of its deserted condition to film there.

Here is a StreetView of Hollywood Park.