In Episode 8 ("The Well") we see a couple, Jakob & Petra, enter an ancient forest
& nature reserve - supposedly the Trillmarka National Park, in Norway.

The couple uses a chain saw to cut down one of the giant trees, and inside of it
they discover what they came looking for: part of an Asgardian staff.
Turns out they are members of a "Norse paganist hate group",
who believe the magical staff will turn them into powerful gods.

When park rangers arrive on the scene, Petra, empowered with super strength
from the Asgardian staff, strikes a ranger, hurling him through the air.

Later, S.H.I.E.L.D. agents Ward & Simmons arrive on the scene to investigate, and
discover evidence that a rod-shaped object has been taken from inside the tree.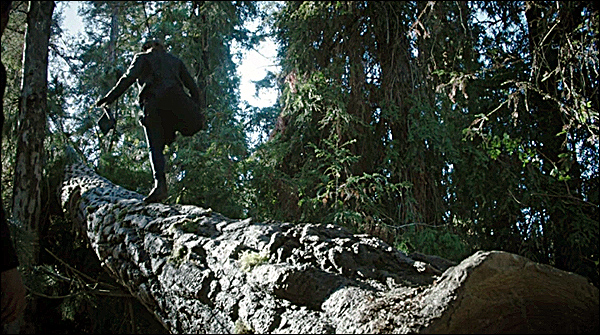 This scene was actually shot close to home, in L.A.'s own Griffith Park.

To be more specific, at the Wilson Harding Redwoods and at the park's Cedar Grove.

(Don't worry, no real redwoods were harmed. They used a fake tree for that chain saw scene.)
Griffith Park, the largest urban park in the United States, has a long history of being used
as a filming location, dating back to the silent movie days. Sprawling across 3,000 acres
of the Santa Monica Mountains, the park offers countless locations, ranging
from forests to the Observatory to panoramic views of the city.

(You can see a photo of the Wilson Harding redwoods here.
And here is a photo of Cedar Grove.)