The Actual Southern California locations
where "Raise Your Voice" was filmed.






"Bristol-Hillman", the performing arts school which Hilary Duff attends, doesn't really exist.
The Chateauesque building that was used in the film for the school campus is really the
Mary Andrews Clark Memorial Home, located just west of downtown Los Angeles,
at 306 S. Loma Drive (at the corner of 3rd Street & Loma).
Designated a Los Angeles Cultural Monument (#158), it was built in 1913 as a YWCA
courtyard apartment complex for young women working downtown. It was recently
restored, and now serves as a 151-room hotel for very low-income residents. *
The old building has been a popular spot for Hollywood location scouts. It has also been
seen in "The Ring 2", "The Wedding Planner", "I Still Know What You Did Last Summer",
"Clockstoppers", American Pie 2", "Down to You", "100 Girls", and TV's "Charmed", "ER",
"Party of Five", "Providence", "The Pretender", a Macy Gray video & dozens of commercials.



When Hilary arrives in Los Angeles for the first time, she arrives at Union Station, L.A.'s classic old
train station. The station is seen several more times in the movie, including the time Hillary hurries
to her sister's house (when she learns that her father is coming), and the time 'Denise' (Dana Davis)
plays her amplified violin in the public space (see the photo below).

Union Station is located at 800 N. Alameda Street, in downtown Los Angeles,
across the street from (east of) historic Olvera Street.
Built in 1939, the classic train station has been seen in a number of other films
including one 1950 movie titled "Union Station", and more recent films such as
"The Island", "Charlie's Angels 2", "Pearl Harbor" & "The Italian Job".



The scene where Hilary stumbles across a church and goes inside to pray,
was filmed at a real church: the United Methodist Church, at 4350 Wilshire Blvd.,
near the Hancock Park area of Los Angeles. (In reality, the church is about 33 miles
west of the school/dorm location, so it's unlikely that she would accidentally stumble across it.)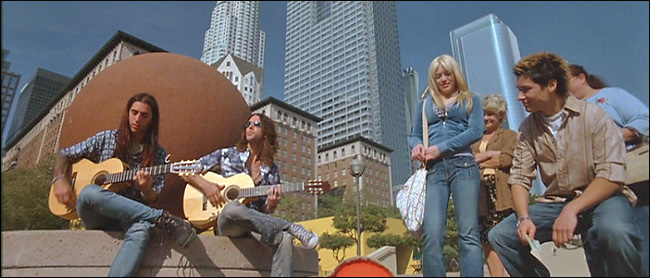 The scene where Hilary and Oliver James listen to street performers play in the park (and exchange
personal stories), was filmed in an actual downtown park: Pershing Square, which is bounded
by 5th, 6th, Hill & Olive Streets. (Unfortunately, in real life, the park has a major problem
dealing with the local homeless population.) *
(The brown building you see right behind the huge ball is the Biltmore Hotel.)

More "Raise Your Voice" Locations! Just click below.
The photos on this page are stills from the DVD of "Raise Your Voice"
(which you can buy by clicking here) and are copyright Walt Disney Pictures.
The rest of the page is Copyright © 2020-Gary Wayne / Seeing-Stars.com