The actual Southern California locations where
the 2007 movie "License To Wed" was filmed.




The movie revolves around St. Augustine Church, home parish of the eccentric 'Reverend Frank' (Robin Williams),
and the family church of 'Sadie' (Mandy Moore), where she wants to be married to 'Ben' (John Krasinski).
Although the movie is supposed to be set in Chicago, virtually all of it was filmed in Southern California.
St. Augustine's is actually the First Congregational Church of Long Beach, which is located at
241 Cedar Ave, in downtown Long Beach, CA. That's at the southwest corner of Cedar and W. 3rd Street.
The parish dates back to 1888, and the current church (an historic landmark) was built in 1914.
( In the photo above, the camera is looking south. )

'Reverand Frank' bugs 'Ben' & 'Sadie's' apartment, and eavesdrops on their private
conversations, to make sure that they're not having premarital sex.
In the photo above, we see Rev. Frank's assistant ("Choir Boy") heading into the
young couple's apartment building to plant a bug. (The camera is looking west.)
This apartment house is actually a called "The Langham", and is located
at 715 S. Normandie Avenue (just south of Wilshire, between
Western & Vermont), in Los Angeles (near Koreatown).



Next, we see Sadie's place of work, a flower shop named "Flowers By Sadie".
These flower shop scenes were shot at Brad Larsen Florals,
at 55 W. Green Street, in Old Town Pasadena, CA.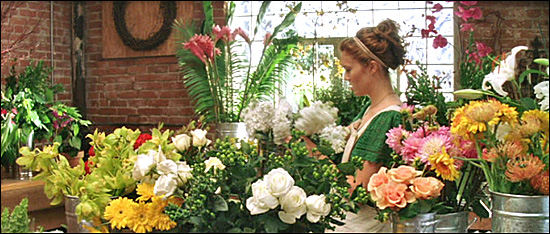 Crazy Rev. Frank forces Ben & Sadie to attend a marriage group encounter session,
which he holds at a local bar - where the games include mock arguments and
wife-carrying contests. These bar scenes were filmed at a real pub called
"Joe Jost's", a local legend located at 2803 E. Anaheim St., in Long Beach.
( That's at the northeast corner of Anaheim Street & Temple Ave. )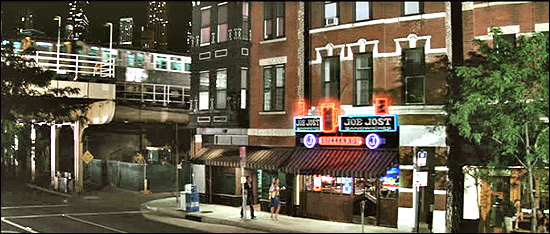 But the photo above is 90% bogus. Yes, the store front is the same. But in the real world,
Joe Jost's is housed in a small, single-story, stand-alone building. In an attempt to
make it look like Chicago, the producers 'magically' incorporated the storefront into
the bottom floor of a row of brownstone high-rises, complete with an elevated train
roaring by in the background.
( But the interior shot below definitely looks like the real Joe's. )
Here's a link to the website of the real Joe Jost's.





More License To Wed locations!
The photos on this page are stills from the DVD of "License To Wed"
(which you can buy by clicking here) and are copyright Warner Bros.
The rest of the page is Copyright © 2020-Gary Wayne / Seeing-Stars.com