Seeing Stars: Where the Movies Were Shot (on Location)

2001
The hit 2001 comedy "LEGALLY BLONDE," stars Reese Witherspoon as 'Elle', a young, fashion-conscious blonde who goes to Harvard Law School to impress the boyfriend who jilted her.
It might seem safe to assume that the movie was shot mainly in Cambridge, Mass., at Harvard...
Guess again.
Only a few aerial shots of Cambridge and Boston were used. Almost all of the film was actually shot here in Southern California, around Los Angeles, and in nearby Pasadena.

They pieced together quite a number of different locations to create the faux Harvard campus that we see on the screen.
Standing in for part of Harvard was USC (the University of Southern California), just south of downtown L.A., at 3535 S Figueroa Street.

You can see the Bovard Administration Building (on the USC campus) in the background of the scene where 'Emmett' (Luke Wilson) drops off 'Elle'. She then defends dorky student 'David Kidney' (Oz Perkins), by pretending she had dated him, so he can impress a pair of snotty girls who were putting him down.
You would think that one university campus would be enough for one movie, but no, "Legally Blonde" also filmed on the UCLA campus, in Westwood.
This may well be the first time that the two crosstown rivals (UCLA & USC) both wound up playing the same university (Harvard) in the same movie. (If you don't look closely, there is a fleeting similarity between the two campuses, with their brick buildings.)

I'm not sure why they didn't just shoot all of the scenes on the same campus, but that's Hollywood for you...

Remember the scene where Elle has just arrived at Harvard, and is on a patio picking up her class schedule? Where she embarrasses herself by asking for a schedule of social events?
That scene was shot on the flagstone patio of UCLA's Kerckhoff Hall, just east of the UCLA store, at 308 Westwood Plaza.


(Here is a Google photosphere of that same patio.)


And the orientation scene shortly after, where Elle and some other students are sitting on a lawn, introducing themselves, and it seems like she may be way out of her league?

That was filmed on the front lawn of the same Kerckhoff Hall, at UCLA. The building houses the student government, the student newspaper, a coffee shop, and various student organizations.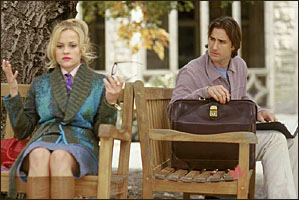 The outdoor quad at Harvard, where 'Elle' retreats after her first humiliating classroom experience (and where she bumps into 'Emmett', who gives her some good advice about surviving the classes) was actually shot on the garden patio behind the All Saints Church, at 132 N. Euclid Ave., also in Pasadena.

The church is located about a mile northwest of Rose City High, and it's been used quite a few times in Holywood productions.
And the law school Library scenes were also shot nearby, at the Pasadena Central Library, located at 285 E. Walnut Street, in Pasadena .

This stately library was built in 1927, and is located just one block northwest of All Saints Church.





What about those earlier scenes set at the fictitious "C.U.L.A." campus, where 'Elle' was a member of the Delta Nu sorority?


The opening scenes, where a girl rides a bicycle past a row of frat houses, were shot next to the CalTech campus, at 1200 E. California Blvd., in Pasadena - along south Hill Avenue, where they transformed three buildings into fictional sororities.

(For instance, the actual Caltech Alumni Association (at 345 S. Hill Ave.), was transformed into the 'Gamma Theta' sorority house.)
The Delta Nu house was actually the Villa del Sol d'Oro, at Alverno High School, a private girls school at 200 N. Michillinda Ave, in Sierra Madre, CA.
The address of the Villa itself is 675 W. Highland Avenue, in Sierra Madre.

Both the exterior and interiors of the Villa are seen in the film as the Delta Nu sorority.

( It's the same school where, in the same year, they shot "The Princess Diaries". )

Early in the movie, 'Elle' and her boyfriend, 'Warner' (Matthew Davis), go out on a date to a romantic, candlelit restaurant, where Elle assumes he plans to ask her to marry him. Instead, he dumps her.
That scene was filmed in an actual restaurant, called Il Cielo, located at 9018 Burton Way, in Beverly Hills, about a half mile northeast of Rodeo Drive.

Most L.A. restaurants don't last long, but as of 2016, Il Cielo is still going strong at the same address. (If you want to make reservations for your own engagement dinner, their number is (310) 276-9990.)


The "Neptune's Beauty Nook" salon, where 'Elle' teaches her manicurist friend, 'Paulette' (Jennifer Coolidge) the "Bend & Snap" move (to help her land the UPS guy), was supposed to be located near the Harvard campus.
In fact, the beauty salon was created inside an empty storefront at 625 S. Myrtle Avenue in Monrovia, CA, a city located about two miles northeast of the Santa Anita racetrack.

In a related scene, 'Elle' aids 'Paulette' in retrieving her pet dog (which she had lost in a custody battle), by helping her confront her crude ex-husband 'Dewey' in a trashy trailer park.
That trailer park was created on the site of Fender N More, at 5354 Denny Ave., in North Hollywood.

Then there was that party, where 'Elle' showed up dressed like a Playboy bunny (tail and all), because the girls had told her it was a costume party.
In the movie, the party was held at "45 Dunston Street". But in real life they filmed those party scenes at an unusual spot: Heritage Square Museum, a collection of outstanding, vintage Victorian L.A. homes and buildings saved from demolition and moved from their original locations to this site just south of the Pasadena Freeway: at 3800 Homer Street, in Los Angeles.
When you take the Pasadena Freeway northeast from downtown L.A. to Pasadena, the museum's buildings are clearly available on your right hand side. Take the Avenue 43 exit to Homer Street.

Most of the filming there was done at the Perry House (AKA the Mt. Pleasant House), an 1876 Italianate style Victorian moved to the museum from Mount Pleasant Street, in then-fashionable Boyle Heights.


In its time, the Perry House (pictured to the left) was one of the finest homes in Los Angeles, and today it is the largest of the buildings preserved at Heritage Square.

The Heritage Square museum and its buildings are open to the public, with guided tours on weekends.


You can read more about the historic homes at Heritage Square here.



(Here is a StreetView of the entrance to Heritage Square, with the Perry House seen on the left.)
If you want to see the courtroom where 'Elle' defended 'Brooke' at the murder trial, you'll have to head out to Orange County, and the old Santa Ana Courthouse, located a few miles southeast of Disneyland, at 211 W. Santa Ana Blvd., in Santa Ana, CA.
Since the county built a modern, new courthouse right next door in Santa Ana, this handsome old courthouse has become a museum, and is often used for filming.


Scenes from the movies "Bullwinkle" and "Evolution" were shot at the same courthouse.

The courthouse/museum is open to the public - when they're not filming something there.



(Here is a StreetView of the Santa Ana Courthouse.)




But if you want the law offices of 'Professor Callahan' (played by Victor Garber, of "Alias" and "Titanic" fame), where they discussed the case around a table, and where the professor made a pass at 'Elle', you'll have to head back to downtown L.A,
It's the Chase Plaza building, at 801 S. Grand Avenue (at the southwest corner of 8th and Grand) in downtown, and it is where those office & lobby scenes were filmed.

Speaking of the murder trial, the scenes where Elle, Callahan and the others visited the defendant, Brooke, in jail, were filmed at an actual (former) women's prison in east L.A., the Sybil Brand Institute, located at 4500 E. City Terrace Drive.
As part of their investigation into the murder case, 'Elle' and 'Emmett' drive out to "Golden Springs Spa", where they interview 'Mrs. Windham-Vandermark' (played by Raquel Welch), while she sits wrapped in a sauna.

After the interview, the couple discuss the case while walking back through the woods.
Those outdoor scenes were shot at Descanso Gardens, a beautiful public garden located at 1418 Descanso Drive, in La Canaña, CA, just six miles northwest of Pasadena, up the 210 Freeway.

The building they drive up to is actually the main admission building for the garden. (A garden scene from Tom Cruise's "Minority Report" was also filmed at Descanso Gardens.)


The only major scene in "Legally Blonde" that was not shot in Southern California was the final graduation scene at Harvard. They filmed that scene in the UK.

But no, that scene wasn't shot at real Harvard either.

Star Reese Witherspoon had to start filming another movie in England ("The Importance of Being Earnest"), so they shot those final graduation scenes at Dulwich college in London, which is about 10 miles southeast of Havard. (Here is a StreetView of that college.)

1920's - 1930's - 1940's - 1950's - 1960's - 1970's - 1980's - 1990 - 1991 - 1992
1993 - 1994 - 1995 - 1996 - 1997 - 1998 - 1999 - 2000 - 2001 - 2002 - 2003 - 2004
* Locations marked by an asterisk (*) may be located in areas with high crime rates.
Exercise reasonable caution.
Looking for something in particular? Search the Seeing-Stars website!

Click Here to Return to the Main Menu

Copyright © 2020-Gary WayneAll Rights Reserved
"Legally Blonde" movie stills copyright Metro Goldwyn Mayor, 2001

(Click here to read disclaimers)