(Here is a Google StreetView panorama of the street.)


34:30: After Larry joins up with a group of scooter-riding students, the "gang" goes out for a ride, shown
in a lengthy montage as they cruise about the city, to the sound of Tom Petty's "Runnin' Down a Dream".


This entire, multi-shot scene was filmed in a relatively small grid just northwest of where
the San Diego (405) Freeway meets the Ventura (101) Freeway in the Valley.


But since that's a spot where several the borders of several Valley towns meet,
the locations include the cities of Encino, Reseda, Tarzana and Van Nuys.



This is a long sequence, so I'll just pick out a few of the locations glimpsed during their ride:


34:31: We see them pass Bethel Calvary Chapel (on their right side).

They are heading east on Burbank Blvd in Encino, nearing Encino Ave, around 17500 Burbank Blvd.



34:34: We see them scootering over the river on a bridge.

They are heading north on Balboa Blvd, at approximately 6115 Balboa, in Van Nuys, on the east side of a bridge which passes over the L.A. River, in the Balboa Sports Center park.


This same location on Balboa Blvd is seen later (at 35:05) when he talks to Talia about what they do next - she says stop somewhere to eat.






34:45: We see the scooter-riders pass real bikers outside a red storefront.

They are heading south on Reseda Blvd, past Captain Ed's smoke shop, at 7011 Reseda Blvd, in Reseda, CA.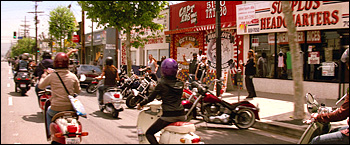 34:53: We see them curve towards a freeway overpass.

They are heading east on Burbank Blvd, just before it passes under the Ventura (101) freeway, at approximately 18400 Burbank Blvd, Tarzana.



34:56: We see then pass Waadt Appliances.

They turn west off (southbound) Burbank Blvd onto Sherman Way, at approximately 16919 Sherman Way, in Van Nuys.



Here is a map with all five of those scooter locations marked.



35:35: Asked if he knows somewhere to eat, Larry leads the group to Frank's Restaurant for lunch.

It's also where Larry later gets a job as a fry cook, and helps Talia with her bookkeeping.
Believe it or not, this actually is a coffee shop called Frank's Restaurant.
You'll find it at 916 W Olive Avenue, in Burbank, CA.

It's on the south side of Olive, just west of Victory Blvd., about a mile south of the K-Mart
they used for those UMART exteriors. (But it's almost 10 miles east of where they were riding.)

Inside, the old place looks just like it did in the movie. But that classic look has resulted in
a lot of filming here. They also filmed "CSI", "90210" and "Desperate Housewives" at this diner.

We see the place again, late in the movie (1:26:43), for a key scene where Julia shows up at the restaurant.


Here is a Google StreetView panorama of the restaurant.)


42:30: Larry is on his scooter, when he happens to pull alongside his teacher's car,
as they are both on the way to the college.

Inside her car, Mercedes (Julia Roberts) is singing along loudly to a Gilbert & Sullivan opera,
and she doesn't immediately notice Larry outside watching her with amusement.

When they stop next to each other at a stop sign, she tells him that she has the music
cranked up to drown out the sound of her broken GPS system, which won't stop talking.

So Larry reaches into her car and quickly re-programs her GPS unit, solving the problem

The tree-lined street they are driving on is the 500 block of Arbor Street, in Pasadena, CA.

This is the same street that runs right past her condo. In fact, the roof seen sticking up above the
hedge, just before Tom appears for the first time, is the roof of Pasadena's "Tournament House".
During the drive, they are heading west on Arbor, traveling one block, from Orange Grove to Grand Ave.
The camera is looking south in the screencap above.

In the screencap below, they stop at the corner of Arbor Street & Grand Ave, with the camera looking east.
(Here is a Google StreetView of the scene.)



45:46: Trying to help Larry become more fashion conscious, Talia takes him to
a self-storage facility, where she has a unit filled with clothes.

She tells him to take off his pants, so that he can try on some of the clothes.
But once he does, her jealous boyfriend arrives on the scene, making for an uncomfortable moment.



They filmed these scenes at Bellflower Self Storage,
at 14822 Lakewood Blvd, in Bellflower, CA.

That is just a few blocks northeast of Larry's bank,
between the Century (91) Freeway and the Artesia (105) Freeway.

The camera is looking west as the two scooters enter the facility.
They head east down the second corridor from the north.

(Here is a Google StreetView of the facility.)
(Thanks for the tip, David.)