0:00:27: The movie opens with 'Nick' (Jason Bateman) arriving at his workplace, the
Comnidyne Building, where he encounters his horrible boss, 'Mr. Harkin' (Kevin Spacey).




We see more of the exterior of this building in a later (fantasy) scene in which Nick loses his
temper and throws his horrible boss out the window, sending him crashing into a car below.




This office building can be found at 20101 Hamilton Avenue, in the South Bay area.

The producers referred to it as Torrance, CA, and it is often thought of as being in Carson, CA,
but in reality it is a narrow, shoestring strip of Los Angeles land (known as Harbor Gateway)
that runs between Torrance and Carson, just west of the Harbor (110) Freeway.

Here is a Google StreetView of the building.


0:09:00: 'Kurt' (Jason Sudeikis) & boss 'Mr. Pellit' (Donald Sutherland) walk out the door their
Pellit & Son Chemical Company. As the nice Mr. Pellit drives away, he has a heart attack
and dies, leaving his obnoxious, cokehead son (Colin Farrell) as Kurt's horrible boss.
They filmed this scene at a water treatment plant (Lakeland Processing Wastewater)
at 12345 Lakeland Road, in Santa Fe Springs, CA. For the uninitiated, that's about
15 miles southeast of downtown L.A., near Whittier & Norwalk. (According to the
producers, they heavily modified a warehouse there for the shot.)

Here is a Google StreetView of the plant.

0:02:33: 'Dale' (Charlie Day) is dropped off at work by his fiance, at the Hennings Professional Building,
where he works as a dental assistant to his sex-obsessed horrible boss, 'Julia' (Jennifer Aniston).

We don't see much of this building's exterior, but you can find it at 10559 Jefferson Blvd, in Culver City, CA.,
one of three near-identical buildings, less than a mile southeast of the historic MGM/Sony Studio.

(Fortunately, you do see the street number in the shot, which allowed me to track it down.)

Here is a Google StreetView of the building.

0:09:40: We see all three guys drinking at their neighborhood bar, a location seen often during the movie.
This is actually a TGI Friday's restaurant, at 5919 Canoga Ave, in Woodland Hills, CA.

That's on the west side of the San Fernando Valley, just southeast of the
Promenade Mall and two blocks from the Topanga Plaza mall.

(Here is a Google StreetView panorama of the restaurant.)

0:26:34: Fed up with his boss's sexual advances, Dale pulls up in front of their apartment house,
where he goes inside and talks to his friends about killing his horrible boss.

You'll find this apartment house at 4606 Norwich Ave, in Sherman Oaks, CA.
That's five short blocks east of the Sherman Oaks Galleria mall.

Here's a matching Google StreetView for the location.
[Warning: These are private apartments. Do not trespass on their property,
knock on their doors, or do anything that might disturb the residents.]


Later on, we see the apartments again, when the cops show up there at night; the guys see them and flee.


0:28:26: Thinking they have hired a hit-man to kill their horrible bosses, the guys go to a
shady motel to meet with him. Unfortunately, the "killer" turns out to be a kinky
male prostitute who urinates on his clients for money.

This scene was shot at a real motel, the Travel Inn, at 8525 Sepulveda Blvd, in North Hills, CA.
That's near the center of the San Fernando Valley, about 3 1/2 miles north of their apartment.

(The motel room number is 227.)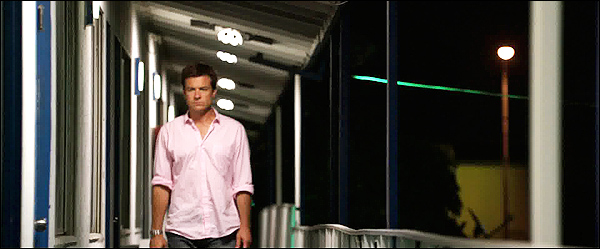 (Here is a Google StreetView of the motel.)

More "Horrible Bosses" locations!

The photos on this page are stills from "Horrible Bosses"
(which you can buy by clicking here) and are copyright Warner Bros.
The rest of the page is Copyright © 2020-Gary Wayne / Seeing-Stars.com