"Gangster Squad" was filmed entirely in Los Angeles.
And since the movie is set in 1949, they looked for older buildings from
that era, and ended up using a number of historic L.A. landmarks.


0:2:40: In fact, the movie starts out with a shot of one of L.A.'s premiere landmarks, Union Station, as
the place where one of Mickey Cohen's pimps picks up a naive girl who has just arrived in L.A.

You'll find this classic 1939 railroad station at 800 N Alameda Street , in downtown L.A.
Union Station is right across the street from Olvera Street, the birthplace of the City of Angels.

Ironically, L.A.'s original Chinatown was torn down to make way for Union Station, resulting in the
creation of "New Chinatown", half a mile to the northwest, which was used as another location in this film.




The station hasn't changed much over the years, and still looks much the same as it did in Cohen's day.

( One difference is that the station's old Harvey restaurant has closed. This was last of the chain of
Harvey House restaurants featured in the classic 1946 Judy Garland musical, "The Harvey Girls".)

Here is a matching Google StreetView of the station.


0:3:13: The pimp takes the naive girl to an apartment house, with the promise of getting her in the movies.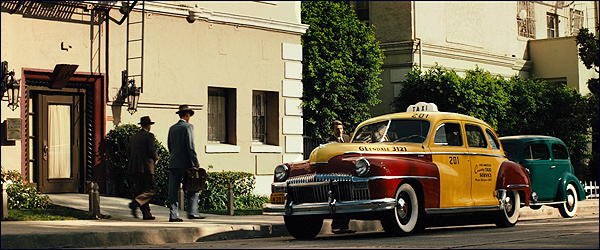 Once there, he and his cohorts attempt to rape her, planning to turn her into one of their brothel workers.
But fortunately, 'Sgt. John O'Mara' (Josh Brolin) shows up and rescues her from that fate.

You'll find this apartment house (built in 1926) at 1842 N. Cherokee Avenue, in Hollywood
(just two blocks north of Hollywood Boulevard).

Here is a matching Google StreetView of that apartment.



0:7:42: In the scene below, O'Mara & 'Sgt. Jerry Wooters' (Ryan Gosling) watch from City Hall,
as Mickey Cohen's pimp is released jail - due to corruption in high places.

This scene was shot on the steps of Los Angeles City Hall, at 200 N. Spring Street, in downtown L.A.

Built in 1928, the 32-floor City Hall was the tallest building in Los Angeles for many years.

There's a lot of CGI and green-screen at work in this film, in large part because the City of Los Angeles
has changed a lot in 64 years, and they needed to make it look like it did back in 1949.
When Brolin & Gosling look out on the cityscape (as seen in the screencap below), only part of it is real.
The building on the right is real - it's the Hall or Justice, at 211 W. Temple Street, in downtown L.A.
The Hall of Justice was built in 1925 and still stands today, at the north corner of Temple & Spring St.

It's the oldest building in the L.A. Civic Center, and hosted the infamous trials of Cohen's right-hand man,
Bugsy Siegel, as well as killer Charles Manson, and Robert F. Kennedy's assassin, Sirhan Sirhan.

But the 12-story building on the left is a ghost. It's the old Hall of Records, formerly at 220 N. Broadway.
Built in 1911, it was torn down in 1972, and the spot (directly west/NW of City Hall) remains an empty lot today.
The open view seen in between those two buildings is no longer so pastoral. It is now occupied by the 21-floor
Criminal Courts Building, at 210 W. Temple, the courthouse which housed the O.J. Simpson trial in 1995.

(No doubt, you know already know that the red car trolley was added, along with the vintage automobiles.)

Here is a Google StreetView of the area. And of the City Hall steps.




0:8:12: And then there's Sgt. John O'Mara's house, where he lives with his wife:




(The house is shot up, later in the film, by Mickey Cohen's gunmen.)

This is an actual residential house, located at 228 N. Gramercy Place, in Los Angeles.
Built in 1918, the house is just south of Beverly Blvd, west of Western Ave.


[Warning: This is a private home. Do not trespass on their property,
knock on their door, or do anything that might disturb the residents.]

(Here is a Google StreetView of the house.)



0:11:29: Slapsy Maxie's nightclub is Mickey Cohen's favorite hangout, and where Jerry first meets Grace.

Slapsy Maxie's was a real place, named after boxer 'Slapsy Maxie' Rosenbloom. It was
actually located at 5665 Wilshire Boulevard, just east of LACMA and the La Brea Tar Pits.

But it no longer exists, so the producers had to create it from scratch - well, almost.

The colorful skyline you see above is fake - a CGI composite of different L.A. buildings.

The building on the far right side, for instance (with the "Irene's Restaurant" sign),
is actually the Tower Theatre, at 802 S. Broadway, in downtown Los Angeles

But the left side is about 20 miles southeast of downtown, in the city of Bellflower, CA.
(Bellflower is just north of Lakewood, and south of Downey.)
They found a row of buildings (circa 1949) that still had that old-fashioned look, and then went to work.

They created Slapsy Maxie's out of an empty, old JC Penny store (which was later a 99¢ Store)
located at 17434 Bellflower Blvd, in Bellflower, CA.

The store is on the east side of the street, just south of Artesia Blvd.,
and a block & a half south of the Artestia (91) Freeway.

The tall, flat vertical sign you see is real, as is that horizontal row of windows, but the neon signs
and the bright lights were added - as were the arches & signs on the storefronts next door.
The front of the building is actually mostly windows, which were covered over by a facade,
complete with posters boasting about the famous acts which plays at Slapsy Maxie's.

They not only used the building's exterior, they built Slapsy Maxie's inside it as well.

Here is a matching Google StreetView of the block.


0:0:00:0:16:47: Sgt. John O'Mara is called to City Hall to meet with Police Chief Parker,
who recruits him into an all-out effort to crush Mickey Cohen's gang.

The exterior scenes were filming on the Spring Street side of L.A. City Hall.

The interior office scenes were filmed up on the third floor, in the Mayor's press room.
They replaced the flags with 1939 versions, and replaced much of the furniture.

Here is a Google StreetView panorama of the City Hall steps.


0:20:51: When Jerry gets into an affair with Mickey Cohen's girl, Grace (Emma Stone),
he takes her to the Garden of Allah apartments.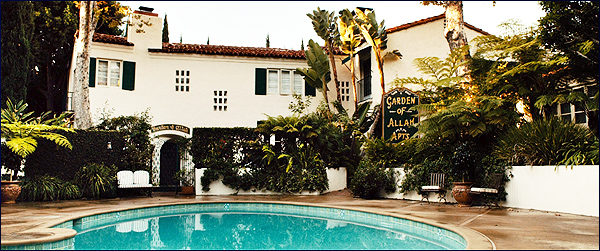 The actual Garden of Allah is no more. It used to be located at 8152 Sunset Boulevard.
But it was torn down in 1959, and now there's just a shopping center at that address.

So the producers went looking for a location that resembled the Garden of Allah courtyard,
and they settled for the back of a private home in the Hollywood hills, at 1803 Courtney Ave.
(That's less than a mile northeast of the original Sunset location.)

[Warning: This is a private home. Do not trespass on their property,
knock on their door, or do anything that might disturb the residents.]
Here's a Google StreetView for the outside gate.