The actual places where "Fear the Walking Dead" is filmed.

[ Page 7 ]






Episode 6 (the Season 1 Finale): "The Good Man"


36:03: We see the group of survivors as they escape the city, and drive over a bridge.




In the screencap above, they are driving west across the 4th street bridge,
over the L.A. River, heading towards downtown.

The camera is looking south, towards the arched 6th Street Bridge.

Here is a matching Google StreetView of that same bridge view.



At 36:52, they turn left onto a side street and head for the River bed.




In the screencap above, the white pickup truck, which was driving west on 4th Street,
is turning south onto Molina Street. The camera is looking west, towards downtown.

That "burned-out" (f/x) brown building on the right side is a former
Coca Cola building, at 963 E. 4th Street, which now houses T.T. Toys.

Here is a matching Google StreetView of that intersection.



36:53: They decide to avoid traffic on the freeways by driving on the bottom
of the dry Los Angeles River channel, all the way to its end.


<

In the screencap above, they are driving south on the L.A. Riverbed, heading
towards the 6th Street Bridge, away from downtown.

( In real life, to reach the L.A. River bed, they would have had to turn onto
Santa Fe Ave and take it southeast to 6th Street, where there's an
entrance tunnel that leads down to the River.)


37:57: The final shot in this sequence shows the River heading out to the ocean.




The screencap above is somewhat deceptive, since it seems to show the River taking
a relatively short, straight path from downtown L.A. to the ocean.

In reality, the L.A. River takes a long, winding path, that takes over 20 miles,
and finally empties into the sea at Long Beach, near the Queen Mary.

This screencap (above) only shows the last four miles of the L.A. River's end,
looking south from around Wardlow Road, in Long Beach.

To complicate matters, the last mile or so of the River channel is
usually filled with deep water, since it's nearing the ocean.

Also, this path ends up about 13 miles east of Strand's ocean view home,
which is definitely not in Long Beach (see below for its location).

Here is a matching Google Earth aerial view of
the channel heading out to sea.






38:01: We see them arrive at Victor Strand's home by the ocean.




This was a hard one to find.




I could see that it was on the ocean, that there were sea cliffs visible in the distance,
and that it was obviously an expensive house. So my first thought was that
it was probably somewhere in Malibu - Hollywood's go-to spot when they're
looking for expensive homes with sweeping ocean views.

But I couldn't find it in Malibu.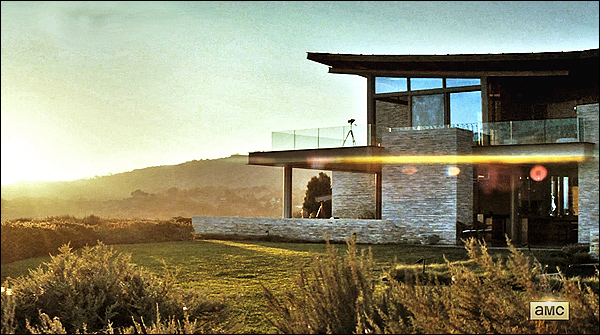 Fortunately, the very next location (that graffiti-covered beach) told me that they were
probably somewhere near San Pedro. So I turned my attention to the sea cliffs of
the nearby Palos Verdes peninsula (which somewhat resemble Malibu).


Take a look inside that red-boxed area that I added to the screencap below:

What you are looking at are two sea cliffs in the distance.
It is those two cliffs that allowed me to pinpoint this location...




This is 3 Yacht Harbor Drive, in Rancho Palos Verdes, CA.
(located just west of the 4200 block of Palos Verdes Drive S.)

Rancho Palos Verdes is one of three wealthy communities in the Palos Verdes hills
(the other two cities being Palos Verdes Estates and Rolling Hills), which are located
on a peninsula in the South Bay region, at the southwest corner of Greater Los Angeles.

The high elevation of those P.V. hills offers spectacular views of the Pacific
and some equally spectacular homes have been built on those cliffs.

These Palos Verdes hills lie to the south of Redondo Beach and Torrance,
and to the west of San Pedro and the L.A. Harbor.

Here is a matching Google StreetView of the home
(as seen from P.V. Drive).

And here is a StreetView of those sea cliffs we mentioned.




[Warning: This is a private home. Do not knock on their door,
trespass on their property, or do anything to disturb the residents.]








44:01: Liza walks out over rubble-strewn, graffiti-covered beach cliffs.,
where she shows Maddie that she has been bitten by a zombie.




Liza asks Maddie to shoot her, but Maddie can't do it.
Eventually, poor Travis has to do the deed.

Those inside Strand's house hear the gunshot.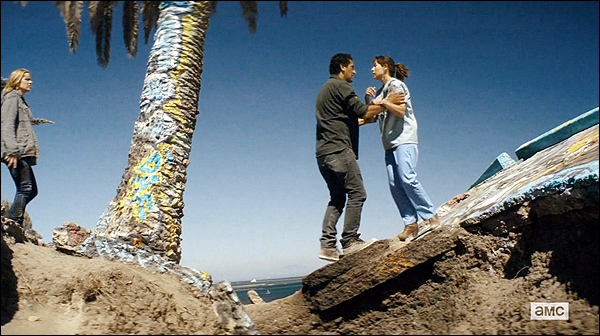 You probably wouldn't think it, but this weird spot is real.

It's a unique area, known as "Sunken City", in San Pedro, CA.

It definitely has a post-apocalyptic look to it, but it is actually the result of a 1929 landslide
which collapsed the hillside and sent part of the street and several San Pedro homes
toppling down the cliffside to a ridge just above the beach below, resulting in piles
of broken concrete slabs, twisted cable car tracks, and other debris
that vandals have since covered in colorful graffiti.

The nearest mapped road is 4178 S. Carolina Street, in San Pedro.,

And the GPS coordinates are roughly: 33°42'20.4"N, 118°17'22.0"W.

San Pedro is a mostly working-class community which lies
southwest of Palos Verdes and west of the L.A. Harbor.

( In real life, Sunken City lies five miles southeast of Strand's house,
so it's not likely that they could actually hear a gunshot from there. )







Warning: Sunken City is officially off-limits and has been declared unsafe.
There have been several accidental deaths there, and a fence has been
put up, as well as a No Trespassing sign, to keep people out.

Still, visitors regularly manage to make their way down there, and I've
read that San Pedro is considering opening the area to the public.

But we are dealing with a landslide area, very steep cliffs,
and jagged rubble - so it is potentially dangerous.
If you visit, exercise reasonable caution.





Here is a matching Google Earth view of the landslide area.

Here is the closest Google StreetView available.







The Second Season of "Fear the Living Dead" was not filmed in L.A.

Once they set out for sea, production shifted to Baja Studios, on the
coast of Baja, Mexico, about 150 miles south of Los Angeles.

So, I won't be tracking the second season locations.

With several huge water tanks (and the ocean itself in the background),
Baja Studios was originally built to film 1997's "Titanic", and since then
has been involved in a number of sea-related films, including
"Pearl Harbor" and "Master & Commander".

The official address of Baja Studios is a long one:

Km. 32.8 Carretera Libre Tijuana-Ensenada
Centro Turístico Popotla
Rosarito B.C. México C.P. 22710




Earlier " Fear the Walking Dead " locations:





The photos on this page are stills from "Fear the Living Dead - Season 1"
(which you can buy by clicking here) and are copyright AMC.

The rest of the page is Copyright © 2020-Gary Wayne / Seeing-Stars.com