Actual Southern California locations where the 2004 movie "Cellular" was filmed.




Early on, we see the Venice Boardwalk in Venice, CA. (above)


The camera then pans to the west, where, in the distance, we see
the Santa Monica Pier (below).


It then cuts to the pier, where Ryan (Chris Evans) tries to make up with his old girlfriend.
It is, of course, the very same Santa Monica Pier, which is located
at the west end of Colorado Avenue, in Santa Monica.

So what about that Ferris wheel and the roller coaster? They're at the theme park
right next to the pier, which is called "Pacific Park". (It's the modern incarnation
of the old Pacific Ocean Park - albeit a lot smaller than the original P.O.P.)"



The Brentwood home of 'Jessica Martin' (Kim Basinger) isn't really in Brentwood.
But it's close, just east of the UCLA campus, at 527 Loring Avenue,
in the Holmby Hills section of West Los Angeles.
I got this location from Chas Demster, who got it from
IamNotaStalker.com. Thanks Lindsay!


[ Warning: this is a private home. Do not knock on their door, trespass on their property,
or do anything else that might disturb the residents. ]





When Ryan first gets the call on his cell phone, he is seen driving south
on Ocean Avenue past Palisades Park in Santa Monica (just north of the pier).
Palisades Park runs along the west side of Ocean Avenue for over a mile,
atop the cliffs overlooking the sea below, from San Vicente Blvd on the
north to the Santa Monica Pier on the south.

By the shot below, he has traveled south on Ocean Avenue (past the pier) to
Ocean & Bicknell Avenue, where you'll find that gazebo in Crescent Bay Park.


The kidnap victim's (Kim Basinger) son ('Ricky Martin', played by Adam Taylor Gordon)
attends school at the fictional "Wyman School". Ryan goes there to try to prevent the boy
from being kidnapped, but fails.
Those school scenes were actually shot at Marymount High School,
at 10643 Sunset Blvd., in Westwood (across from UCLA, not far from the home.)




The car race to catch the kidnappers (and its multiple smash-ups) supposedly takes
place on Sunset Blvd, but it the scenes were actually shot miles to the south
somewhere "right next to LAX" (according to the director).

(I can't be sure, but my best guess is that they probably shot it on
W. Jefferson Blvd, between Lincoln Blvd and Culver Blvd.)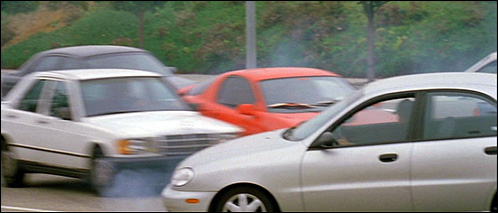 The photos on this page are stills from the DVD of "Cellular"
(which you can buy by clicking here) and are copyright New Line Cinema.
The rest of the page is Copyright © 2020-Gary Wayne / Seeing-Stars.com