Filming Locations for
"
The Babysitter
"
The actual Southern California locations where Netflix's
2017 horror/adventure movie, "The Babysitter" was filmed.



"The Babysitter" is the story a young teenager named Cole, living in a sleepy suburb, who has a crush on his knockout babysitter: a playful blonde bombshell named Bee.
One night, Cole makes the mistake of checking to see what really goes on downstairs with Bee and her friends after Cole is supposed to be asleep. He is horrified to discover that she is a murderous member of a bloodthirsty satanic gang, which lures unsuspecting teens to the house and ritualistically kills them. When Cole is caught spying on the group, he's in for a life-and-death battle against the forces of darkness.





But let's see where the movie was shot in our real world…





0:01:26: We see the school where young Cole and his friend Melanie are waiting outside for her father to pick them up. When Melanie's father shows up, he turns out to be a car-obsessed jerk, who refuses to give Cole a ride home (despite the fact that the two kids live across the street from each other).


So where is the school?
At first glance, this school building looks like something you might find on the campus of UCLA or USC, featuring the same Romanesque architecture.

In fact, I actually began searching those two campuses before I realized just where I had seen the school before - in several TV shows I had documented.

This is actually is
El Segundo High School
,
The address is
640 Main Street
, in
El Segundo
,
CA
.
The city of El Segundo is located just south Los Angeles International Airport (LAX)
and just north of the massive Chevron oil refinery.
The view in the top photo is looking
east
from Main Street,
while the view in the bottom photo is looking
southeast
.
The school has appeared in a number of TV shows and movies,
including "
SuperBad
" , "
Joan of Arcadia
", "
The O.C.
" and "
Crisis
".
(You can read more about the school at their
website
.)
Here is a matching Google StreetView of the school:




0:09:05: Cole's father tries to teach him to drive, and opts for an empty racetrack
as a safe spot to learn. But Cole really seems to dislike the whole idea.

This scene was shot out at
the Irwindale Speedway
,
at
500 Speedway Drive
, in
Irwindale
,
CA
.
That's about 15 miles northeast of downtown Los Angeles.
Here is a Google StreetView of the racetrack: .




At 0:02:46, we are introduced to Cole's neighborhood, the kind of sleepy, safe, old-fashioned residential neighborhood one might see in a Spielberg movie,
or perhaps one of those B&W family sitcoms from the '60s..

(Only
this
one turns out to be not that safe…)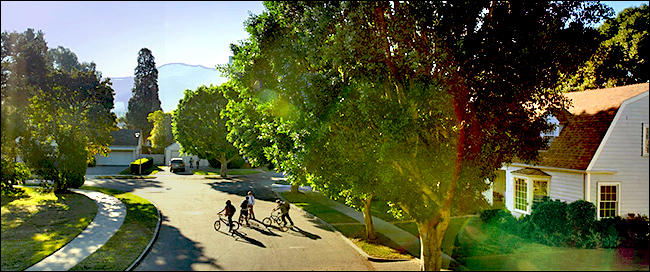 In this early scene, local bullies, riding bicycles, stop to hassle Cole,
but he is rescued by Bee.


And here is a matching StreetView of that neighborhood:
So where is this neighborhood in real life?
This turns out to be none other than the famous Blondie Street,
at the Warner Ranch in Burbank , which dates back to 1935.

An idealized suburban neighborhood, made up of almost a dozen full-size homes (built by the studio), it was the setting for many of those popular old TV sitcoms from the late 1950s and 1960s, including the familiar homes from "Father Knows Best", "The Donna Reed Show", "Hazel", "Bewitched", "Gidget", "I Dream of Jeannie", "The Partridge Family" and "Dennis The Menace", as well as some more recent TV sitcoms such as "The Middle". and "Young Sheldon".


You'll also find the 'Griswold house' from "National Lampoon's Christmas Vacation" here, and Danny Glover's house from the "Lethal Weapon" film series.


Both Cole's home and Melanie's home are located here on Blondie Street.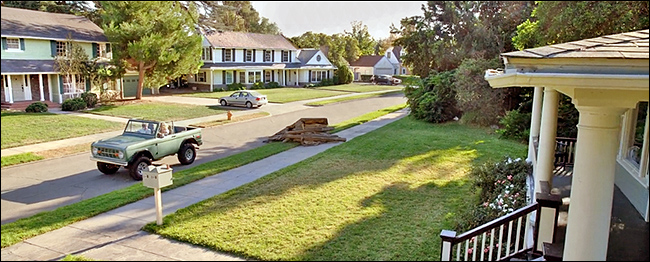 Warner Ranch is owned by Warner Bros., and in that sense is part of the Warner Bros. Studio. But physically speaking, it is separate from the main studio lot, located about a mile north of the WB studio.


You'll find it near the corner of Hollywood Way & Oak Street.


As such, Blondie Street is not included in the Warner Bros. studio tour, although you get to see all other parts of the main studio ( including two other residential neighborhoods there are part of that huge studio back lot ). And the entrances to Warner Ranch are guarded.

So unfortunately, there is no way for the general public to visit Blondie Street.
Blondie Street curves around a large grassy "park" area, which includes the large fountain made famous in the opening credits of "Friends".

All of the houses on Blondie Street are across the street from that park.

Except for one...


We first see
Cole's blue & white house
at
0:08:45
.
In the screencap
below
, the camera is looking at the
right
side of the house.
Unlike most of the other homes on Blondie Street, this house is relatively new, and doesn't have the illustrious history of the other homes. It was built for the 1998 sci-fi/fantasy movie "Small Soldiers". And it was later seen in the 2007 TV fantasy series, "Pushing Daisies" as Chuck's childhood home ( although they gave it a radically different, Victorian look for that show ).

It is also the only home on Blondie Street which was built on the park side of the street, on land that used to be part of that central park.

Here is a Google StreetView of Cole's house:





We see the house again at 0:13:48, when the cute babysitter, Bee, shows up.

In the shot below, the camera is looking out the front door of Cole's house,
while Bee stands on the porch.


Below is a matching Google StreetView:

Unlike some of the other houses on Blondie Street, which are merely façades / false fronts, Cole's house is what is known as a "practical set", meaning that it has a realistic interior, so you can enter the house and film scenes there.

They shot this scene in the living room of the house/set:
Below is a matching StreetView panorama of the home's
interior
,
showing that same blue stairway:
We see the full
front
of Cole's house for the first time late in the film, at
1:14:15
,
when he crashes Melanie's father's car into the house.
Here is a StreetView panorama of the front of the house:
It looks like they did a lot of damage to this house, when filming the scene. But if you look more closely, most of the house is still standing, and only the front porch has been removed, and replaced with rubble.

It should be easy enough for them to replace it after filming. ( Or perhaps they will opt to leave the house without a front porch for now. As I mentioned before, these Blondie Street houses are often remodeled for a different look. )


0:19:57: And then there is Melanie's house, a nice big colonial home, across the street from Cole's house, that we first see in that early view of the neighborhood.

(It's the big colonial across the street, near the center.)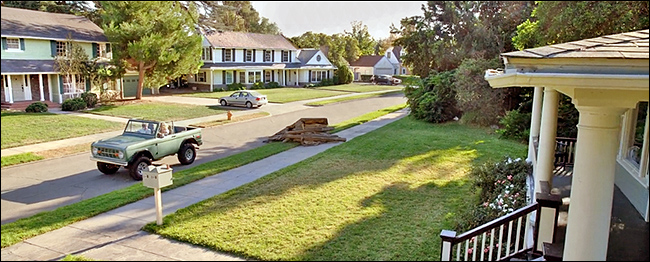 1:03:50: Later, while Cole is on the run from Bee, he takes refuge in Melanie's house, and the two hide out there while Bee comes in and tries to find them. It's also from here that Cole steals Melanie's father's car, prior to ramming into his house.

Here is a Google StreetView of Melanie's house:

Like Cole's house, this colonial home is also located on Blondie Street, at Warner Ranch. The house has a long history, during which it played the role of the Baxter family home on the popular '60s TV sitcom "Hazel", the Lawrence home in the Sally Field series "Gidget", and more recently, it was featured as Danny Glover's house in the popular "Lethal Weapon" films.

[ That triangular peak on top of its garage ( with a round window ) is a recent addition, and you won't see it in any of those earlier productions. It's an example of how these faux houses are often remodeled to fit the need of the studio's latest productions. ]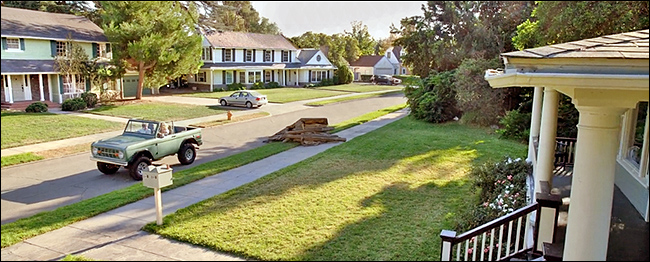 In that wide shot of the street (above), you can see that Melanie's house is just to the right of the infamous 'Griswold house' from "National Lampoon's Christmas Vacation" ( although you might not recognize it without its zillions of Christmas lights. )


And like Cole's. Melanie's house is a "practical set", meaning it has an interior where they can go inside and shoot scenes. In fact, here is a screenshot of Cole and Melanie, shot inside her house:

And here is a matching Google StreetView panorama of that same interior:
Here is yet another screenshot of the interior, this time with the camera looking towards the front door, while the kids hide out:

And here is another matching StreetView interior panorama,
also looking towards the front door:

Take a look at this composite image I put together (below), which shows Melanie's house on the left. You see that brick Tudor home to the right, just behind the hedge where Melanie's father is washing his car?

Although it doesn't play a role in this movie, that is (the left side of) the famous "Bewitched" house, former home of Samantha & Darren Stevens in that classic '60s TV sitcom about a witch who marries a mortal.

Here's a close-up:
So yes, Melanie's house is situated in between the "Bewitched" house
and the 'Griswold' Christmas house. That's Hollywood for you.


At 0:12:43 , in a brief scene, we see Bee and an older teen coming out of a market.

The sign reads "Foxy's Mini Mart".


Cole watches as she flirts with the nerdy teenager outside the store:
Cole is seen watching this from his school, so it is supposed to be across the street from the school. But, of course, it's not.

I knew this place looked familiar, but I couldn't quite place it. At first, I assumed it was an actual market or gas station in the real world.


But then I finally recognized it. This building was used often in the popular modern TV sitcom, "The Middle", as the used car dealership where the mother, 'Frankie Heck', worked selling cars for a grouchy boss, in most of the early seasons ( before she got a better job as a dental assistant ).


It is actually just another set on Blondie Street, located down past the Griswold house. They simply changed the sign from "Ehlhart Motors" to "Foxy's Mini Mart".



In case you thought Blondie Street was just a residential neighborhood, in the past, it was actually just one part of a much larger studio back-lot at the old Warner Ranch ( which was originally called Columbia Ranch ). That old back lot included a New York Street, an Old West town, and even a lagoon. Most of that is long gone now, but a few remnants remain.

( Originally, this building was just one of three different gas station sets that were clustered together near Blondie Street. This is the only one of the three that managed to survive. )

Here's a StreetView of that market / gas station:


Creating this page for "The Babysitter" made me realize that although I have created pages about all of the major movie studios and their tours, I never created one about Warner Ranch and Blondie Street.

My initial rationale was that since the public isn't allowed to visit Warner Ranch, I shouldn't bother including it.

But the reality is that the houses on Blondie Street show up all the time as filming locations in various productions, which I have mentioned several times in my Locations section. Plus, it's a rather fascinating place, with a rich Hollywood history.

As such, I think it would be useful to have a few pages describing the ranch in more detail, and providing a map of Blondie Street and the exact layout of all the famous houses located on it. So, I'll start working on that.

It will probably take a lot of time to finish, since there are almost a dozen famous homes to describe. But I'll get it up & running eventually… So stay tuned.

( I'll add a new link here when I finish it. )





The photos on this page are screencaps from "The Babysitter"
(which you can watch by clicking here) and are copyright NetFlix.
The rest of the page is Copyright © 2020-Gary Wayne / Seeing-Stars.com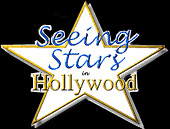 Return to the main Seeing-Stars website