The lifeguard tower and the rocky barrier you see on the beach (in the photo above),
are also at El Porto, just south of 45th Street, in Manhattan Beach.



In this surfing shot, you can see the familiar smokestacks of the El Segundo Power Plant
in the background, which is just north of El Porto beach. The same smokestacks can be
seen behind John Cusack's head (below, as he lies on the beach, after almost drowning).

The scene where Cusack goes to the Post Office and gets his mail
(including his first hint of room 1408), was shot at the Hermosa Beach Post Office,
at 565 Pier Avenue, in Hermosa Beach (which is just south of Manhattan Beach).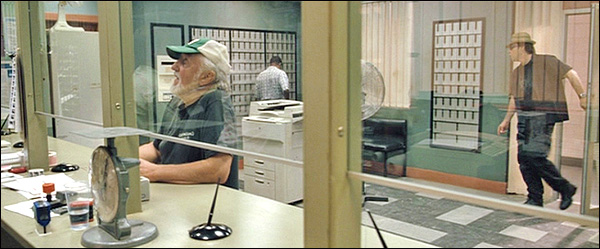 While John Cusak's character surfs in Manhattan Beach, he appears to live in Hermosa Beach.
The shot above of his apartment house is actually the rear of the building which houses "Dragon",
a restaurant/club on the ground floor (with apartments above it). It's at 22 Pier Avenue, in
Hermosa Beach, on the Hermosa Pier Plaza, just a few steps from the Hermosa Pier.
"The Lighthouse", which is next to Dragon, is a good dive bar with live bands, at 30 Pier Avenue.
(They are both just a few steps from the restaurant where Cusak reads his mail.)
The photo below is looking south down The Strand, a popular beachside walkway in Hermosa Beach.
The camera position is near the Sea Sprite motel, just south of the Hermosa Pier.
That blue mural you see on the left is at on the side of a building at the west end
of 10th Street (at The Strand). That hill in the distance is Palos Verdes.
In the photo above, we see him in a coffee shop, opening his mail. It's here that he
first reads the post card warning him not to go to room 1408 at the Dolphin Hotel.
That restaurant is "Scotty's on the Strand" located at 1100 The Strand, in Hermosa Beach.
More specifically, he's in Scotty's south dining room. (That's just to the south of the Hermosa pier.)
In the photo below, you can see the blue Sea Sprite Motel out the window.
That motel is located at 1016 The Strand, just south of Scotty's.

So, what about the "Dolphin Hotel" itself and room 1408 ? The Dolphin doesn't really exist.

But the hotel exteriors you see in the film are indeed in New York. It is actually the
Roosevelt Hotel, at 45 E. 45th Street (at Madison Ave), New York, NY.
The room interiors were shot overseas, in the sound stages of England's Pinewood Studios.